Adam is the South West regional representative on the Organic Forum. He is a 3rd generation farmer dairy farmer from Devon who has been farming organically for over 20 years. He says......
We have been farming organically for 20 years supplying OMSCo for all that time. I have over those years been involved with engaging with the membership through farm visits, discussion groups and a buying group. We have been innovative on farm for many years being 15 miles from the next nearest organic dairy farm when we started, to producing milk for the US premium pool through to using robotics and grazing. I have family that are very keen to be within farming so succession planning has been key. A strong sustainable organic dairy business for all concerned is the long term goal going forwards.
I have recently attended my first organic forum; this took place in Kings Lynn a long trek across country from the rolling hills of Devon via Swindon, Oxford, Northampton and Peterborough, to the flat fenland of Norfolk. It's very easy to pass by on A roads so many "farm gates" that have no connection with consumers, but yet the consumer is looking in with no idea of why that field is just grass, what that large expanse of yellow is in that field let alone what challenges lies within that very landscape.
We as farmers maybe also unaware of the various challenges that other sectors are subject to, whether that be Fenland versus Dartmoor, livestock versus cropping or organic versus conventional. This is where forums and on farm events bring a whole host of opportunities to meet others and share ideas, glean knowledge and learn from each other's mistakes. The forum brings together a host of members from various sectors but with a common interest of organics.
The reason for the trek was to take part in one of the three on farm events the Organic forum had organised this year. This one was a visit the 6400ha Sandringham Estate which had recently been handed over by Prince Phillip to be overseen by Prince Charles with all the in hand land either in conversion or fully organic. The tenants and neighbours are watching closely "over the hedge" to see how the estate is making Organics work on a large scale. The rotation is a diverse mixture of cropping with fertility building leys grazed by 1000 ewe lambed outside. The land is mostly free draining and level, with a pH of 7.5 to 8.2 compared to the acid heavy clay and Devon hills we contend with. But Black grass, unstock proof "hedges" and trace element lock up due to high pH are not issues we would come across in the south west and it was a real eye opener for everyone who attended.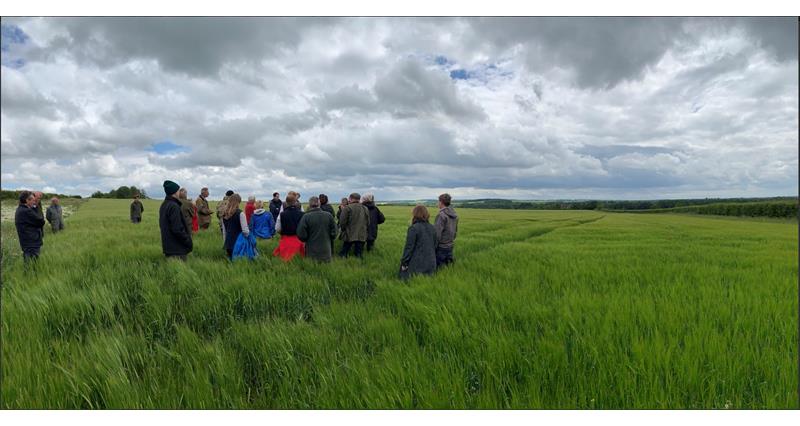 Attending an on farm event or discussion group is a great way to get off the farm for a few hours, hopefully learn something new, mix and mingle with likeminded (or even not like minded) people and ask questions. But always remember there is no such thing as a stupid question, because if you don't understand something, some else is probably thinking the same thing! An example is when the acronym W.P.I came up, so I asked the speaker to explain what W.P.I. is, whey protein isolate. Well the meeting continued and afterwards a chief executive of a dairy company said to me, "I am glad you asked as I didn't know what it meant either".
There are two main issues I as an organic producer see going forward is the conventional industry now being closer to organic than ever before on such things as animal welfare. This is great but if we as organic farmers want to retain an, ideally, unlinked to conventional premium then we need to be promoting and delivering benefits over and above the norm in the eyes of the consumer. Secondly we as organic farmers need now to be rewarded for the benefits that have been created by the way we farm as a public good, in the soils, environment, landscapes and access. Needless to say the Organic Forums farmer and sector body members are pursuing all avenues of this for NFU organic members.