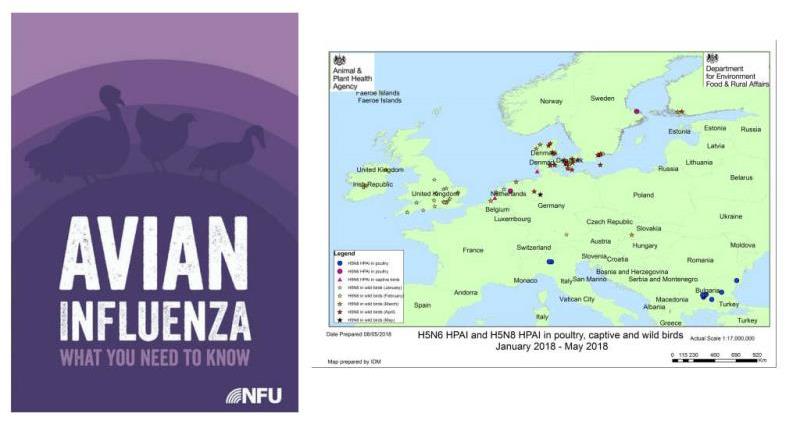 Defra has published an updated Rapid Risk Assessment on the finding of H5N6 HPAI in wild birds in England, Scotland and Wales.
The last finding of avian influenza in wild birds in the UK occurred on 18 April 2018 in Suffolk. The assessment suggests that there is now a decrease in the likelihood of finding more cases in wild birds in England and Wales, while Scotland is still considered to have an even lower likelihood.
The length of time since a positive bird has been detected, together with the departure of wintering waterfowl and the environmental conditions (notably higher temperature) suggests that the risk of virus still being present in the environment or circulating in waterfowl/wild birds is greatly diminished since Defra's last report.
The risk level for wild birds has therefore been reduced to LOW.
Information for poultry keepers
Avian influenza is still present in Europe and there is no guarantee, despite the warmer weather, that there are not pockets of environmental contamination still present which could be introduced to poultry.
The risk level for the direct and indirect exposure to poultry is now considered to be LOW, both for housed and free range birds.
Poultry keepers are advised to remain vigilant to any notifiable avian disease and continue to maintain strong biosecurity.
Further wild bird findings both locally and nationally are still possible in late spring. Where there is good biosecurity present on poultry farms - i.e. reduced level of direct and indirect contact between poultry and wild birds - there should be substantially reduced likelihood of incursion.
A finding in a wild bird has no trade impact; there are no requirements for control zones or any implications for trade in live poultry, poultry products including meat and table eggs or other captive birds.
The UK chief veterinary officer, Christine Middlemiss, said:
"The Avian Influenza Prevention Zone was lifted across England due to the scientific and veterinary evidence showing that the risk of this disease has now returned to low. It is essential that all bird keepers continue to maintain good biosecurity measures to protect their birds and help prevent outbreaks or spread of diseases."