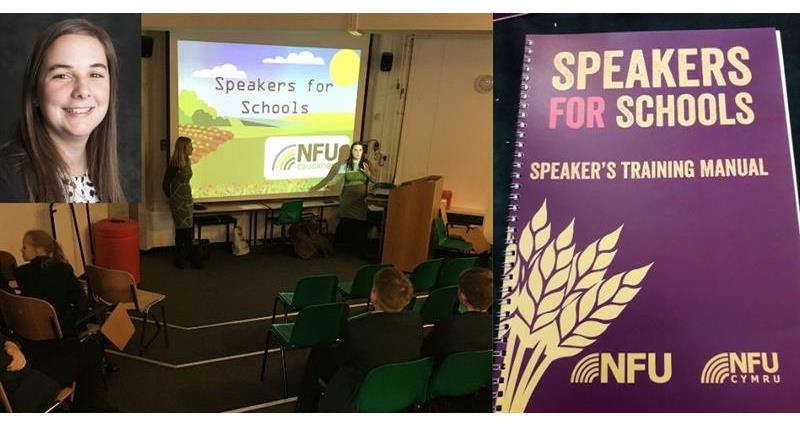 NFU Poultry Advisor, Aimee Mahony, reflects on her 'Speakers for Schools' training and experience talking to secondary school children.
On the 9th March I went back to school for the day to speak to over 300 year seven pupils at the Lord Grey Academy in Bletchley. Together with Chloe Lockhart, the NFU's Combinable Crops Adviser, we shared our personal stories on how we found ourselves working in the agriculture industry as well as doing some myth busting and answering a lot of questions from the children.
Although it seems like a long time ago now, back in November last year I joined the national poultry board chair Thomas Wornham and members of the NFU's Poultry Industry Programme (PIP) for a training day which was run by Joshua Payne from the NFU Education team and Paul Taylor-McCartney, a qualified teacher and researcher who led the educational training aspects of the workshop. The training was all about a new NFU initiative called 'Speakers for Schools' which is encouraging NFU members and staff to go in to secondary schools and talk about British food and farming. I really enjoyed taking part in the training and even gave some of the skills we were practicing a go by volunteering to stand up and share what we had been working on, after all it's good to lead by example!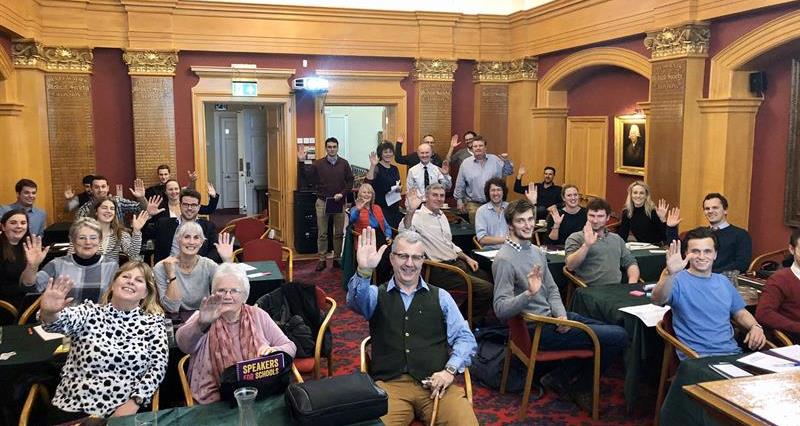 Since the training session at the end of last year I'd heard reports of the first of the farming ambassadors being assigned to local school assemblies. I was inspired to hear the tales of NFU members Charlotte Hudson and Alice Montgomerie at the NFU conference in February, where they shared their experiences of attending schools in their area and the satisfaction they had felt from educating young people about what farming has to offer. It was only a few weeks later when I received my call up and then it all felt as though it was happening rather quickly. Before I knew it, I was setting off at 6.30am on the Monday morning to meet Chloe on the side of the motorway and head down to the school which was not far from Milton Keynes.
Chloe and I were invited along as part of the school's 'British values creative learning day' which saw each year group taking time out from the usual timetable to attend sessions on mental health, first aid, crafting and careers advice. Our session involved year seven pupils who were split into five groups with each session lasting around 50 minutes.
When I agreed to take part, my understanding was that we were speaking in an assembly, which I guess you could say we did, only it was an assembly hall full of 11 and 12 year olds in five different sessions throughout the day so probably best described as several assemblies! The training day felt like so long ago although in reality only just over three months had passed by. Remembering everything we had been taught was at first quite daunting, but the training really helped with the structure of the sessions.
When the bell rang after the first session, I felt a huge relief but after that the subsequent sessions had a good flow and it worked well to have a mixed background of livestock and crops with the two speakers and it also meant that there was always someone there to bounce off if a tricky question was thrown your way.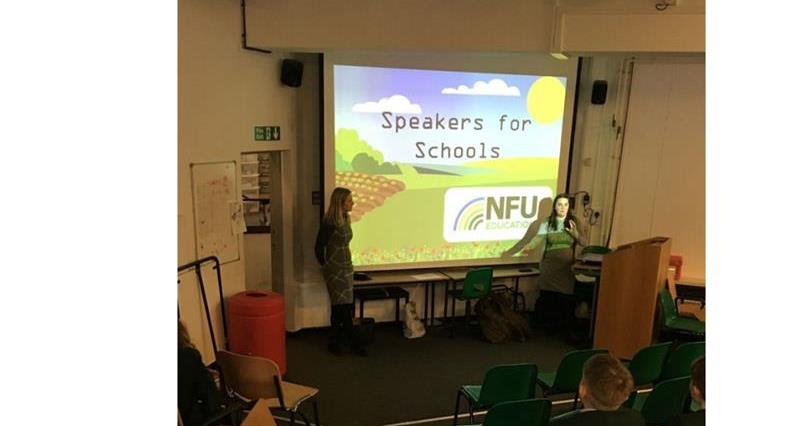 There are three parts to the main 'Speakers for Schools' presentation and the first section is dedicated to the speakers introducing themselves. If it's appropriate you can tell a personal story which connects you to farming and I found this part really useful in setting the scene for who we were. Chloe and I took it in turns to introduce ourselves, explaining where we were from, what got us in to farming and why we are so passionate about what we do at the NFU. The second part of the session is all about myth busting. Whether it be climate change, dietary choices or something animal welfare related, there is always some kind of mistruth being spread. It was great to be able to dispel some of this fake news and really educate these young, impressionable students about how farmers care and look after their animals and the importance of a balanced diet.
The final part of the session was open to questions and answers. This was the part I was most worried about as it's probably the most difficult to prepare for. My biggest fear was whether the students would ask anything at all, but I really shouldn't have worried about that as the questions were being fired from all directions! At times it felt like all the questions were being directed at me as they were mainly centred around the mechanics of the 'birds and the bees'. However, rather refreshingly several of the groups were interested in the formation of egg shells and many were curious about what happened to the hens at the end of life. I was encouraged by how inquisitive some of even the more reserved students were and also how robust they were in hearing the truth about elements of livestock keeping which most are sheltered from throughout their lives. Of course, I was asked the obligatory 'what came first – the chicken or the egg?' but I managed to dodge answering that one by turning it round and asking the student what he thought the answer was!
I really enjoyed getting interactive with the audience, allowing the children to use thumbs up or thumbs down signals to indicate if they agreed or disagreed with particular statements, such as whether they'd met a farmer before and rating out of ten how important they think farming is. We did this exercise right at the beginning of the session and then repeated it at the end and it was good to see on the whole a more positive response the second time round!
As well as being there to provide food for thought for the children we met several teaching staff throughout the day and some of the teaching assistants came to thank us personally after the sessions. One lady said she had learnt a lot and found it very informative and inspiring which gave us great satisfaction. Hopefully we left having enthused all who we spoke to that day to consider food and farming as an exciting, progressive and rewarding career choice.