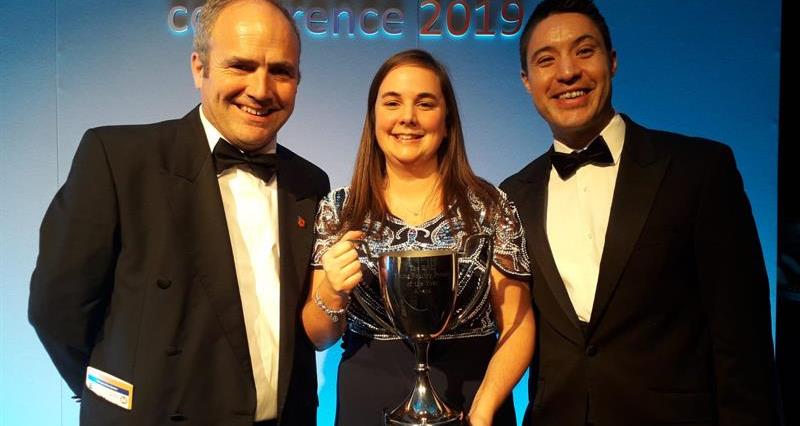 At this year's Egg and Poultry Industry Conference (EPIC) NFU poultry adviser Aimee Mahony was awarded Young Poultry Person of the Year. The award, which is held each year in memory of the late Clive Frampton, was presented by Philip Clarke, Executive Editor at the Farmers Weekly.
Philip said: "As ever, we had some exceptional nominations – and I would absolutely encourage those who put their names into the hat this year, but were not successful, to do so again in future. But this year's winner has made the judges' job particularly straight forward and you don't have to take my word for that. I just need to quote from some of the industry figures who supported the entry, and who know this year's winner somewhat better than I do."
Tom Willings, Supply Chain Director at Stonegate, compiled the entry and appointed Aimee to her first role in the poultry industry as a Graduate Trainee Manager at Noble Foods. He said: "Aimee's ability to connect with people, combined with a genuine enthusiasm for livestock and willingness to get stuck in meant she quickly became a fantastic addition to the team at Noble, learning incredibly quickly and earning the respect of farmers and colleagues alike".
The nomination was also endorsed by Daniel Johnson, Commercial Director at ABN and Paul Kelly of Kelly Turkeys. They both praised Aimee's work ethic, integrity and commitment to the poultry industry. Paul described her as "one in a million". He continued "she is the backbone to our regional turkey meetings, ensuring everything is in hand and making sure presentations are perfectly pitched, giving farmers a very comprehensive overview of the marketplace and current issues. Most importantly of all, she is an absolute pleasure to work with. Her smiling enthusiasm is infectious."
Gary Ford, NFU Chief Poultry Adviser said "Aimee's contribution has been immense, she has raised the profile of the NFU by attending numerous stakeholder meetings, speaking at various forums and helping members during avian influenza. She has produced consumer facing promotional material and has been an absolute driving force on the Poultry Industry Programme. Aimee is a shining role model for young people demonstrating what they can achieve in our sector."
On winning the award Aimee said: "I feel really honoured to have been named EPIC's Young Poultry Person of the Year and the response I have received has been overwhelming. I didn't know I had been nominated for the award until it was announced on the evening, and it took a while to sink in that it was actually me! I am extremely passionate about the poultry sector and feel lucky to have been involved at first in a commercial business and then more recently working on behalf of NFU members. It is a real pleasure to work alongside many wonderful people and I'm very grateful for the support I've received from colleagues past and present, as well as others in industry who have helped me reach where I am today. A huge thank you to those who nominated me for this prestigious award and the judging panel, I hope I inspire lots of other young people to start a career in the poultry industry".