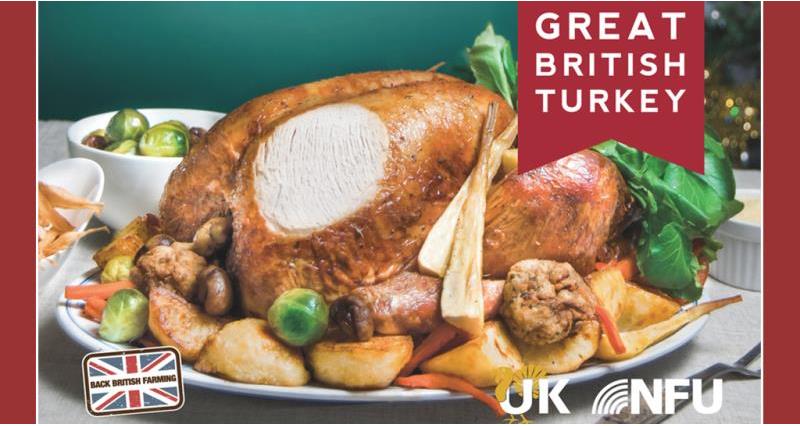 Each year the NFU organises a series of turkey marketing meetings aimed at seasonal producers. The nine meetings took place across the country between 10 September and 4 October and were free to attend.
As well as a chance to network and speak to other producers the meetings are designed to cover a range of topics including updates on the feed market, consumer insights and cost of production.
NFU Poultry Adviser, Aimee Mahony presented at eight of the nine meetings and said "it's good to meet members at the regional meetings and discuss our plans for the autumn turkey campaign. We have focussed on social media again this year after the launch of the #buymyturkey social media day last year which was a great success. The enthusiasm from producers to share their story with consumers was encouraging and I look forward to seeing the various posts on social media platforms in the run up to Christmas".
This year's #buymyturkey social media day will be on Friday 7 December. Look out for further information online and in the NFU Poultry magazine on how to get involved with the campaign.
Cost of production
The NFU costings are based on industry intelligence and anecdotal inputs from various industry sources which remain anonymous. The costings are based on a 5.5kg turkey and it's important that individuals bear in mind that every business will have differences for example geographical limitations or securing a bulk discount on feed etc. Therefore it's important to look at the general trends shown in the table below rather than the exact figures.
| | | | |
| --- | --- | --- | --- |
| Costs Components | 2017 | 2018 | % change y-on-y |
| Feed costs (a) | £9.32 | £10.59 | 13.63% |
| Poult | £3.70 | £3.83 | 3.45% |
| Brood | £0.54 | £0.55 | 1.94% |
| Farming costs (b) | £3.48 | £3.58 | 2.83% |
| Pluck | £2.48 | £2.55 | 2.82% |
| EV | £2.56 | £2.67 | 4.30% |
| Packaging costs (c) | £1.29 | £1.48 | 14.73% |
| Distribution costs | £0.80 | £0.83 | 3.75% |
| Overheads (d) | £8.49 | £8.72 | 2.71% |
| Waste removal | £0.041 | £0.041 | 0.00% |
| Total Turkey | £32.70 | £34.84 | 6.53% |
a)Feed costs are based on prices quoted for delivery August 2018
b)Farming costs includes: gas, litter, shavings and labour costs (inc: family labour)
c)Packaging costs based on NFU's individual boxes
d)Overheads incorporates the following: shed depreciation over 20 years, machinery, office rents, insurance, admin and IT plus costs for any promotional/marketing activities.
The feed costs are based on the August spot price for one tonne bags and many producers may have secured a more favourable price if they pre-ordered feed or secured a discount, possibly for buying in bulk. As reported at the meetings by the feed representatives the global grain market is now the tightest it has been for 12 years. The exchange rate has also had an effect with a one Euro cent movement equalling £1/t wheat and one Dollar cent movement equalling £2.40/t soya.
Besides feed the other cost component which has increased significantly is packaging. The board mills issued several price increases over the past year, something those in the industry using other paper based products such as feed sacks have also witnessed. The costings consider the NFU's individual box price which is secured through bulk purchasing of boxes. General consensus at the marketing meetings suggests that producers who purchase their own boxes have also seen increases, some up to 20%.
Labour is accounted for under the farming costs and also the pluck and EV as these processing areas tend to be labour intense for seasonal production. Good quality labour appears to becoming harder to come by and further increases in labour costs may be likely to help ensure all the work gets done. Some producers have increased wages in order to recruit and/or retain labour particularly when they are using seasonal labour.
Producer insight
The producer speaker at the turkey marketing meetings is usually the highlight of the agenda as it presents an ideal opportunity to hear how a fellow producer does 'Christmas my way'. This year was no different and Chris Rumming who farms near Swindon spoke at the Tilsworth meeting. This year Chris is producing 375 turkeys and will be selling all of them direct from the farm gate and his preference is for this to happen on collection days as it gives him the chance to show his customers where their produce comes from. Chris said "make the most of every opportunity. I try to never say no which has meant I've appeared on radio numerous times and this has meant I'm now the go to contact for anything turkey related for our local radio station".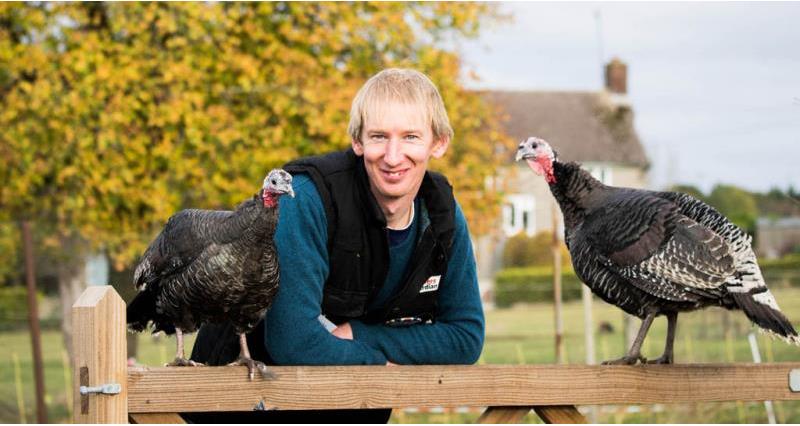 Chris encouraged fellow producers to explore various marketing opportunities particularly those that presented themselves for free. He said "I have a £100 budget for promotional activities which mainly goes towards adverts in local parish magazines to back up my monthly column". His top tip for marketing was to resist the hard sell and instead just tell your story as it is and show people what you do. A good experience results in repeat custom.
At the Exeter meeting, NFU member and turkey producer Andrew Gabriel shared his story with the 40 strong audience. Andrew, who runs Fenton Farm eggs, grows 17 different strains of turkeys which he purchases from Farmgate hatcheries. Andrew rears some of the poults to a month old before selling them on to customers and the remaining birds he continues to grow for the Christmas market. Andrew said he was still lucky to attract local people to help with plucking which they tried to do in batches of 100-120 birds per day. He said some of the workers took annual leave from their paid jobs to help him out and some even did it on a voluntary basis. For this reason he always made sure he treated them well and those that helped often returned year on year as they enjoyed the social side of the job.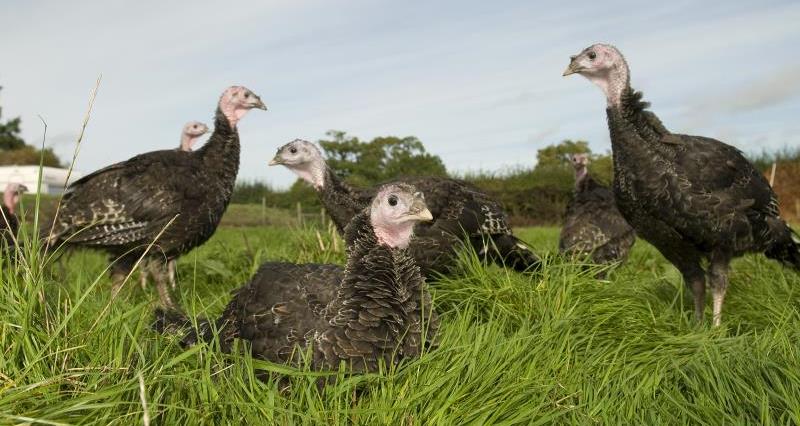 On turkey collection day Andrew also offered local cider and eggs for sale which was interesting as part of the consumer insight information presented by the NFU suggested that people will top up their shopping basket when buying their turkey. This is why retailers will fight to secure the Christmas shop when customers purchase their main protein as it is this shop that consumers are more likely to make additional spend on other items, with the most popular items to purchase with a turkey being streaky bacon, gammon, sausage meat, Christmas pudding and cream.