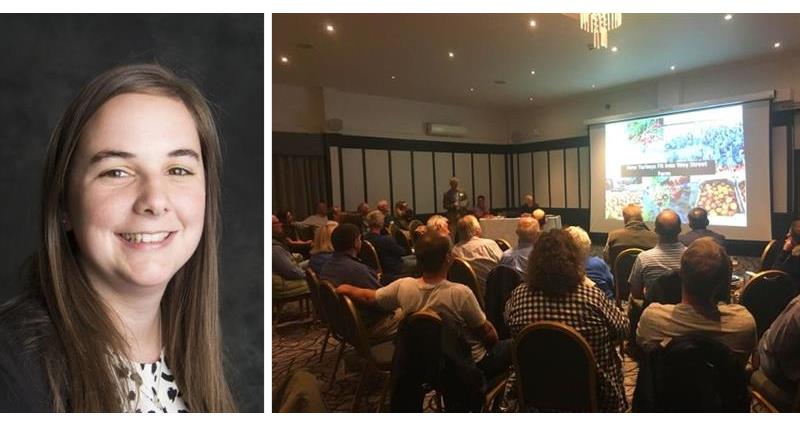 NFU Poultry Adviser, Aimee Mahony has been busy attending the nine NFU autumn turkey marketing meetings, talking to members and delivering consumer insights and policy updates. She provides an overview of the key themes raised below...
Each year the NFU organises a series of turkey marketing meetings aimed at seasonal turkey producers. This year's meetings took place across the country between 9th September and the 3rd October and were free to attend. We are extremely grateful to our sponsors Kelly's turkeys, ForFarmers and W and H Marriage for their continued support.
As well as a chance to network and speak to other producers the meetings are designed to cover a range of topics including updates on the feed market, consumer insights and cost of production.
The producer speaker is usually the highlight of the agenda as it presents an ideal opportunity to hear how a fellow farmer does 'Christmas my way'. Father and son duo, David and Sam Figgis from Wey Street Farm in Kent, presented at the West Sussex meeting about their family fruit business which has diversified into turkeys. Sam, a fifth-generation farmer started out with a few birds in the back garden and has grown to nearly 1,000 birds in the space of three years. Expanding the number of birds on a yearly basis is credit to Sam's dedication to drive sales. Two thirds of the birds are sold from the farm gate and Sam believes this is the best route to the consumer. Social media is utilised with presence on Facebook and Instagram and the family believe these are both good platforms to promote their business, particularly as they are free to use! With 165 acres of apples, 50 acres of strawberries and 10 acres of plums, the Figgis family have plenty of treats to feed the turkeys and the 35 strong attendees at the South East meeting enjoyed sampling their produce too!
NFU seasonal turkey cost of production
The NFU costings are based on a 5.5kg turkey and industry intelligence is collected from various sources which remain anonymous. It's important to remember that every business will have differences, for example geographical limitations or the type and/or amount of labour used. Therefore, it's important to look at the general trends shown in the cost of production table rather than the exact figures, as these will differ between each business.
The feed costs are based on the August spot price for one tonne bags and many producers may have secured a more favourable price if they pre-ordered feed or secured a discount, possibly for buying in bulk. However, consensus from the meetings is that the feed price is down slightly compared to the same time last year. The feed representatives reported that at the time of the meetings there appeared to be ample global supplies. However, climate is still having an impact in some countries such as delayed maize planting in North America due to flooding.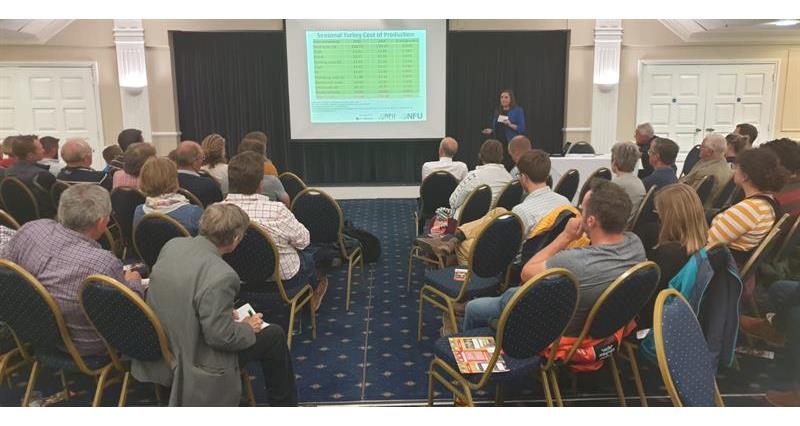 One of the increased costs is labour, which is accounted for under farming costs and the pluck and EV as these processing areas tend to be labour intensive for seasonal production. Some businesses are struggling to find good quality labour and further increases in labour costs may be likely, to help ensure all the work gets done. An update on the 'leave to remain' scheme was shared with members as the Home Office provided clarity at the beginning of September regarding EU nationals coming to live, work or study in the UK in the event of a no deal Brexit. Further information on this can be found here.
Cost of production:
| | | | |
| --- | --- | --- | --- |
| Costs Components | 2018 | 2019 | % change y-on-y |
| Feed costs (a) | £10.59 | £10.49 | -0.94% |
| Poult | £3.83 | £3.98 | 3.91% |
| Brood | £0.55 | £0.56 | 1.81% |
| Farming costs (b) | £3.58 | £3.64 | 1.67% |
| Pluck | £2.55 | £2.67 | 4.71% |
| EV | £2.67 | £2.80 | 4.86% |
| Packaging costs (c) | £1.48 | £1.48 | 0.00% |
| Distribution costs | £0.83 | £0.85 | 2.40% |
| Overheads (d) | £8.72 | £8.87 | 1.72% |
| Waste removal | £0.04 | £0.04 | 0.00% |
| Total Turkey | £34.84 | £35.38 | 1.55% |
a) Feed costs are based on prices quoted for delivery August 2019
b) Farming costs include gas, litter, shavings and labour costs (inc: family labour)
c) Packaging costs based on NFU's individual boxes
d) Overheads incorporates the following: shed depreciation over 20 years, machinery, office rents, insurance, admin and IT plus costs for any promotional/marketing activities.