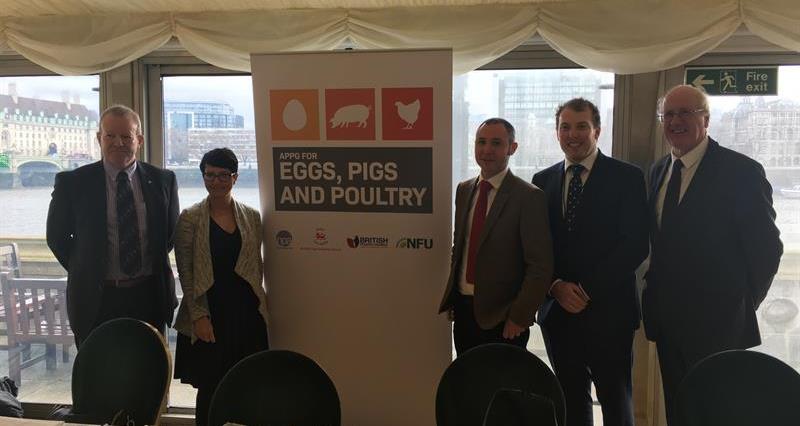 The NFU together with other industry stakeholders held a roundtable meeting with MP's and Lords this week to discuss 'skills to feed the nation'. The APPG (All Party Parliamentary Group) for eggs, pigs and poultry is chaired by Jim Shannon MP and usually hosts two events in Parliament each year to highlight the progression and innovation in the pig and poultry sectors.
NFU Poultry Adviser, Aimee Mahony attended the breakfast meeting and shares an overview of the event. She writes:
This meeting is a great opportunity to get MP's, Lords and industry representatives around a table, enjoying eggs and bacon (of course!) for breakfast and discussing the opportunities and challenges faced by our sector. This year we decided to focus on the need for skills in order to produce the food that feeds the nation. Each of the industry organisations which help to arrange the meeting (NFU, BPC, BEIC and NPA) put forward a speaker who had two minutes to put across some key points. These initial introductory points formed the basis of further roundtable discussion.
This year the NFU representative was Patrick Lynn, an egg producer from Nottinghamshire with 42,500 free range laying hens. Patrick is passionate about the poultry industry and was a 2017/18 Poultry Industry Programme participant.
Patrick gave an account of his own business and the importance of appealing to new entrants and the next generation to ensure we sustain the growth in the egg and poultry meat sectors. He explained that his business relies on several ancillary sectors such as nutritionists, geneticists and veterinarians who are all suitably qualified in their respective areas. On the topic of promoting the sector Patrick said "half the challenge is getting young people to realise the sector exists in the first place. This is something that we recognised as part of the NFU's Poultry Industry Programme when we were tasked to organise a Next Generation Seminar to promote the vast opportunities available in the poultry sector; which we delivered to over 60 young people at the Pig and Poultry Fair".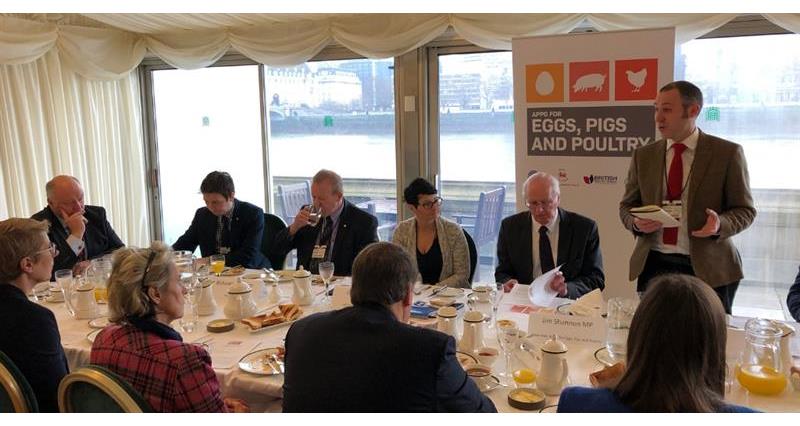 Other speakers at the APPG event included Christian White, Commercial Production Manager at Avara Foods, Louisa Hogarty, HR Director for Noble Foods and Richard Longthorp, a pig producer from Yorkshire.
Christian said: "I'm delighted to be part of a sector that works hard to ensure young entrants learn new skills and pursue opportunities that boost their productive potential". He also spoke of wanting to get into agriculture from a young age but not always feeling supported in this career decision by his teachers and career advisers. It was agreed around the table that the preconceived view of some that agriculture is a low paid, low skilled industry must stop.
Louisa talked about the need for a range of people to support the multitude of processes which take place across the Noble Foods business. These operations span from rearing birds to processing them and involve pretty much everything in between including milling and egg packing. The company's requirement for labour is vast and Louisa said it's important to recruit people with the right attitude and then train them in the skills they require.
Everybody around the table had consensus that reaching out to children is a good place to start and schemes such as NFU Farmvention and Open Farm Sunday were acknowledged. Baroness Byford also highlighted the work of local agricultural shows who often host 'school days' to showcase the farming industry. A GCSE in agriculture was also discussed and well supported however it was recognised that education starts at a much younger age. It was also recognised that it is not only children but also teachers and society in general that need proactively educating about the credentials and opportunities offered by the poultry sector.
Patrick spoke about his experience after the meeting, saying: "it was great to see how constructive a breakfast meeting could be with MP's and Lords, with interesting ideas shared and important themes communicated and hopefully these will be taken away for further consideration".