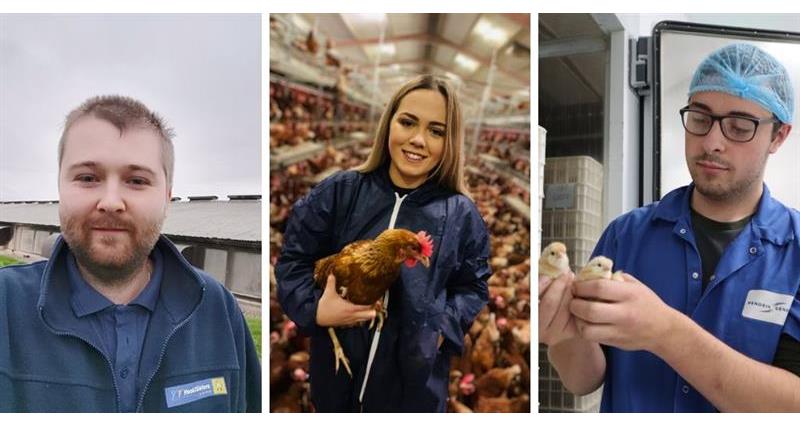 The finalists for the Zoetis-NFU Poultry Trainee Award span the industry - from a hatchery to broiler growing and free range egg production. And since the original award in 2007 this is the first time the layer sector has provided two finalists.

Jack McAlister, whose interest in poultry began as a schoolboy keeping a few hens, works at the Joice & Hill hatchery at Peterborough. Aaron Fulcher has been with PD Hook in East Anglia for three years and is on track to become a broiler farm manager. Leah Page-Stott has joined her family's layer business in Yorkshire and is set to take on new responsibilities in the expanding enterprise.

The three finalists will meet the judging panel at the NFU's London offices in Westminster on Wednesday 22 January where the winner of the £2,000 training grant from Zoetis will be announced at the NFU National Poultry Board meeting. All finalists will be given a tour of the Houses of Parliament close by and then go on to the award dinner at the Paternoster ChopHouse in the City of London. Each one will also get the opportunity to go to the NFU's annual conference in Birmingham in February.
Find out more about each of the finalists below:

JACK McALISTER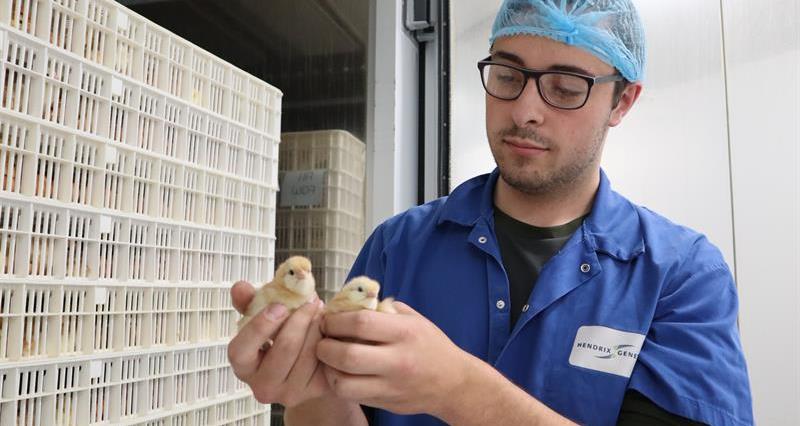 After completing A levels in business studies and applied sciences, Jack McAlister soon became bored working for a financial services call centre and returned home one night to tell his mother than he'd like to follow up his early interest in hens by becoming a chicken farmer.
He was searching the government website promoting apprenticeships when he saw an opportunity at the Joice & Hill hatchery a few miles from his home at Market Deeping. He contacted them and went to find out more about the work.

That was in September last year. Since then he has worked in every area of the hatchery during his level 2 poultry worker apprenticeship, has done deliveries to customers and spent time on breeder farms.

Jack was given additional responsibilities after only five months and is now training to supervise the chick take-off, dispatch and culling areas and to have a role in health and safety, along with becoming a designated first aider and forklift operator.

Jack has an impressive training record. He has attended 11 Poultec training courses as well as hatchery academies in the UK and France and has gained experience at a specialist veterinary practice and in health audits. When he completes the level 2 training in January, he is planning to move on to level 3 and 4 poultry qualifications.

Hatchery manager Anna Healy said his positive attitude and enthusiasm led them to send him on such a broad range of training and exhibitions to further his understanding of the industry and seek new solutions for everyday issues they face. "Jack was given the task of reducing our gas costs," she said. "This was a long process which saw Jack having to deal with multiple suppliers as well as negotiating for the best deal and reliability. He has successfully reduced our hatchery's gas costs." He is also looking at how aspects of biosecurity might be improved within the hatchery building.

His tutor, Poultec associate director, Nathan Raines, described Jack as 'one of the keenest learners I've taught over my 18 years with Poultec'. "From our first meeting it was very clear that Jack wanted to progress with Joice & Hill and told me from the start he wanted to complete before the expected end date," said Nathan. "Jack has been true to his word and has consistently been ahead of schedule with it being quite common for him to be chasing me for more work to do. "It came as no surprise to me that Jack has been promoted within the business before completing his course because of how keen he is and how committed he is to improve both himself and the way tasks are completed in the hatchery."
Looking at improving the public perception of the poultry industry, Jack feels that this should begin when children are young – 'For example, we could take small incubators into schools and let them hatch their own chicks in the classroom." He would seek to use the £2,000 training grant for an Open University qualification in poultry, and would like to further his expertise in many different areas from learning more about health and safety to preventative maintenance on the farm.

LEAH PAGE-STOTT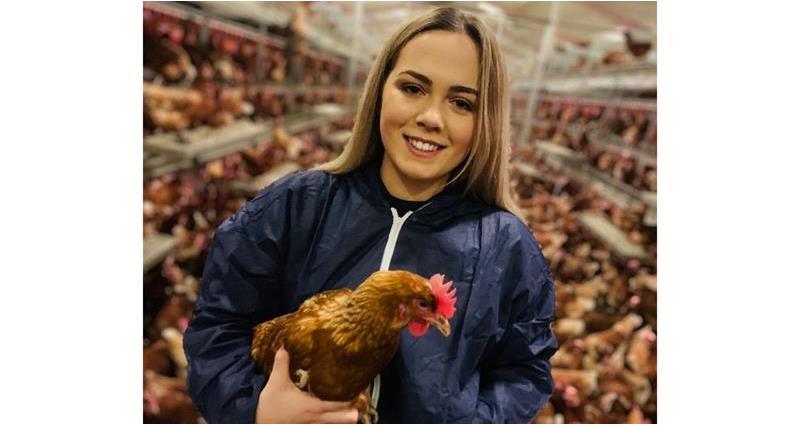 Leah Page-Stott grew up working with chickens. Her family has the free range egg production business LCS Agriculture at Newbridge Farm, North Duffield, near York, and see her having an important role in their expansion plans.

Leah began officially working for the business two years ago, keen to establish good relationships with feed reps, pullet rearers and the packing centre. She sat in on meetings and audits, taking notes and asking questions – and in a short time was running a 12,000 bird unit. "I was responsible for introducing the birds to their new environment," said Leah. "I would ensure I was there when they woke up and I would be on site until they went to bed, making sure all birds are up on the system before the lights went out." "I was also responsible for bringing the flock into lay. I would spend hours walking the birds, creating a routine so they would remain as relaxed as possible coming into lay. Meanwhile, I was making sure they were using the next boxes – now I pick up no more than ten eggs off the floor / system a day."

Darnell Page, director of the business LCS Agriculture, commented: "Leah enjoys spending time with her birds and at times has been caught singing to them, believing that a happy bird will always give back. Her flock is proving to be a great flock with an obvious improvement in feather coverage compared to our previous flocks by improving our enrichment."

Leah is aiming to complete her work-based diploma in agriculture level 3 (poultry pathway) by early next year. She has also completed other short courses, obtained certificates in rodent control, food hygiene and first aid, and attended a veterinary question-and-answer session.

Poultec tutor/assessor Ricky Isley said: "For someone of her age, Leah is showing exceptional dedication to her position and taking on a lot of responsibility within the business.
"Every time I visit Leah explains the improvements she'd like to make. She also helps to run the company's waste disposal business where she helps to manage staff and timetables. She is an asset to the company and industry."

Her career seems set to move forward next year. Darnell Page said Leah would be overseeing both the 12,000-bird site and another for 32,000 birds, responsible for staff at both sites and all audits, sampling and ordering, adding: "As a company we aim to expand next year adding another 32,000 birds. With support we hope Leah will be a big part in this."
To improve the industry's image, Leah suggests creating 'learning centres – farms which are set up in a way that allows us to invite the public on to our farms to understand the work we do. I think this will also help with the lack of younger people following a career in the agricultural sector." She would use the training grant for higher level apprenticeship in poultry or for a course on business management to help 'work my way up the ladder in our family business and help expand by developing another site and carrying on the hard work.'
AARON FULCHER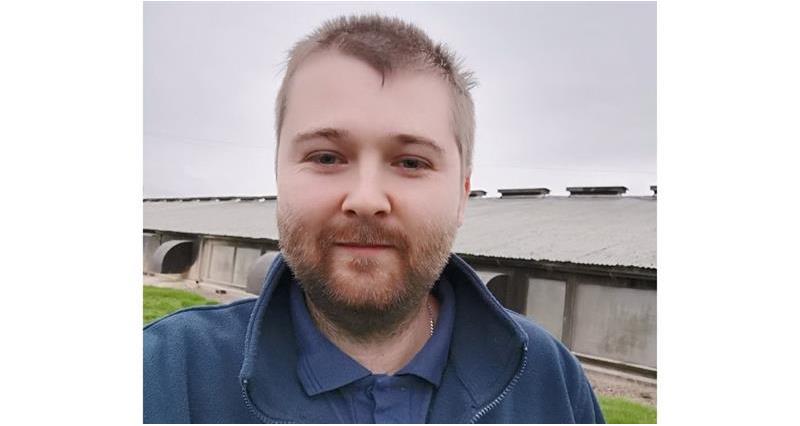 Despite being brought up in a family involved in the poultry industry, Aaron Fulcher chose to work in catering for six years after two years' study at Norwich City College. He didn't see a future in catering and turned to the 'Indeed' app to search for other jobs.

At a younger age he had unsuccessfully applied for jobs in the poultry sector. Following up a vacancy on 'Indeed' he joined P D Hook in April 2016 initially as a chick team member setting up poultry sheds and tipping chicks. He soon become recognised as one of the most competent members of the group. When he left to be the third man on a 247,000-bird site at East Wretham in Norfolk he was greatly missed by the chick team leader, said Phil Palmer, area manager for P D Hook. "There he went from strength to strength, always keen to listen and learn. He applied for an assistant manager's job, but at the time I didn't think he was quite ready for the change in responsibility. Instead of taking this as a negative, he got stuck into completing his NVQ level 2 and worked harder which was noted by the area team. So when he applied for the same job some time later, I was very happy to offer him promotion!"

The new role took Aaron to farms at Old Buckenham and Winfarthing where he is the relief manager responsible for the day-to-day running of the 230,000 birds on these sites. "Aaron is a valued member of the team on both farms. If he continues on this path, one day he will make a very competent farm manager," added Phil.

Aaron has impressed his Poultec tutor/assessor Scott Hughes, who said he is always keen to learn more about vaccination, ventilation and bird health and to find out more about other sectors of the business such as hatcheries and breeder farms. Currently he is working towards completing a level 2 diploma in work-based agriculture in June, and is planning to move on to level 3 training. "Aaron has worked hard to achieve his goals and with his commitment, enthusiasm and growing knowledge he will succeed further within the poultry industry," added Scott.

To help improve biosecurity Aaron advocates having automatic vehicle wheel washes on all poultry farms so there is no excuse for not disinfecting wheels, also showers on all sites, foot dips you have to walk through, and clean wellies and uniforms each day. "We need to make it easy. There are no excuses for biosecurity not to work," he said. He also believes the industry should be more open in showing the public what happens on the farm. "They need to understand how the environment is set up perfectly for the birds, with 24/7 feed and water, nice bedding, safe housing and warm fresh air," he said. "The public need to stop believing what they hear and witness it for themselves – either by up-to-date TV programmes or by spending a day on a farm and seeing how it works."

Aaron also believes that there should be more apprenticeships for young people in the poultry industry, more school and college outings to farms and invitations to the public to visit farms. He would use the training grant to expand his knowledge of the industry, to go on a veterinary course on bird health or business management to help him climb the poultry ladder.