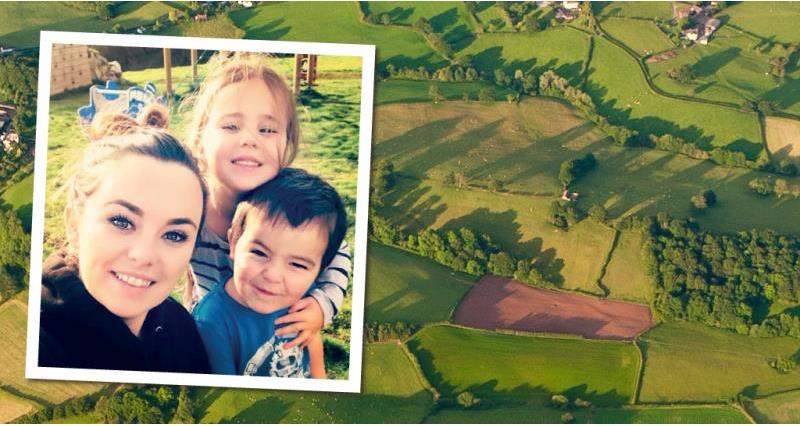 On 5 July 2016, dairy-farmer's daughter, mum and primary school teacher Emma Picton-Jones became a widow at 27 when her husband committed suicide.
Daniel – dad to Mali, four, and 14-month-old Trystan – was a self-employed agricultural contractor in Pembrokeshire, Wales, and had struggled for years with poor mental health.
He'd sought help, but not found the tailored support he needed.
"I presumed that because he had a wife, two young children and a seemingly settled life he would push through and come out the other side," said Emma. "Sadly he felt we'd be better off without him.
"Nothing can prepare you for losing a loved one, but planning a funeral at such a young age and trying to explain to your children why their daddy isn't coming home will haunt me for years.
"To them, daddy was OK because he had looked OK. Mali kept saying that she just couldn't understand."
In the immediate aftermath, just moving forwards was an achievement.
Emma did that for her young family. And then she did something in Daniel's memory, for her rural South West Wales community, and for the farming industry, in which suicide rates are double the national average.
She took the fight to anxiety, stress, depression and other mental health illnesses in farming, by setting up the DPJ Foundation charity.
"I was naive before Daniel's death," she said. "I didn't realise the extent of the issues in our community. When I started talking to people everyone knew someone who had died through suicide. I needed to do something positive."
The Front Line
Emma was sure support from within farming was the key, but getting farmers together when they work long, unsociable hours in isolated places was a tough ask. The answer was to take the support to them.
Using donations at Daniel's funeral, Emma hit the road, spoke to the people who went into farms most regularly – the vets, feed reps, tanker drivers – and gave them access to basic mental health awareness training. They, in turn, began signposting farmers to support. So far, DPJ has trained 68 such ambassadors.
With a groundswell of support, in January, the charity launched its Share the Load counselling referral service.
Emma explained: "We trained 14 Samaritans volunteers and took on a bank of fully-qualified counsellors. We created a 24-hour telephone line and a text service, because admitting your difficulties out loud is a big step.
"We all waited for the first call to come – and then it did! Since then we haven't looked back."
Those who make contact hear from a counsellor within 24 hours and receives six funded sessions, with the option of more.
Emma was also receiving counselling just as her charity was beginning to take off.
She said: "It was a turning point. I thought I was attending for grief counselling, but it was so much more.
"I didn't realise the impact living with someone with poor mental health had on me and, ultimately, the effect the suicide had."