This article, written by Dr Mhari Barnes, NFU flood management and access adviser, covers the policy update on beavers in England and Wales and the impacts beavers may have on British farms.
Background
Beavers have not roamed in the wild in Britain since the 16th century. However, since the early 1990s beavers have been seen in the wild in Scotland and, as of 1st May 2019, they have been granted protected status in Scotland which means that it is now illegal to kill them or destroy established dams and lodges without a licence.
Currently, beavers are present in England. There are a large number of beaver trials and fenced releases in catchments across the country, from Devon to Essex.
Beavers are herbivores and are best known for building dams in watercourses, creating large pond-like reservoirs. The mammals use woody material to construct their dams and are considered pioneers in dam engineering. The reasons beavers construct dams within watercourses is habitat shelter and because they are immensely irritated by the sound of running water.
However, these dams can cause a plethora of flood risk hazards which means that location, especially catchment context, is an essential consideration when contemplating beaver trials within an area.
Policy progress
Beavers have been a protected species in Scotland since May 2019. The NFU has voiced strong concerns to Defra over the same happening in England, as farmers need management options if beavers are to be in the English landscape.
The NFU is not in support of beavers becoming protected in England. Defra has recently (August 2021) announced beavers will become protected in England too, as the legislation requires this. The NFU will be seeking further details of the process of protecting beavers in England, including timescales, and will work to ensure the licencing regime works practically.
Potential impacts
The potential impacts that beavers may have on agricultural land are of high concern to the NFU and our members. The sites in Tayside where beavers have been released have experienced the degrading of lowland agricultural land, with field drainage ditches being dammed by the animals leading to the wetting up of an entire field and the subsequent loss of crop yield. Beaver deterring mechanisms were installed but the beavers simply moved the dam farther downstream to counteract this, leading to a vast storage pond upstream of the dam.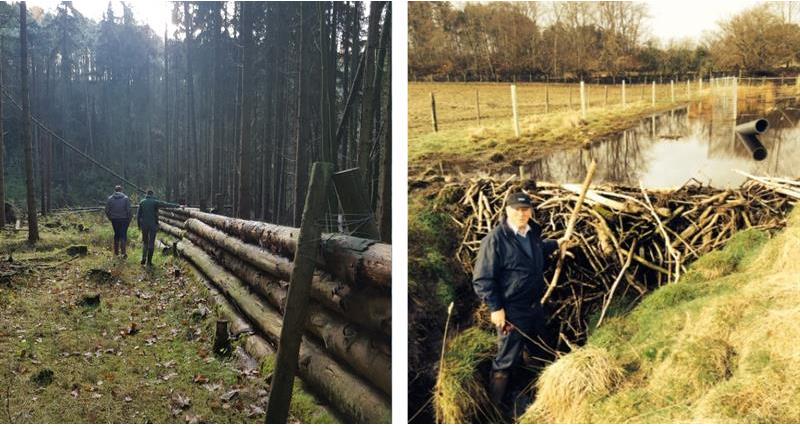 Left: Woody barrier, Cropton Forest, North Yorkshire (Photo credit: M.Barnes, 2018). Right: Beaver dam constructed downstream of a beaver deterring mechanism in Tayside, Scotland.
The destabilisation of river banks has also been reported by farmers in Tayside, with large areas of riparian land becoming unstable as the beavers continue to burrow into the banks and then continue into agricultural land.
Beavers have been found to use oil seed rape as a food source and also as construction material for their dams. One of the main concerns arising from the presence of beavers within English catchments is their potential diet. The English landscape has changed dramatically since beavers were last roaming free, it is known that beavers eat other vegetation and not just wood, and therefore there could be an impact to crops.
Benefits of having beavers within an area include increased water quality1, however, there have been associated increases of dissolved organic carbon (DOC) within water bodies immediately downstream of a beaver effected area, which could lead to wide-ranging negative impacts on freshwater biota, drinking water quality and upland carbon balances2.
Beavers: Flood risk managers?
Recent platitudes for the release of beavers within catchments in England are associated with flood reduction benefits. However, the quantifiable evidence into the flood mitigation generated from beaver habitats in England and Wales is extremely limited, with recent studies not considering basic hydrological routing effects when considering the flood peak reduction in a reach.
The risks could also far outweigh the benefits as beavers are renowned for sporadically 'breaking' or destroying, their dams. If a dam break were to occur during a peak event the dam-construction material would end up being transported downstream and could lead to blockages within culverts and under bridges; further exacerbating the flood risk e.g. the Devon beaver trial where 55 dams were originally constructed. Of these, there are only 26 in place now.
Pickering beaver trial
In Pickering, North Yorkshire, a scheme was implemented after the town was victim to several severe flood events. The flood alleviation scheme differed from other, more traditional schemes, as it aimed to 'slow the flow' by holding water upstream, allowing the flood-wave to be held back and therefore, mitigating the flood risk. The scheme was not entirely 'natural' as it incorporated the use of hard-engineered defences immediately upstream of the town.
Natural Flood Management (NFM) schemes are increasingly being implemented across the UK. However, the flood alleviation plans very rarely include maintenance post-installation, which can therefore reduce the longevity of a scheme. As a means to overcome this, the Forestry Commission, which owns parts of Cropton Forest where engineered woody-barriers were installed as part of the Pickering flood alleviation scheme, have applied for a licence to conduct an enclosed beaver trial for 5 years.
This is on the basis that it would cost £100,000 to carry out de-silting work on a pond in the Cropton Forest site and replace the degraded woody-barriers, whereas it hopes that beaver activity would have a similar effect.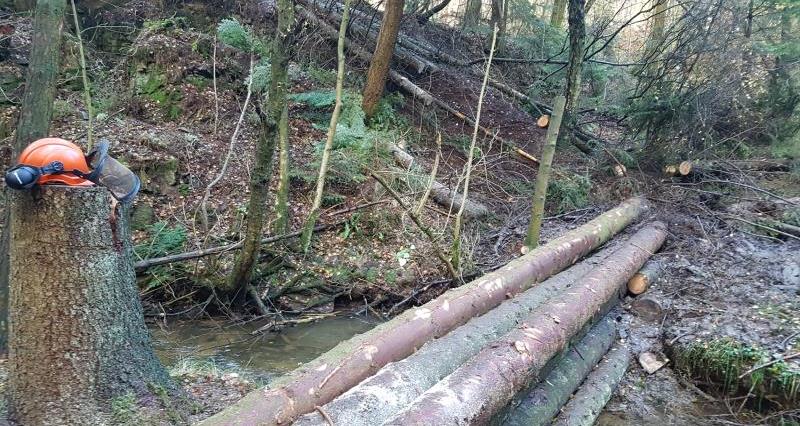 Countryside Stewardship design leaky barrier, Cropton Forest, Pickering, North Yorkshire. Photo credit: M. Barnes November 2018.
The Forestry Commission has also installed Countryside Stewardship design leaky barriers on site, downstream from the original woody-barriers. The Forestry Commission plan to monitor the hydrological impact of the beavers but as these flood risk features are substantial, it will be very difficult to differentiate between the flood attenuation impacts of these features and the beavers.
NFU working for you
The NFU has serious concerns about the impact of beavers on agricultural land. Beavers can block land drains leading to the wetting up of productive land leading to losses in productivity. They can also impact on maintenance of river banks, increasing the flood risk. Currently, it is possible to manage beavers. If beavers become a protected species, which could happen following any similar decisions made in Scotland, it will lead to constraints on their management. Should the Government be minded to confer protected status on beavers then there needs to be a clear management strategy in place that addresses conflicts with agriculture before beavers are released into the wild. Defra and Natural England are fully aware of our position.
The NFU is keeping informed on the developments around beavers in England. The NFU is also observing a couple of the beaver trials to learn from experience and improve our understanding of beavers and their potential impact on farming systems. We will keep you up-to-date with any progress.