Hundreds of regional members took part in the NFU's national rural crime survey and farmers said they wanted to see more resources put into tackling the issue in the countryside.
In the West Midlands, 222 farmers and growers responded and 42% said they had experienced one crime or more last year at an average cost of £5,463.
The survey also showed that security at regional farm businesses has been beefed up with farmers spending thousands on crime prevention and security.
As well as the usual lines of communication with police officers, 28% of farmers revealed they were turning to mobile phone What'sApp groups to report rural crime and pass on intelligence - although 78% said they did not have regular contact with the police other than when reporting incidents.
The survey was conducted by phone and online by the NFU's in-house research team to help assess the level of rural crime, ahead of the Police and Crime Commissioner (PCC) Elections on 6 May.
Farmer Malcolm Roberts, NFU regional board chairman, who represents farmers across Herefordshire, Shropshire, Staffordshire, Warwickshire and Worcestershire said: "Rural crime remains a blight on the countryside but such a survey helps the union better understand farmers' perceptions of crime; whether members have been affected, how secure we feel as well as the extent of our interaction with the police.
"As NFU officeholders, the county adviser team and group secretaries speak with PCC candidates all of this will be fed into them."
A majority of respondents, 61%, said they felt that the police took sufficient action but half said they still wanted to see more resources devoted to tackling rural crime in their area.
While a massive 70% said they felt rural crime in their area has increased during the past year and 45% of regional respondents said they did not feel safe or secure.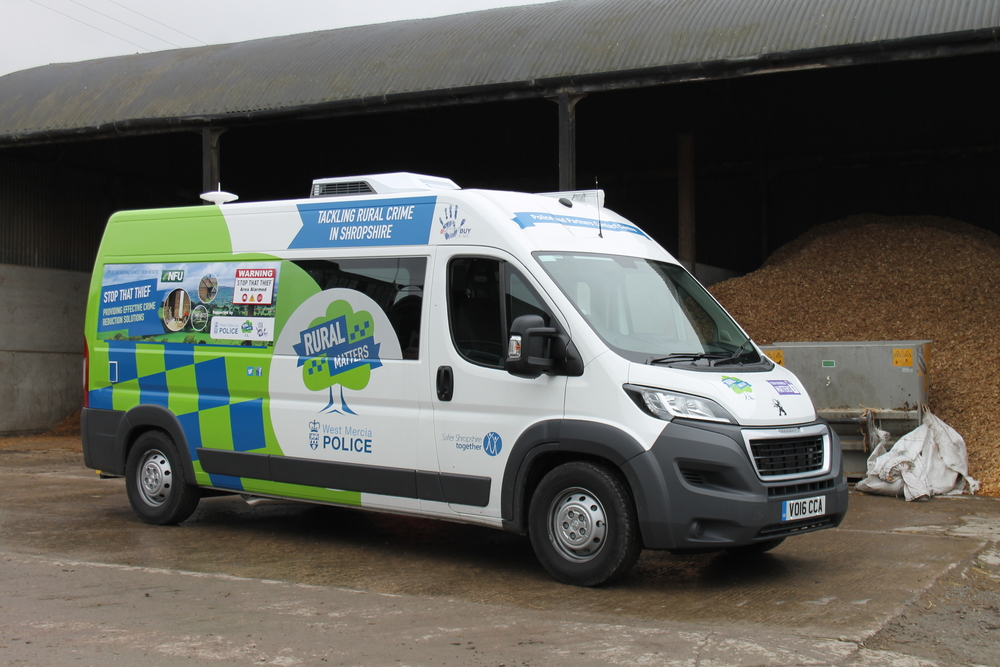 Robert Newbery, NFU West Midlands regional director, said: "We do work closely with the police in our area and have seen some excellent results from their respective rural crime teams and more than half, 58%, of those who took part in the survey said they did not experience any crime in 2020.
"The survey revealed that of the 42% of crime victims who reported at least one instance last year the most common types of items targeted were tools, equipment, vehicles and machinery."
The survey revealed that 60% had reported the most recent incident to the police, but farmers said they were less likely to report trespass, fly-tipping and cyber-crime.
A lack of police response, the crime being too minor and the time it took to report a crime were the top three reasons why respondents said they did not flag up incidents with officers.
A total of 1,968 interviews were conducted between 21 January and 16 March 2021.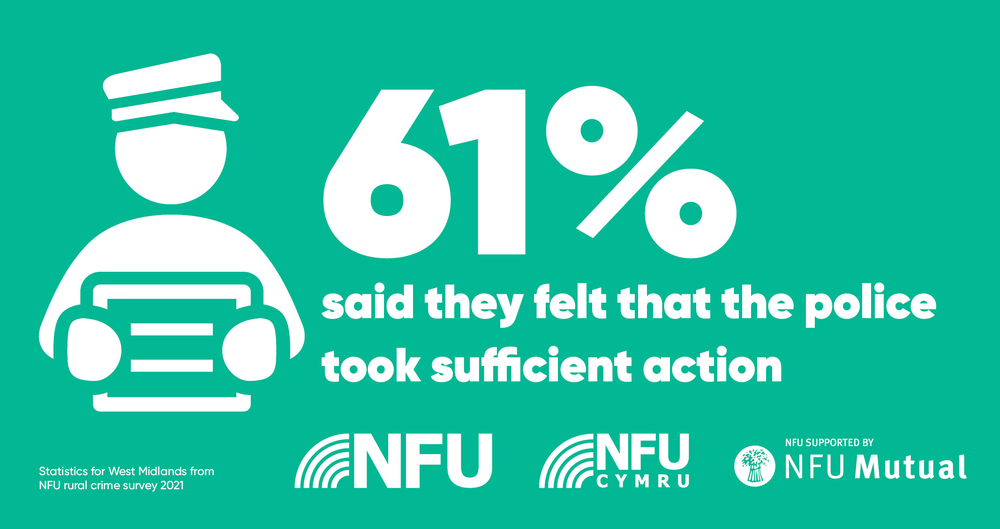 Mr Newbery added: "Of course, you will find negatives in such a report but it also shows the rural community is fighting back, employing additional security measures on their farms and embracing new ways of communicating and reporting incidents."
Tackling rural crime is also a key strand of the NFU's Levelling up Rural Britain report launched earlier this year, which highlights how British farming and rural Britain can provide the solution to many of the challenges the nation faces by driving sustainable food production and pioneering food policy that produces carbon neutral food.
It also showcases how rural Britain is uniquely placed to help the recovery of the nation from Covid-19; delivering physical and mental health through the farmed landscape, which has been a lifeline for so many during lockdown, and supporting the return to whole-food cooking with nutritious, sustainable and affordable British food.
POLICE COMMENT:
Inspector Alison Wiggin, Rural Crime Lead for Warwickshire Police, said: "Rural crime is an extremely important issue which can cause huge distress and financial hardship to victims and communities.
"As a largely rural county, sadly we do suffer from rural crime and alongside other counties, we have seen an increase over recent years.
"With a dedicated team established across the county and a comprehensive strategy in place to tackle specific rural offences, we are committed to addressing these issues and want to reinforce the message that rural crime will not be tolerated in Warwickshire.
"We remain determined in preventing and reducing offences, and are continually looking for ways to improve and innovate in order to make a real difference to our rural communities."
Chief Inspector Mark Thorley, one of the Staffordshire Police leads for rural and wildlife crime, said: "We take rural crime very seriously and have just completed a dedicated operation with specially trained officers, supported by the Special Constabulary, focusing on reports of anti-social behaviour, suspicious activity and heritage crime in our rural areas.
"We dealt with numerous off-road bikes, executed search warrants, seized firearms and ammunition, and seized a 4x4 vehicle which had damaged land."
He said officers trained in rural and wildlife crime were out and about across the county – from the Staffordshire Moorlands to Cannock Chase and Kinver Edge – talking to residents, visitors and members of the farming community to listen to their concerns.
"We're also working closely with our colleagues and bordering forces to target criminals travelling onto us from urban areas," he added.
Chief Inspector Ross Jones, West Mercia Police lead for Rural and Business Crime said: "Policing a rural area such as West Mercia offers unique challenges not least because of the large geographic area we cover and the array of road networks weaving through our countryside.

"To counter this and the increasing sophistication of organised criminals targeting agricultural plant, livestock, farm vehicles and machinery, police and partners are being innovative and creative in the way they tackle rural crime to target-harden rural communities and deter criminals.

"Our teams in Herefordshire, Shropshire and Worcestershire are working tirelessly to keep our communities safe, and every town, village and hamlet is covered by a safer neighbourhood team with a dedicated safer neighbourhood officer. Each county also has dedicated Rural and Business Crime Officers who work with the local community, listen to their concerns and study crime types and trends in order to best allocate our resources to and to keep people safe. These officers provide invaluable reassurance and have a wealth of knowledge and experience around rural crime.

"We encourage people to report crimes to the police. Offences are often committed by criminals travelling into the area, often as part of larger organised networks. We continue to work with policing colleagues and enforcement agencies across the UK. This approach has led to many successful prosecutions. It is vital we are aware of what is happening right across our counties so we can continue to take action. Many areas have direct lines of communication with our rural officers using 'group chats' which also act as invaluable streams of intelligence which are then able to act upon.
"While we are working hard to deter criminality and anti-social behaviour in our rural communities through more visible and proactive patrols, we are also committed to investigating and arresting those responsible for breaking the law and bringing these people to justice.

"One of our other key priorities is getting out and about meeting local residents which has of course been extremely challenging this past year as national restrictions during the pandemic. With restrictions easing we will once again have a number of mobile police stations touring the region. During the summer months we look forward to attending the many county and agricultural shows that were not seen in 2020 and would encourage anyone who goes along to come and have a chat with us."
Top image: Warwickshire Police Rural Crime Team