The Groundswell event showcases the five principles of regenerative agriculture:
protecting the soil surface
minimising soil disturbance
maintaining living roots
increasing diversity
integrating livestock.
The NFU had a stand this year, where members of the NFU Combinable Crops Board and regional and national advisers were available to talk to visitors.
Around the event, there were a range of informative demonstrations and sessions. From soil health to the study of microbes, NIAB trials to cover crops, and a demonstration on mob grazing.
They not only focused on the practical side of applying regenerative agriculture principles on farm, but also how to better engage with the public and shape the policy underpinning farming for a better focus on food production.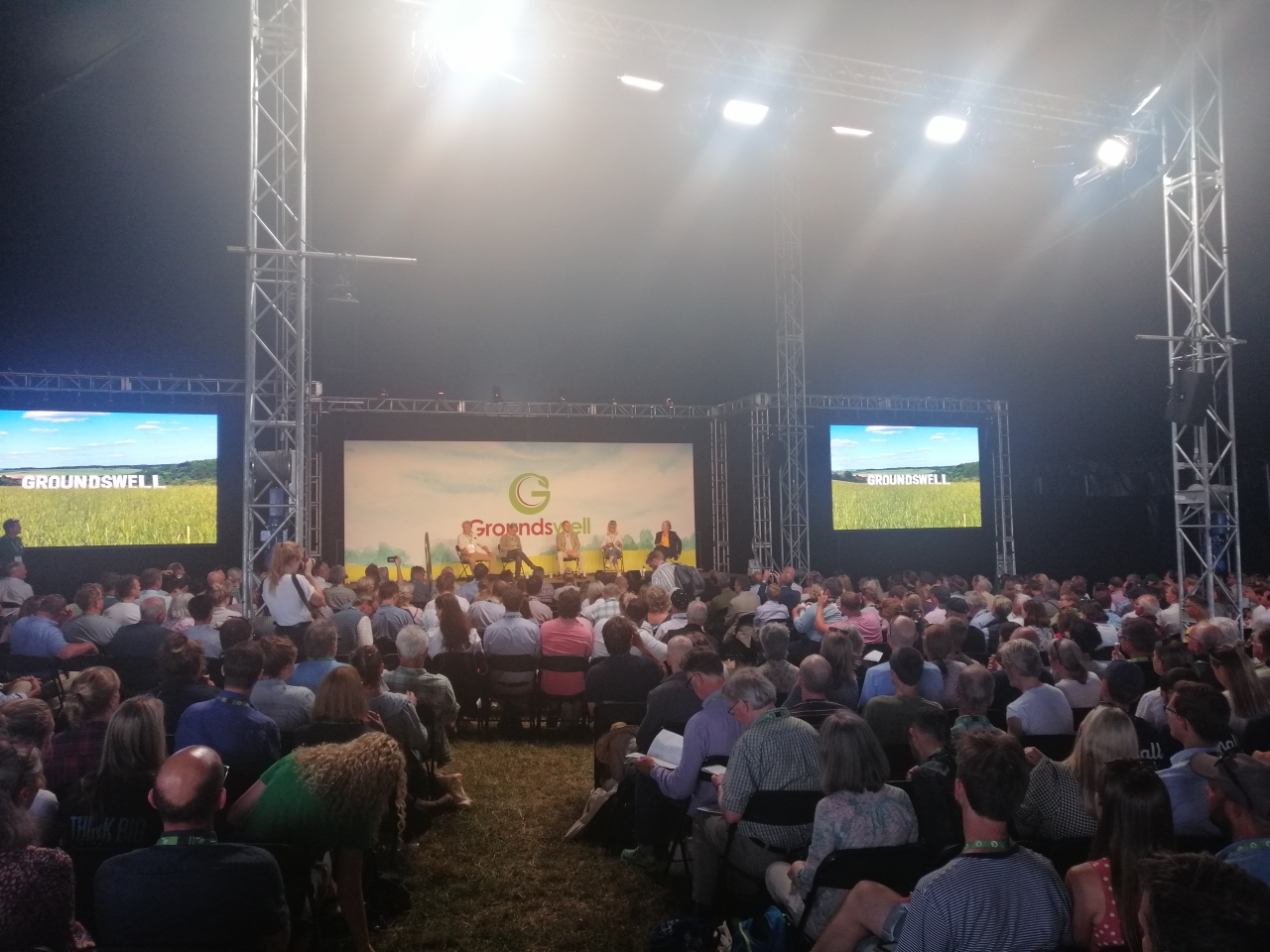 Seminars with NFU speakers
One of the key seminar sessions, 'Policy Hour' on the event's Big Top stage, saw NFU President Minette Batters on a panel discussing ELMs alongside Defra Secretary of State George Eustice, Natural England chair Tony Juniper and Baroness Natalie Bennett of the Green Party.
The overwhelming sentiment was to not let party politics block the way to long term sustainable farming policy. Minette highlighted the importance of supporting domestic food production, alongside UK self-sufficiency figures, to ensure the UK's food system is resilient for the future in the face of the global climate crisis.
Mr Eustice used the occasion to confirm 30 June 2022 as the date that the rolling window would open for SFI applications. He also talked about the importance of the government's new farming schemes providing flexibility to innovate, adjust and tailor actions to an individual landscape and even an individual farm.
You can watch the session in full below. You can also read Mr Eustice's speech in full at the Gov.uk website: Environment Secretary shares agricultural plans at Groundswell
Biodiversity
NFU Combinable Crops Board chair Matt Culley and NFU Environment Forum representative Jake Fiennes took part in a discussion looking at nature positive farming by 2030.
They were practical yet positive about the impact British farmers could have on biodiversity over the next five years, with Jake drawing on his own experience at Holkham Estate in Norfolk.
Matt highlighted the need to establish a baseline for nature on farm to measure and steer future improvements. He also spoke about the need to reward farmers not just for implementing biodiversity actions on farm, but also to support the maintenance of this work. This, he said, all hinges on properly functioning farm policy, something we must get right to create the certainty for farmers to invest in new ideas for the future.