Anthony's grandfather bought Little Goldsmiths in 1938, running it as a dairy farm until 1999 when the herd was sold and half the acreage was moved to arable. Now, just under 100 acres of the farm is low input grassland used for hay and sheep grazing. The other 100 acres of arable cropping is currently growing milling wheat, with more land being brought into the rotation this autumn.
Environmental strips of summer pollinator and winter bird seed mix have been permanently integrated across the arable area. In 1997, the farm entered a Countryside Stewardship scheme, and between 2007 and 2017 the farm was in Environmental Stewardship. Anthony also works full time as a tree officer for the county council.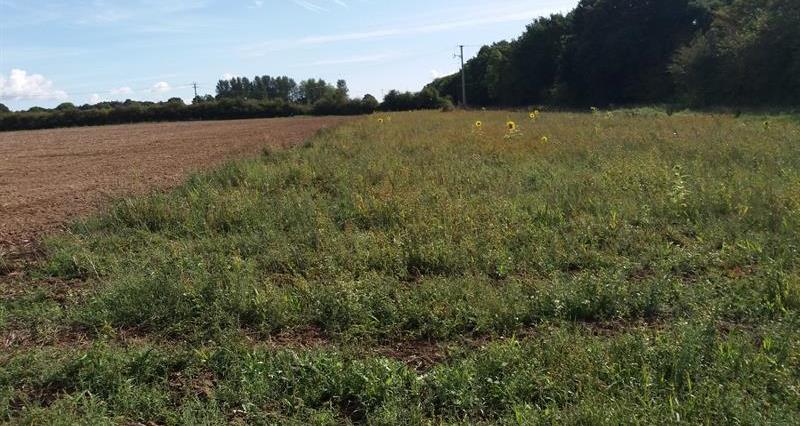 Soil health
Soil health is a major focus as the farm is mostly on Weald clay. Anthony is expanding the crop rotation and making best use of machinery to help protect the soils. Rotations are also important to aid the control of weeds, especially blackgrass. Stale seed beds, chemical control and hand roguing also play a part in trying to keep it at bay and autumn cultivations are left as late as possible to minimise soil disturbance.
This year, Anthony is bringing another 25 acres into the arable rotation. This will allow for creation of an autumn sown green manure that will be rotated around the arable area. As he explains: "The transition to green manure for the first 25 acres will consist of broadcasting clover seed into the standing wheat crop using an Avadex applicator, forming a green understory that will be well established by harvest. Then I can direct drill the green manure mix into this in the autumn. The plan will be to desiccate and direct drill the next winter crop into it in autumn 2022.'
"The farm works to improve soil health by chopping straw on an annual rotation to improve the organic matter content. We have been min till for about 15 years. All of these measures which focus on soil health have noticeably improved our crop potential, and we no longer consider ourselves to be farming on marginal land."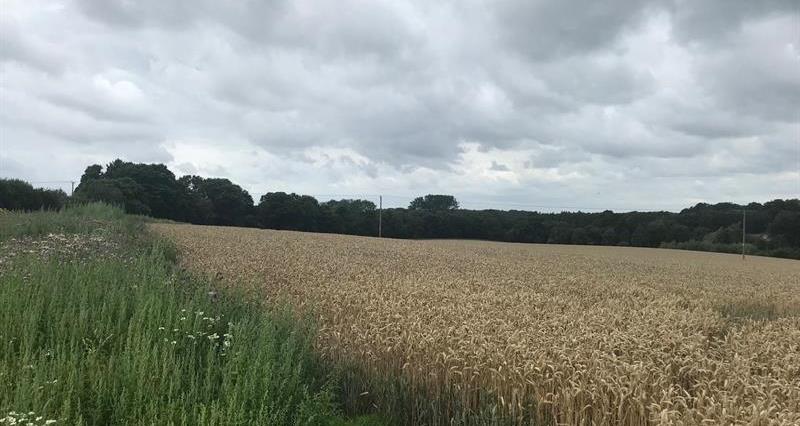 The farm is trialling two group three wheats this autumn - KWS Firefly and LG Astronomer. The main reason is to move to groups and varieties with better agronomic traits and potential yields without the pressure on inputs that group one and two wheats bring. Looking after the soil and the microbial populations within it that benefit the soil and crops has become more of a concern and longevity of soils ultimately depend on these microbes for the basics of soil structure and nutrient availability and uptake.
Anthony explains:
"We joined the old Countryside Stewardship scheme in 1997 for 10 years, then joined ELS for another 10 years, having kept all of the original CS measures we put in. Since 1997, we have planted around 600m of hedgerow, using a mix that includes hawthorn, blackthorn, hazel and field maple, which we are managing on a three to five year rotation. We have also planted more than 200 trees. We continually coppice and restore about three acres of woodland, shaws, gylls and have also restored and manage one acre of historic orchard. Most hedges are more than five metres high and wide, which provides a large amount of food for birds, and habitats for a diverse range of species."
Anthony's mantra on the farm is to keep it simple. "Widening the rotation and focusing on the best cropping and cultivation systems for our soil is also helping us become more sustainable. The farm is small enough that I can micromanage it: each field is farmed individually, focusing on detail and ensuring we don't do anything unnecessarily."