November 2020
Impact on turkey production this Christmas
The BBC Radio 5 Live Breakfast show also spoke to member Chris Rumming at Lydiard Turkeys who reiterated that ordering the same size turkey will help support turkey farmers as well an providing tasty, healthy leftovers. Listen again from 1hr 54m 30s.
The Independent reports a relaxation on quarantine rules for seasonal poultry workers ahead of 'a Christmas rush on turkeys'. NFU chief poultry adviser Aimee Mahony is quoted in the piece.
October 2020
Concerns over turkey shortages
The Sun warned of turkey shortages this Christmas due to Coronavirus restrictions causing a lack of seasonal workers who are able to process the birds. NFU chief poultry adviser Aimee Mahony is quoted in the article.
September 2020
Hops and cider apple growers hit by pandemic
NFU horticulture and potatoes board chairman Ali Capper set out how hops and cider apple growers have been impacted by the coronavirus pandemic on BBC Farming Today.
August 2020

NFU potato forum chairman Alex Godfrey is quoted in the Financial Times' coverage of news that McCains will boost the sector with £25m of support, highlighting the impact of drought in 2018, floods in 2019 and the pandemic in 2020 on the sector.
July 2020
The public value their farmers, according to OnePoll survey
The latest results of the Farmer Favourability Survey, ran by OnePoll, were reported exclusively in the Mail on Sunday, showing that 75 per cent of Britons have a positive view of the farming industry, while 86% agreed British farms should grow enough to provide national food security.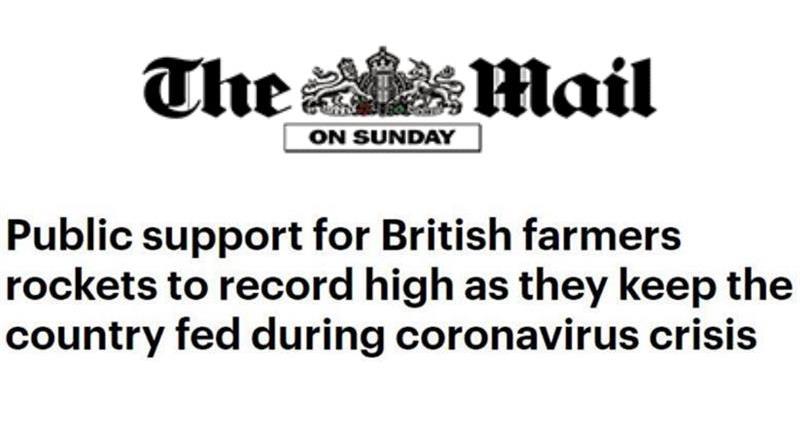 Accompanying the piece was an op-ed from George Freeman MP, who referenced the NFU's role in the government's recent announcement on the Trade and Agriculture Commission and argues that we should not open up our food chain to a flood of cheap meat and processed food.
Countryside access
On BBC Countryfile, the programme featured the NFU's Dr Mhari Barnes (pictured below) discussing public space protection orders in a feature on the countryside code and access issues during lockdown. She stressed that a balance must be struck between welcoming visitors to the countryside and protecting widllife and British farmers. Watch from 20 mins.
June 2020
The Observer ran a feature on how food supply chains coped during the first phase of coronavirus. NFU head of food and farming Philip Hambling is quoted explaining how many dairy farmers lost their market overnight, how issues left many chickens and potatoes without a home, and the NFU's engagement with the retail sector to encourage promotion of premium beef.
A feature in the Metro covers the long-lasting impact of coronavirus on the public's eating habits. NFU Deputy President Stuart Roberts is quoted discussing the rise of interest in local farm shops, butchers and artisan producers.
Pick for Britain campaign
Business Insider ran a feature which sees reporter Sophie Ankel volunteer on NFU member Andrew Pimbley's farm to do some fruit picking for herself. The piece highlighted how the agricultural seasonal workforce was affected by the pandemic and quoted NFU Vice President Tom Bradshaw.
May 2020
Seasonal workers and Pick for Britain campaign
Good Morning Britain reported the response from local people to the Pick for Britain campaign and heard from Angus Davison of Haygrove Farms in Hertfordshire, who said he was proud of the domestic workers he now employs to pick fruit after receiving 2,500 applications on the back of one Facebook advert.
NFU Vice President Tom Bradshaw featured on The One Show about the workers that have come forward to pick asparagus at a farm on the Wirral. Tom explained that more workers would be needed during the peak season.
The Sun, The Telegraph and The Independent and Country Life magazine carried a video message recorded by Princes Charles released to coincide with the Pick for Britain campaign, in which he urges people to help bring in the harvest.
Impact of closure of markets
The Daily Telegraph reported how the sudden closure of the world's restaurants, hotels and caterers has caused an unprecedented demand shock for farmers. They spoke to NFU potato forum chairman Alex Godfrey and NFU head of food and farming Philip Hambling about how potato and adiry farmers have been affected.
The Telegraph also reported NFU President Minette Batters comments about how food sites could encourage consumers to buy British by highlighting UK produce.
NFU potato forum member Robin Cropper was quoted in the Telegraph explaining that he had had 2,000 tonnes of potatoes when lockdown hit, but almost overnight the customer base disappeared.
Robin was also interviewed live on TalkRADIO where he emphasised the challenges for the sector with the overnight closure of the hospitality sector.
NFU Deputy President Stuart Roberts was interviewed by LBC's Iain Dale on how the farming sectors are being hit by covid-19, stressing the loss of the hospitality sector impacting dairy and changes in eating patterns impacting livestock farmers.
The challenge continues for the dairy sector
The Daily Telegraph and BBC News report the government's announcement that it has launched a £1m drink milk campaign to aid dairy farmers during lockdown struggling with the loss of the out-of-home sector. The BBC quotes NFU President Minette Batters from the Efra Committee session saying dairy farmers were in "absolute crisis".
The Daily Mail reported that a collapse in milk prices means dairy farmers are getting just 15p a litre and cannot cover costs. NFU President Minette Batters is quoted highlighting the need for a hardship payment to support the hardest hit.
Other coronavirus coverage
NFU President Minette Batters was on the BBC Radio 4 Any Questions panel and discussed the easing of lockdown restrictions and farmers' concerns over countryside access, lessons learnt with regards to supply chains, and frustrations over the Agriculture Bill.
The Independent ran a feature on the divide between rural and urban areas and how coronavirus is exacerbating this, mentioning NFU concerns over anxieties within rural communities over countryside access.
April 2020
NFU calls for government action to save iconic dairy sector
In print, the NFU's call to ministers to act to save the dairy industry was quoted in The Times, The Guardian and the Daily Mail. Meanwhile, Telegraph columnist William Sitwell urged the public to spend more on British produce to support our farmers over Easter, quoting NFU President Minette Batters.
On BBC Radio 4's Today, Defra Secretary of State George Eustice responded to a message from NFU President Minette Batters in which she stressed the severe challenge the loss of the out-of-home sector has been for dairy farmers.
NFU dairy board chairman Michael Oakes featured on BBC Countryfile, reiterating the NFU's asks from government to support the dairy sector with a incentivised milk production scheme. NFU Cymru milk board chairman Abi Reader is also featured emphasising the lack of support for the sector. Watch from 25mins.
The Sun and Daily Mail reported the industry's letter to government to call for urgent support to protect dairy farm businesses during the coronavirus pandemic.
Dairy board chairman Michael Oakes was interviewed on BBC Radio 5 Live's Wake Up To Money and set out the challenges facing dairy farmers as a result of the impact of COVID-19 on the food service sector and the closure of restaurants and cafes.
Challenges for the beef sector
Deputy President Stuart Roberts was featured on BBC Radio 4's You and Yours discussing how changing consumer habits are affecting livestock farmers who are now faced with producing less than their cost of production and why retailers must be promoting a range of products to push demand.
Metro and MailOnline quoted NFU chief livestock adviser John Royle stressing that British farmers are prepared to meet demand and urges retailers and processors to build resilience now to manage future disruption.
Meanwhile, NFU livestock board chairman Richard Findlay is quoted in the Daily Mail responding to plans to reduce the meat content of meals served at schools, universities and in hospitals. He said if public sector caterers wanted to do their bit for the environment, they should be supporting British farms.
Pick for Britain
The Times reported the launch of the government's online service, Pick for Britain, to mobilise farm workers, quoting NFU Vice President Tom Bradshaw saying there will be thousands of vacancies opening up and that we've seen huge interest already.
Tom Bradshaw was featured in an in-depth report from BBC5Live's Nihal Arthanayake programme on calls from industry for people to come forward and pick this year's crop.
Good Morning Britain broadcast live from NFU horticulture and potatoes board chairman Ali Capper's farm and heard from workers already out picking about what applicants can expect.
The Daily Mail ran a feature on the back of a The Sunday Times piece the profiling workers on Ali Cappers' farm, as well as interviewing farmer Tom Martin who discussed the conditions on farm for pickers, including rate of pay, working hours and skills.
BBC Daily Kitchen Live and ITV Lunchtime News featured live interviews with Vice President Tom Bradshaw about the Pick for Britain campaign, why workers are urgently needed to come forward to pick fruit and veg this harvest, and how the public can get involved.
The Guardian reported comments from NFU President Minette Batters that she is optimistic that domestic workers will come forward to rescue the harvest and keep the nation fed, particularly since the government announced furloughed workers will be allowed to top up their income.
Tom Bradshaw featured on a BBC News Special in a piece highlighting the importance of seasonal workers in keeping shelves stocked. He urged industry to unite to keep putting British fruit and veg on our plates.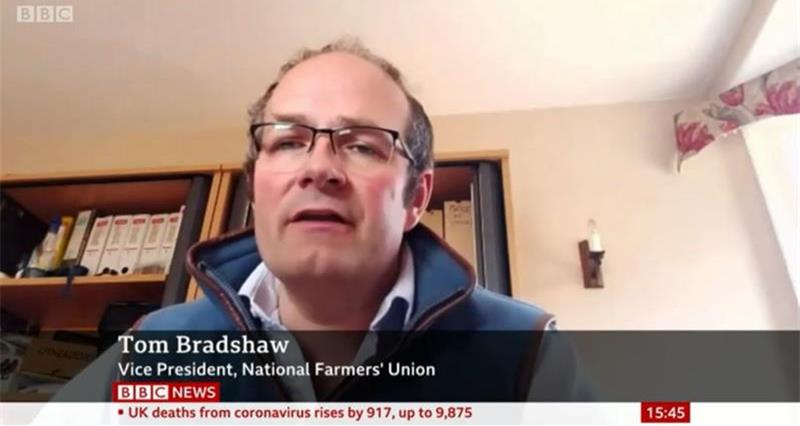 NFU Horticulture and potatoes board chairman Ali Capper was interviewed by BBC Newsnight highlighting that British workers will be very welcome on British fruit and veg farms to bring in this year's harvest.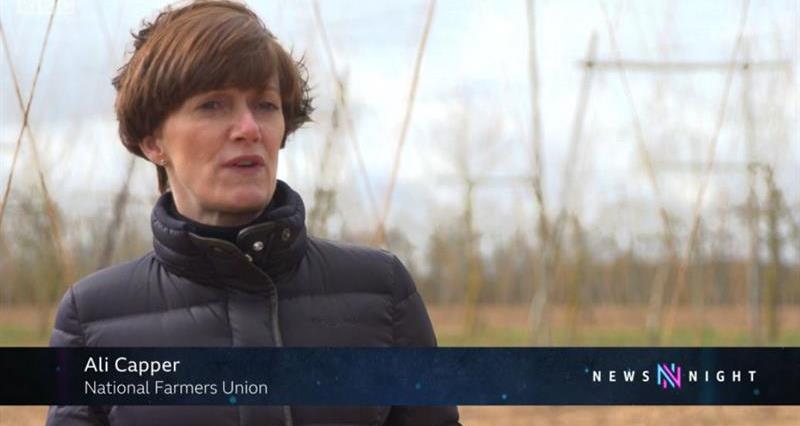 Asparagus grower and NFU member Matt Spanton was interviewed by Channel 4 News and told them about the challenges of recruiting a domestic workforce to pick and pack his asparagus and how workers were essential in order to keep shelves stocked.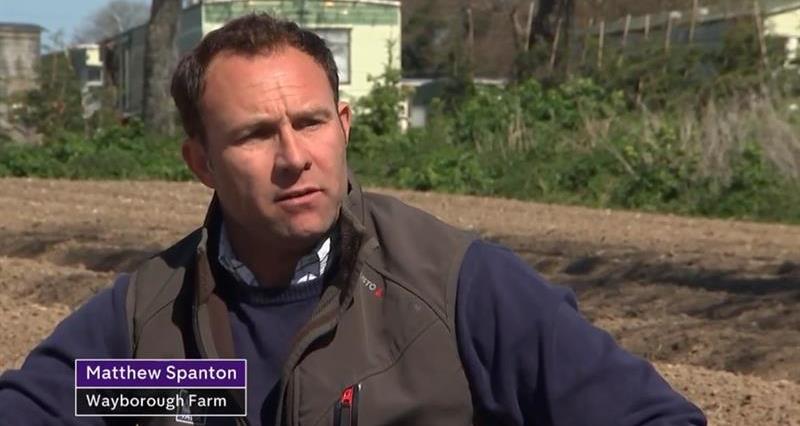 March 2020
NFU President Minette Batters was interviewed live on BBC5Live's Breakfast, as well as Sky News with Sophy Ridge, to emphasise a growing need for a government drive to encourage domestic workers to apply for seasonal work on farm.
NFU President Minette Batters was interviewed on BBC Radio 4's PM, and explained that we now have an opportunity to produce more food domestically and that British workers could also be trained to carry out seasonal roles on farm.
BBC News reported that UK could face potential shortages of fruit and vegetable pickers this year. NFU Vice President Tom Bradshaw is quoted saying it was vital that Defra got behind a UK recruitment campaign.
The Daily Telegraph and BBC News reported that university students are being urged to apply for fruit picking roles, quoting NFU President Minette Batters emphasising concerns due to while NFU horticulture board chairman Ali Capper saying the industry needs "as much help from society at this time".
The Times' columnist Alice Thomson writes that farmers are going to be crucial in dealing with the challenges around coronavirus, quoting NFU President Minette Batters saying "we'll need to train up our own workforce to make sure there is food on the shelves and repurpose all our produce for the shops."
NFU Vice President Tom Bradshaw told BBC Farming Today's that the NFU was communicating with the government to incentivise domestic workers, included furloughed workers who may well be looking to top up wages, to come and pick fruit and vegetables.
NFU director EU exit and international trade Nick von Westenholz described the challenges facing the industry and the work being done to redirect products out of the hospitality and out-of-home sectors and into retail to BBC5Live's Emma Barnett.
The Daily Express ran a report based on Nick von Westenholz's 5Live interview, and the need for the government to help drive recruitment for seasonal work domestically.
NFU President Minette Batters was live on BBC Radio 4's Today programme covering the impact of coronavirus on farm, emphasising that farmers will continue to do all they can to up production and keep shelves stocked.