Back British Farming Day on 15 September saw politicians from across Herefordshire, Shropshire, Staffordshire, Warwickshire and Worcestershire join the National Farmers' Union, NFU, in Westminster and in their constituencies to celebrate the industry.
More than 100 MPs and peers wore a Back British Farming pin badge, made of British wool and Shropshire wheat, during Prime Minister's Questions (PMQs), in recognition of the importance of food and farming across the country.
The wheat in the Back British Farming pin badge came from the Bubb family's farm, at Newport, in Shropshire.
Regional MPs at the NFU reception in London included: Bill Wiggin, North Herefordshire; Daniel Kawczynski, Shrewsbury and Atcham, Philip Dunne, Ludlow; Christopher Pincher, Tamworth; Kate Griffiths, Burton and Uttoxeter; Craig Tracey, North Warwickshire; Nigel Huddleston, Mid Worcestershire and Harriett Baldwin, West Worcestershire and Mike Wood, Dudley South.
Other regional politicians also wore wheat-pin badges during PMQs and took to social media to show their support for farmers and growers in their constituencies - others including Saqib Bhatti, Meriden and Theo Clarke, Stafford, went out on farm in the weeks up to the event to meet NFU members and discuss sector issues with the union.
A new NFU report, which asks for Government to complete a comprehensive report on UK food security later this year, covering the country's production of key foods and its contribution to global food security, was also launched.
This would be the first meaningful assessment of UK food security in over a decade and the first under the requirements of the Agriculture Act that mandate reporting every three years.
The union report 'British Food: leading The Way' also showcases how the UK can reduce its reliance on food imports by harnessing the growth opportunities for different home-grown foods and increasing British sourcing in public procurement coupled with ambitious food and trade strategies that will help farmers provide more quality, affordable and climate-friendly food to people at home and abroad.
Robert Newbery, NFU West Midlands regional director, said: "I think it is vital that the support and commitment shown by our politicians continues after Back British Farming Day and the union will continue to champion members' businesses in the region.
"Delivering a comprehensive report into food security and taking appropriate action in response would show Government is serious and ambitious about boosting sustainable food production in Britain.
"This would not only help reduce the UK's reliance on imports, which often fall below our own high standards of production, but also enable farmers to build the British brand overseas through trade."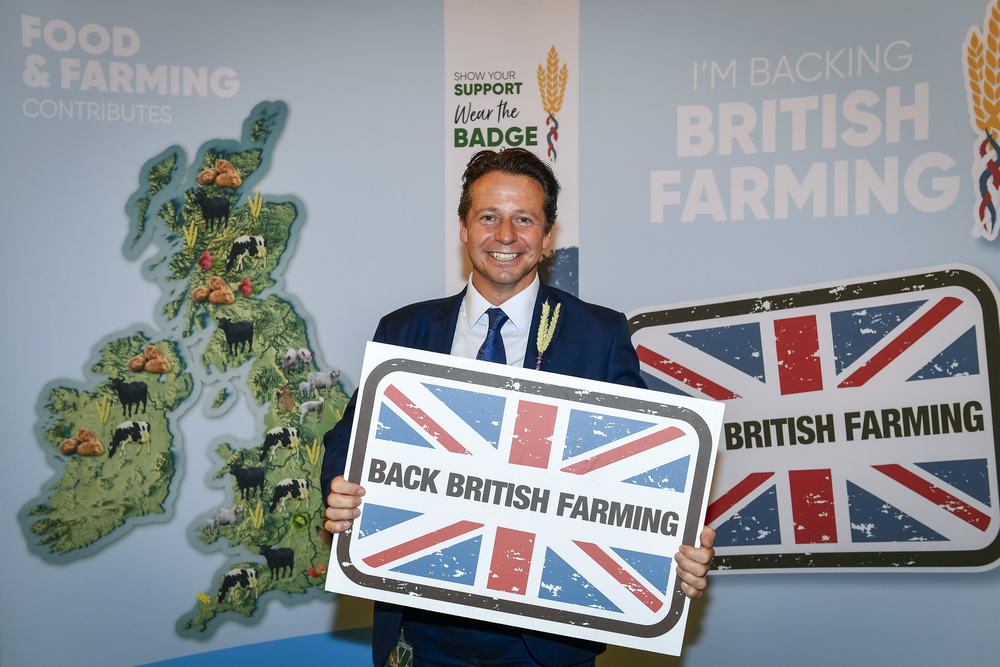 West Midlands farmers grow and rear quality, assured, great tasting food and drink that has been produced to rigorous welfare and environmental standards.
In the region they provide more than 40,000 jobs and put more than £800 million into the economy and communities.
Nationally the food and drink industry, of which farming is the bedrock, provides nearly four million jobs and contributes more than £120 billion to the country's economy.
Farmer Malcolm Roberts, NFU regional board chairman, who represents union members across the five West Midlands' counties, said he was pleased to see politicians from all parties backing the industry.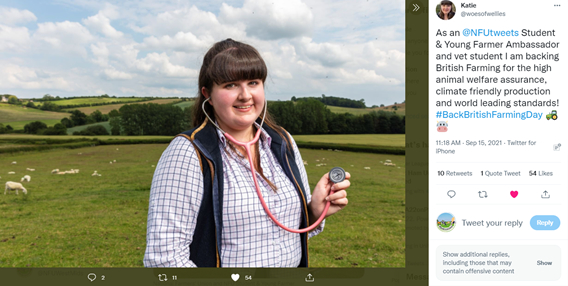 He said: "I'd like to thank all those who supportd us on the day, our MPs, fellow farmers and growers who showcased what they do, other regional industry colleagues for their backing and the wider public.
"As always a big thank you goes to the Bubb family and the team at Shropshire Petals for providing the wheat for the pin badges.
"I would encourage everyone to buy British, to try things that are different and be adventurous with what they eat; there are some great regional, seasonal ingredients and products just waiting to be discovered.
"There is a real appetite for great tasting, climate friendly, affordable, British food and drink, grown and reared to our high standards, which can be traced back to farm."
Members of the cabinet and shadow cabinet were among those committing their support for the farming industry on the day including Boris Johnson, Sir Keir Starmer and many others.
Images: Back British Farming logo; Daniel Kawczynski MP with NFU President Minette Batters at the NFU reception; MP Nigel Huddleston shows hi support on the day; NFU West Midlands student ambassador Katie Smith https://www.woesofwellies.com/ gives her backing online; Craig Tracey MP was one of many MPs that also backed the industry via social media.