It was this frustration that led Chris Sheldrick, son of a Hertfordshire farmer, to develop location technology company what3words to enable people around the world to identify and share a precise location using just three words. Working with a colleague, he divided the world into a grid of 3x3m squares, and gave each a unique three-word address.
"Postcodes were devised to help with sorting mail, not location finding," Mr Sheldrick explains. "While GPS co-ordinates will take you to a more precise location, they are too complex for everyday use. On the farm we resorted to using lengthy directions."
The what3words system is accessed through a free smartphone app, which geolocates to give the three words for the user's current location, or can be used to search for another location on a map. The three words can be relayed verbally, in a message to help direct a third party to the location, or via a link sent from the app that opens up the map at the receiving end.
"There are sufficient combinations of three words for every 3m square to be globally unique, and the words are totally random'" he said. "We tend to use shorter words for on-land locations and longer ones offshore, and in other languages we choose the shorter words for simplicity. A data connection is not needed, so the app can be used in the most remote locations. The ability to geolocate is especially useful if you are not sure of your exact location, particularly in an emergency."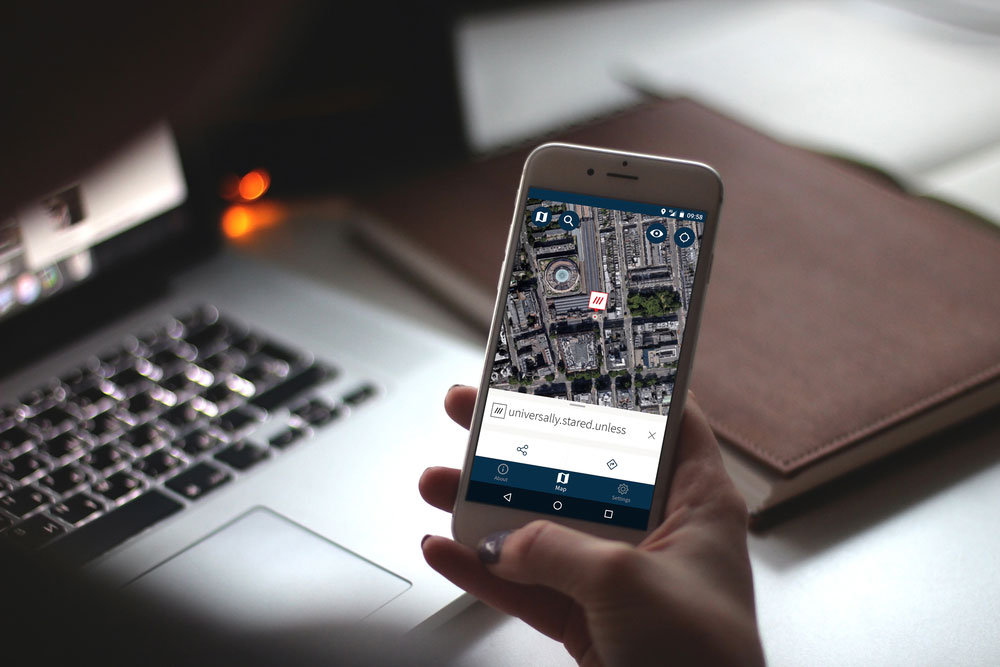 Police use
The safety of lone workers is an issue of concern in agriculture as well as other professions and leisure pursuits where individuals may be unable to access phone or other networks after an accident.
After successful piloting, police forces including Avon and Somerset Police, West Yorkshire Police, Humberside Police, and other services such as Cambridgeshire Fire and Rescue, Hertfordshire Fire and Rescue and Bedfordshire Fire and Rescue and the British Transport Police are rolling out what3words to respond to incidents more effectively.
In an emergency where a location is difficult to describe, callers are able to give their three-word address from the what3words app. In the case of police forces, call handlers are also able to send an SMS that contains a link to the what3words browser map site, where they can see their location and read the corresponding three-word address.
In either instance, these three words can then be used by the control room to identify the precise location of the incident and direct resource to exactly where it is required.
what3words has previously been used by the medical services at Glastonbury Festival and for disaster relief around the world by the Red Cross and the UN. It can also be used effectively as a way to share location consistently between blue light and specialist emergency services – for example between fire, police and ambulance but also with the National Police Air Service, Coastguard, search and rescue and special operations teams.
"Having this type of technology integrated within our command and control system has changed the way we are able to deal with incidents where the location isn't known. Asking for a three-word address or sending an SMS so [someone] can easily provide their three-word address has meant we have saved valuable time locating incidents. The control room staff that have used what3words for an emergency call said how easy it is, and they were able to find the location a lot quicker than they previously would have." Sam Sheppard, Avon and Somerset Police

Integration
what3words is a global operation, even used by the Mongolian postal service to improve deliveries in remote areas. The technology is also being embedded into other location services. For instance, satellite navigation systems on Mercedes and Ford cars can now be operated by inputting the three words.
Mr Sheldrick said: "More than 600 apps use what3words, mainly in logistics applications, but also for navigation – users of the Navmi app can input the three words for their desired location and receive turn by turn directions even when there is no data signal."
what3words can be used for free by individuals or businesses via the iOS and Android app. It can be easily integrated into a business's own apps, platforms or websites using a few lines of code on the payment of a licence fee. Three-word addresses are currently available in 26 languages, allowing more than half of the world to use them in at least one of their official languages.
Potential use in farming
It's easy to see further applications for the technology in agriculture. Drone operators can specify destinations for their flights as three words, which could be useful for crop scouting or missing livestock. The technology may even cut costs for farmers.
Mr Sheldrick said: "As increased autonomy is designed into agricultural equipment there will be a need for a method of directing machines to locations, and inputting a three-word address would be a way to achieve this. Insurance quotes for buildings or equipment factor in risks posed by their location, such as the likelihood of flooding. Using a postcode to locate the site being quoted for may be inaccurate – increasing the cost of the quote. We are keen to engage with the agricultural industry to see if what3words could offer greater accuracy."
You may also be interested in: