April the fourth 1975 at 10.20am on a snowy day and 17-year-old farm worker Kit Hopley is driving an old muck spreader at Park Farm in Cholmondeley, Cheshire.
Struggling to switch the machine off using the cord, he jumps off the tractor to see what's wrong. Tassels on the clothing he's wearing blow in the wind. Within seconds one of the tassels is blown towards an unguarded and damaged power take off shaft (PTO) and wraps around it. The guard was cracked and pieces were missing.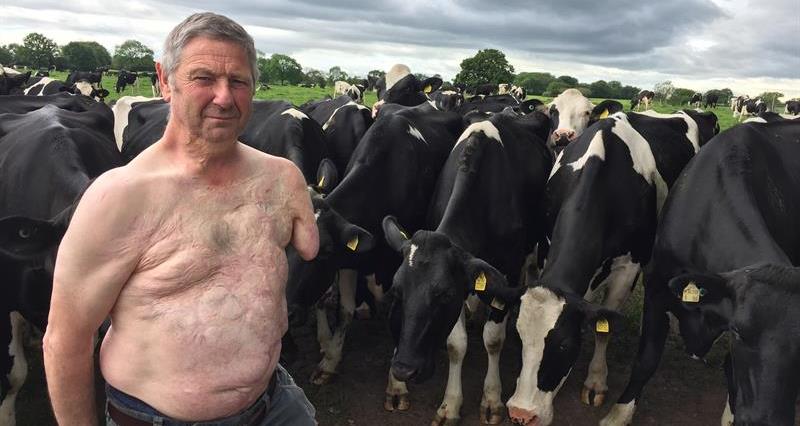 It's a split second in time that changed Kit's life forever.
Kit recalls: "I was pulled in by the tassels and I put out my arm instinctively. It was like being hit by a prop forward in rugby. My arm was broken to bits and wrapped around the shaft. Then the PTO started cutting into the side of my body, the friction burning at my clothes and then my skin.
"I lay in the field in shock. What was left of my arm was hanging on by a piece of skin and my only thought at the time was I'll not be able to play rugby tomorrow.
"I made my way for help to a nearby cottage owned by people my family had known for years. The old woman opened the door and said 'my God' before slamming the door in my face. Her husband then came to the door and asked who I was. Even though they'd known me all my life, they didn't recognise me. It was then that I realised my injuries were serious.
"I was taken by the flying squad to Whiston Hospital and that is all I remember from the day. I was put on LSD for 10 days but all I dreamt about was a tennis ball hitting me. I was later told that was probably the sound of my ventilator."
From intensive care, Kit was moved onto the burns unit. He was highly susceptible to infection and had to be knocked out daily to have his bandages changed because the pain was so bad.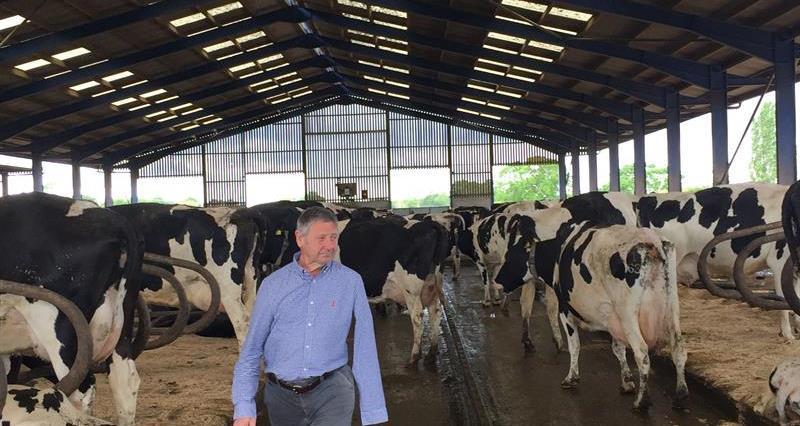 "There was me and a young girl who had been involved in a car crash on the unit. I could hear her screams and she could hear mine.
"I think my mother suffered more than anybody. She never slept for two months after the accident. She had to endure hearing me screaming in my sleep.
"An accident is an accident. Nobody purposefully went out to inflict this upon me. I was a farm worker and this was one of the risks. However, the effects it has on the people who love you are catastrophic.
"My elder brother signed the form agreeing to amputate what was left of the arm. Oil and cow muck would have inevitably gotten into the wound so I was susceptible to serious infection.
"I'm only alive because of the quick thinking and care of the medical professionals who helped me. When I first arrived in intensive care a nurse had to slit my throat and perform a tracheotomy. Then a doctor lay beside me and gave me a transfusion using his own blood."
Kit left hospital after six months and is convinced the only reason he was allowed to leave is because his weight dropped to a mere four and a half stone and he needed to be fattened up before skin grafts could begin. Kit continued to endure skin grafts for five years following the accident.
Kit says: "I wouldn't eat so the hospital staff would bring me take-away meals out of their own pockets. Friends visited but only one came back a second time. They later admitted none of them could cope with the smell of burning skin."
A young lad Kit was as fit as a fiddle at the time of the accident. He played first class rugby and ran five miles every night after work. He also had a girlfriend who he told soon after to leave and get a life.
Unable to watch his beloved game of rugby as it would have broken his heart at no longer being able to play, he was eventually persuaded to compete in tug of war for Roberts Bakery at the very highest level.
Kit says: "Competing in tug of war allowed me to meet loads of people and nobody judged me. I would probably have killed myself otherwise.
"I cannot believe what injuries I suffered. I was terrified the day I came out of hospital but within a day I'd revisited the farm and within a month I was back on a tractor. The accident was not going to beat me.
"I still get frustrated by the many things I cannot do. Things like wiring a plug, tying my own shoe laces or doing up my cuffs."
Kit's employer, Richard Latham, was prosecuted and Kit received just £75,000 from a sole insurance policy. However, Kit never held anything against Mr Latham and has continued to work for the family ever since.
Kit is backing Cheshire NFU and YFC's campaign to help make power take-off (PTO) drive shafts safer.
If farm equipment is being serviced or repaired on-farm or at the dealership and there is a PTO attached, the machinery companies participating in the scheme will automatically check them and report any discrepancies that require repairing. As part of the campaign, all of the dealerships signed up are offering a 10% discount off all PTO parts.
Cheshire YFC Chairman Dave Nicholas of Parkwall Farm in Tarporley says: "The Cheshire top table will raise awareness and shock people into action using Kit's story. In the future checking a PTO shaft should be the same as putting a seat belt on. It ought to be par for the course when learning to farm."
Richard Blackburn, NFU Cheshire County Chairman, adds: "NFU members need to be replacing their PTO shafts now. We need to get out of the mind-set that accidents like Kit's will never happen to us. I have approximately 10 PTOs on the farm and estimate that £300 is all I'd need to replace every single one."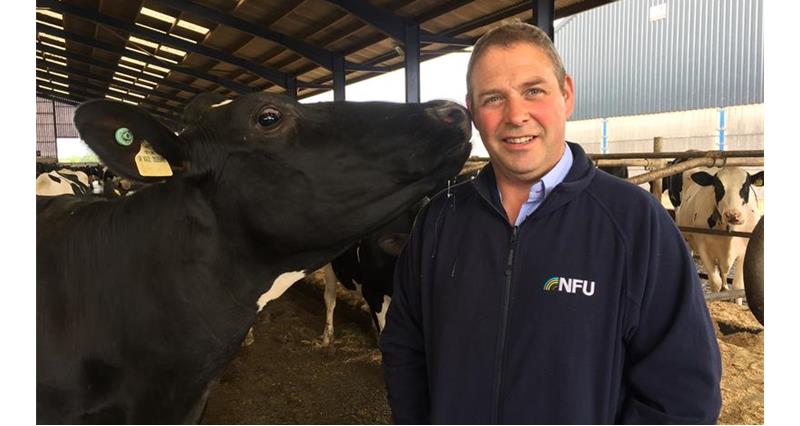 Kit, of Weaver Cottage Farm in Cholmondeley, says: "I'm supporting this campaign because I never want this to happen again. If I can help save one life I'll be a happy man."
The machinery dealers taking part in the Cheshire campaign are:
Cornthwaite Agricultural Ltd, Ashbrook, John Bownes Ltd, Malpas Tractors, G Richardson Agri Engineering, Stamford Agricultural Services Ltd, Border Plant Sales Ltd, RVW Pugh, Cheshire Farm Machinery Agricultural Engineers, Barlows Agri Ltd and Morris Corfield.