The 2 October update states that H5N8 HPAI continues to be reported in mainland Europe as follows:

Italy - commercial/captive birds (mainly turkeys but also gamebirds and domestic geese and one smallholding);
Italy - wild birds (common shelduck);
Switzerland - wild birds (mute swans and mallards);
Germany - wild birds (mute swans).
H5N8 HPAI also continues to be reported in South Africa. The disease there is circulating in wild birds and several species have tested positive, including several sacred ibis, blue cranes, a house sparrow, a peregrine falcon, an African rock pigeon and a spur winged goose. Of these wild birds, several are long-range migrants. The viruses responsible are closely related genetically to those affecting central Asia, Europe and elsewhere in Africa (West and NE).
In South East Asia other avian influenza serotypes continue to be reported, including H5N1, H5N2, and H5N6 as well as H5N8. Notably, H5N6 HPAI was reported in the Philippines; the first report of any HPAI virus detected in the islands and another indication that this virus has now become established in South East Asia, but is also spreading further globally than previous clades.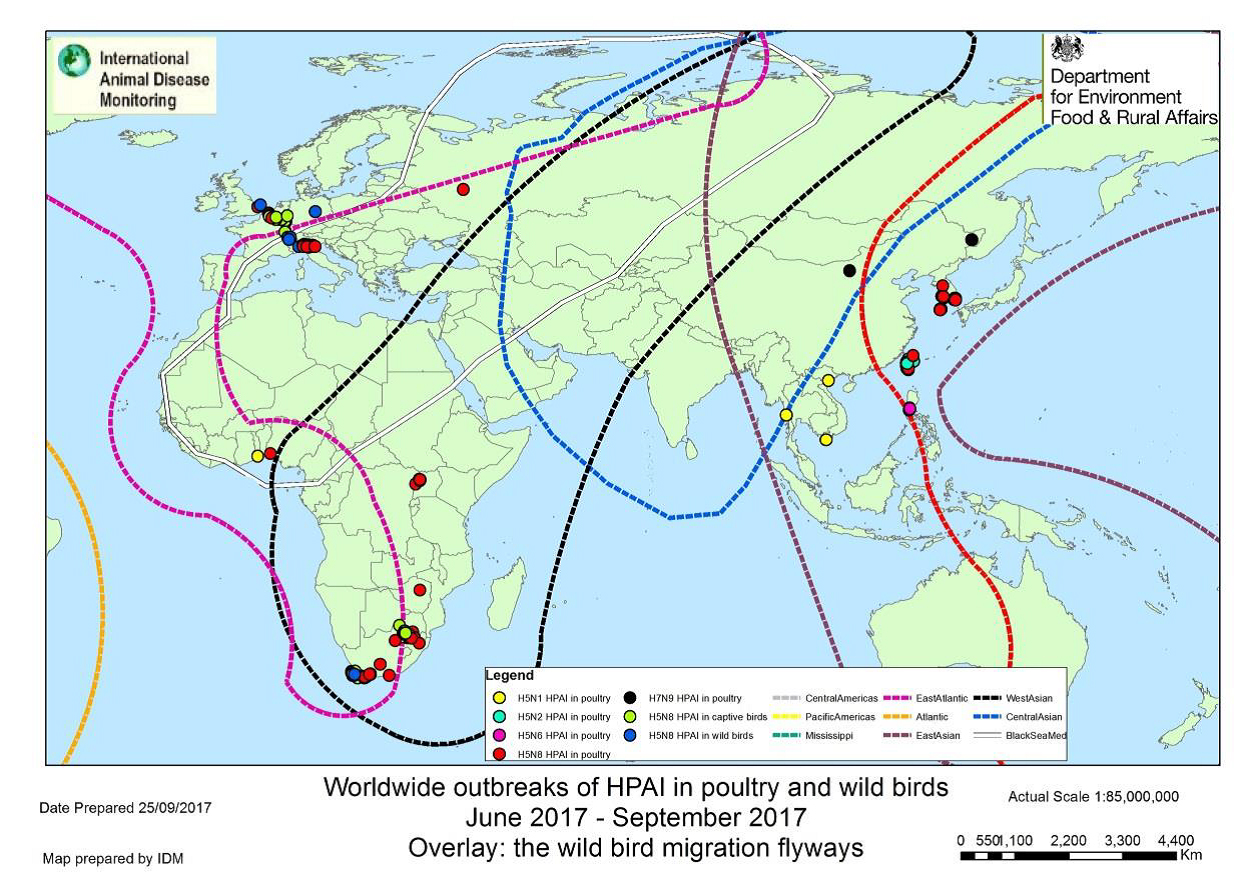 Situation assessment
From the European perspective, it is clear that H5N8 HPAI has continued to persist in the environment and potentially in indigenous populations of wild birds at local level over the summer in some regions. Therefore is likely to continue to cause risk of disease incursions into poultry farms with insufficient biosecurity.
It is also clear there are other threats to consider. Wild bird migration season is starting which will bring birds from their breeding grounds in central and North Eurasia to Europe for wintering. Any extreme cold weather in the coming months will drive those birds inland and further West. Last year, the first cases of H5N8 HPAI were observed in the middle of October to early November.

Conclusion
The overall risk level for the UK is still at present considered to be 'LOW', which is our normal year-round background risk level, given avian influenza viruses are usually circulating at a low level in wild waterfowl. Therefore, the risk for poultry also remains 'LOW' for introduction of infection onto individual premises, but will depend on levels of biosecurity.
This level is likely to increase in the next month or so, and as it can also be driven by changing weather conditions, which we will also be monitoring closely in collaboration with the Met Office.
We strongly recommend that all poultry keepers (including backyard keepers) review their biosecurity measures and business continuity plans now, as the risk level may well increase in the coming weeks. They should familiarise themselves with government guidance on good biosecurity and how to report suspicion of disease appropriately.