The NFU's Vision paper, Delivering a bold and ambitious future for farming, outlines what it would like government to adopt as part of a new Domestic Agricultural Policy to ensure UK farming is profitable, productive and competitive in the future.
It builds on the key themes the NFU sees as being integral to an agricultural policy; volatility, productivity and the environment, and identifies a number of actions that are vital in delivering a bold and ambitious future for the farming sector.
NFU President Meurig Raymond urged the government to adopt the measures to help make a success of Brexit for the nation.
He said: "For decades, UK farming has been subject to policies set at a pan-European level, implementing successive CAP reforms driven from the European stage. Once we leave the EU, we will have the opportunity to develop a new deal for British farmers and citizens – one in which farm businesses are provided with the incentives, rewards and means to become more profitable and resilient and to better meet the expectations and needs of society at large.
"We believe that in the future farmers should be able to draw down bespoke assistance from within our three cornerstones of productivity, environment and volatility. Crucially, the outputs from these measures are not mutually exclusive; they all work together to enable farming to be competitive, profitable and progressive – a sustainable partner within a dynamic British food supply chain.
"That is why it is absolutely crucial that we adopt an integrated policy; one that provides farmers with the collective means to manage volatility, improve productivity and enhance the environment. The absence of focus on any of these cornerstones would necessarily undermine delivery across the other two.
"There is rightly an exciting and energetic debate at the moment about how farm support should be delivered once we have left the EU. Our framework makes the strongest possible case for a coherent approach that means farmers can continue to do what they do best – producing safe and affordable food to the high standards the public expects, while caring for the environment in which they operate."
The NFU's framework document is underpinned by more detailed and comprehensive plans for each of its three cornerstones; productivity, environment and volatility.
These will form the basis of in-depth discussions with politicians and stakeholders as the government prepares to publish its plans for its forthcoming Agriculture Bill.
Download the papers below:

The NFU's Brexit team: L-R Lucia Zitti, Nick von Westenholz, Tom Keen and Gail Soutar
NFU director of EU exit and international trade Nick von Westenholz, pictured above with the NFU's Brexit team, provides an overview of the key themes:
"We see an increasing gap in agricultural productivity growth rates between the UK and other developed nations. If this trend continues and our growth stagnates, British farmers will lose pace with international competitors.
"It is essential not to narrowly define improving agricultural productivity as simply producing more. The benefits of improving farm productivity are many and extend far beyond the farm gate, amounting to far more than simply higher yields or greater volumes of product. Productivity gains can deliver a reduction in greenhouse gas emissions, better management of nutrients and more space for nature. Increased efficiencies will help reduce costs and improve profitability, in turn helping businesses better handle market volatility, allowing stable investment and provision of jobs. That's why the NFU is proposing a comprehensive programme of measures that aim to enhance agricultural productivity."
"Over the past 30-40 years, British farmers have carried out a huge amount of work to encourage wildlife, benefit soil and water and mitigate their impact on the climate. During this time there has been substantial engagement by farmers with voluntary agri-environment schemes. At its highest level, 70% of agricultural land was in environmental stewardship. However, a combination of policy changes, complex scheme design and under resourcing of delivery has led to a fall in uptake of agri-environment schemes in recent years. A future domestic agricultural policy should seek to address these concerns and regain the high level of interest and goodwill felt among farmers."
"We know that extreme price volatility weighs particularly heavily on farm businesses. It impacts on farm profitability and squeezes cash flow, which in turn impacts on working capital. As a result, farmers are less able to efficiently manage farm operations in the short term, may have to delay or cancel much needed investment on-farm, and may reduce their willingness to undertake long-term commitments to environmental schemes.
"Farm business income from agriculture in the years 2010-2016 has moved an average of 76% year on year for cereal farmers and 74% for dairy farmers. Few other sectors of the economy experience such extremes of volatility. It is clear that with the rollercoaster of farm gate prices many farmers would not be able to continue in business without current levels of volatility protection offered by the CAP. Volatility measures under a future domestic agricultural policy are vital, and should seek to provide a resilient and relatively stable income profile upon which farmers would have the confidence to invest in productivity as well as to deliver high quality British food for British consumers, whilst continuing to uphold high environmental and animal welfare standards."
Transition
"Across the UK, experience has shown that bold CAP reform decisions have often been implemented in a rush or in the absence of policy certainty, and have created significant delivery problems for agencies and delays to payments for farmers. Whilst it might appear attractive to make significant changes to the CAP legacy schemes on day one of Brexit, the NFU feels there is a balance to be struck between regulatory stability and effective delivery on the one hand, and the ambition for tangible change and improvement on the other, particularly in light of wider political and economic uncertainties that may exist post-Brexit. This is why the NFU is proposing a phased approach to the introduction of a new domestic agricultural policy that seeks to deliver continuity and stability in the short term, whilst facilitating a bold and ambitious outcome in the long term.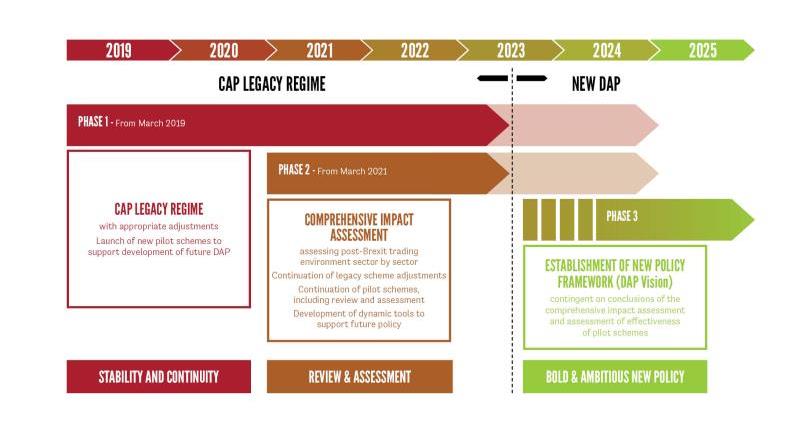 "Through this transition, we expect the current and future governments to observe the current commitment to provide the same cash total in funds for farm support as is currently paid out under the CAP. We would expect minimal changes in funding emphasis within the transition period given the wider political uncertainty. Furthermore, while we remain closely aligned to the EU's single market it is imperative that British farmers are treated fairly compared to their EU counterparts, ensuring a comparable level of direct support."