Former UK permanent representative to the EU, Sir Ivan Rogers, contributed his thoughts on the challenges and opportunities for the British farming sector post-Brexit at the NFU's inaugural Henry Plumb Lecture in London on 20 November.
One of the most knowledgeable voices on UK-EU relations, Sir Rogers spoke about the implications for the UK, and specifically for agriculture, of withdrawing from the Single Market and Customs Union in 2019.
Addressing the audience of 200 industry stakeholders and advisers, he said:
"We can be sure that, in the jargon of Brussels, nothing is agreed in a trade deal until everything is agreed.
"The EU27 will negotiate internally their own mandate for these trade negotiations with the UK, which will take them quite some time to conclude, and any deal agreed would need to be ratified by all their national parliaments, after we have left the EU. That process will have its own joys - and delays.
"I can assure you as an ex-insider that this process of agreeing their own negotiating ambitions for the deal with us will, itself, be long and messy. And they will most certainly not start with the view that we all must simply try and keep as close as possible to existing trading conditions across all your interests."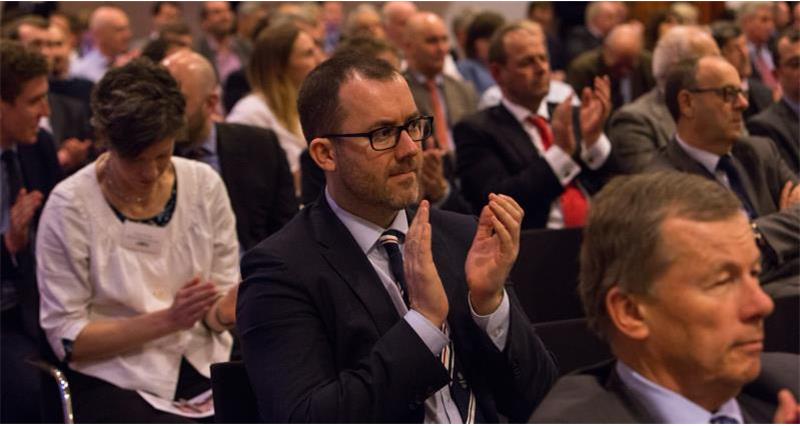 Sir Rogers had this advice for those in the room: "Be ready, when a trade negotiation with the EU really gets under way after exit, for a highly complex game of chess in which you will need to try to be very clear about the most important objectives the UK Government needs to try and secure, but also pragmatic that these are not likely to replicate what you have now."
See more images from the event:
After the lecture, NFU President Meurig Raymond said: "Sir Ivan has outlined the potential for tumultuous times ahead for British farming. His experience in trade policy and negotiating has crystallised the many challenges for the 200 stakeholders in attendance today.
"British farming's role in producing food for the nation and caring for the countryside is unique and irreplaceable. For this sector to thrive and further this country's ability to feed itself, we need to see policies that put profitability, productivity and progressiveness centre stage. British farming produces safe, traceable, high-welfare food at a very affordable price, which we know the public wants.
"The NFU is under no illusion – for the first time in 40 years the government is taking responsibility for its own trade policies and that undoubtedly comes with some friction. It's vital that throughout this process farming's voice is heard and we want to work in partnership with government to help it deliver policies for a competitive food and farming industry."