At a meeting of a European Commission Appeals Committee on 27 November, a qualified majority of member states voted in favour of the Commission's proposal for a five-year reauthorisation.
The UK was among 18 member states that voted in favour of reauthorisation, as was Germany which had previously abstained. Nine countries including France and Italy voted against and one country, Portugal, abstained.
Guy Smith, NFU Vice President, said: "I would like to pay tribute to the farmers across the country who have lobbied their MEPs and invited them out on to farm to see first-hand the benefits glyphosate brings, and those who have made the case for glyphosate's reauthorisation on social media. I am convinced their efforts have helped us reach this positive outcome.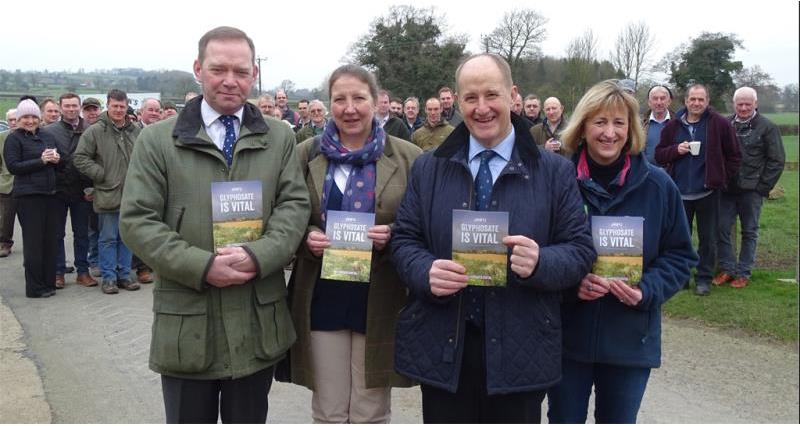 L-R: John Procter MEP, NFU senior plant health adviser Emma Hamer, Kevin Hollinrake MP and Jenny Dawson, NFU group secretary for Thirsk, North Yorkshire
"It is good news that farmers and growers will be able to continue using glyphosate for another five years. However, the fact remains that there is absolutely no regulatory reason why it should not have been reauthorised for 15 years, as was originally proposed.
"The decision will be welcomed by farmers who have watched with growing concern as what should have been a straightforward decision has become increasingly political. The NFU has repeatedly said that decisions like this must be based on science and evidence. This clearly hasn't happened in this case."
Spearheaded by NFU members, farmers and growers across the country rallied behind the #glyphosateisvital hashtag on social media to make the case for glyphosate's reauthorisation by highlighting its safety and environmental benefits and showcasing the important role it played on their farms. Members also invited their MEPs and MPs out on to their farms so they could see first-hand the benefits of glyphosate and learn more about its importance.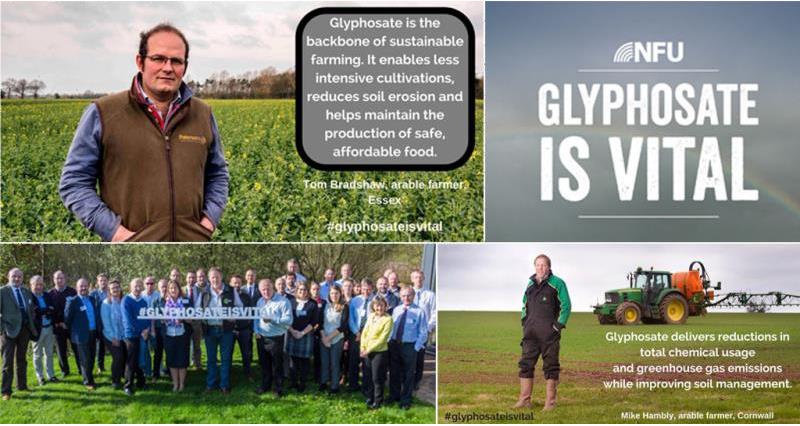 Mr Smith continued: "Independent regulatory bodies around the world, including the European Food Safety Authority (EFSA) and the European Chemicals Agency (ECHA), have looked at all the scientific evidence and concluded glyphosate is safe to use. But their conclusions have been ignored and their credibility has been undermined.
"Glyphosate reduces the need to use other herbicides, it helps to protect soil and cut greenhouse gas emissions by reducing the need for ploughing, and it enables farmers in this country to grow crops that help produce safe, affordable, high quality British food."
Other European farming organisations also welcomed the reauthorisation announcement but expressed disappointment that it was not for a longer period.
Pekka Pesonen, Secretary-General of Copa-Cogeca, said: "Although it is good news that a decision has been taken by member states to end the uncertainty facing farmers and their cooperatives, we are worried that the EU has agreed to re-authorise glyphosate for five years. It should have been reauthorised for 15 years after it was given a positive assessment by both EFSA and ECHA."