Delegates heard how the NFU is working to ensure farmers have access to the tools they need to manage volatility – with market transparency on pricing and volumes traded a key foundation to those efforts.
The shape of the final Brexit deal will do much to define the impact to farming bottom lines, but whatever happens in 2019, a long period of uncertainty on commodity markets is a safe bet, said NFU economist Rohit Kaushish.
He explained how the NFU had set out the industry-level mechanisms required to safeguard farm businesses in its influential 'vision' document for a domestic agricultural policy.
For sectors like cereals and dairy, the toolkit has the potential to include revenue insurance schemes, access to effective futures markets to 'lock-in' forward prices and market-linked contracts, said Mr Kaushish.
Elsewhere, stimulus for diversifications, direct support, and fair rewards for agri-environmental work will be key, particularly for sectors such as upland grazing where farming income often fails to meet break-even levels.
Central to it all will be transparency, and Mr Kaushish underlined NFU calls for mandatory price reporting by government.
"Market transparency is the foundation, it's critical," he said.
"For farmers to react to a volatile market they need to be able to understand what's driving it. We need robust market indices which help farmers understand why the price on farm is what it is and to allow market based risk management tools to develop."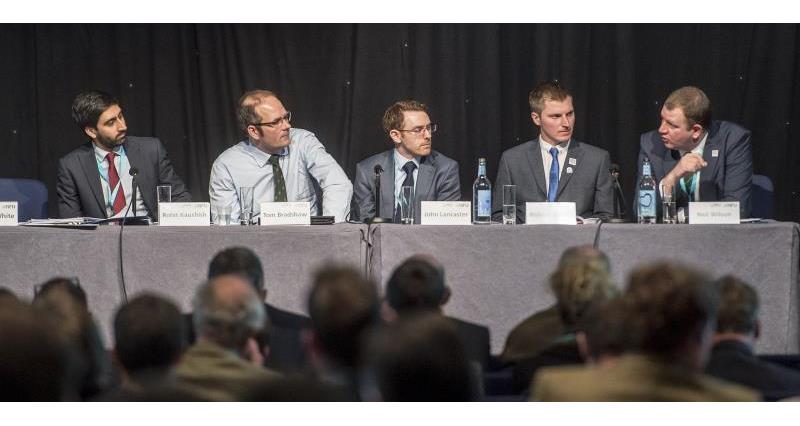 HSBC head of agriculture Neil Wilson told farmers their "ultimate weapon in the resilience toolkit" was a low cost of production. He added: "Those businesses are the last to lose money in a downturn, they lose the least, they start making money before everyone else and then when the prices are high they make the most.
"Knowing your cost of production is the only way you can plan an effective financial risk management strategy. It's also the only way you start to think about whether you need to change your business."
The session heard from two farmers who had done just that.
Tom Bradshaw told how his father's courage to change things had been central to stiffening resilience on his family's traditional mixed farm, after he returned as a 21-year-old with a management degree. The transformation included selling the dairy herd, diversifying into an equestrian business, environmental management and renewable energy and a move into contract farming.
Meanwhile, NFU Next Generation Forum chairman Richard Bower explained how he had driven productivity through a grant-funded cattle management system and ultra-efficient seed drill, and a switch to digestate to shield the business from fertiliser fluctuations.
Higher level stewardship and diversifications into bed and breakfast, a maize maze and open farm had helped to spread risk, he added, while planning is at a level where a long-term 'vision' for te farm has been posted with the local council, including possible future applications.
WATCH AGAIN
John Lancaster, Head of EU Dairy Consulting/Commodity Risk Manager, INTL FCStone:

Richard Bower, NFU Next Generation Forum Chairman:
Neil Wilson, Head of Agriculture, HSBC:
Tom Bradshaw, NFU member:
Rohit Kaushish, NFU Economist: