The campaign, organised by the Hertfordshire Fly Tipping Group, is encouraging Hertfordshire's residents to follow the campaign's S.C.R.A.P. code, which provides a check list to use when arranging one-off waste collections.
During the campaign, farmers will be putting up banners at fly tipping hotspots, using social media to highlight the impact of fly tipping in the countryside and raising awareness at events such as Herts County Show.
NFU Hertfordshire representative Will Dickinson said: "Fly tipping is criminal. It is harming Hertfordshire's beautiful countryside, posing a danger to wildlife and livestock and costing farmers and landowners time and money to clear away.
"The key message of the S.C.R.A.P campaign is that the public can make a real difference by ensuring their waste is disposed of responsibly."
Watch: Farmers highlight the impact of fly tipping
NFU Hertfordshire County Adviser Rosalind David said: "Fly tipping is a huge concern for our members and we're pleased to be tackling it in partnership with the police, local authorities and other organisations.
"Farmers are having to deal with loads of used nappies dumped in fields of crops, waste containing needles and other hazardous waste.
"Rubbish is often dumped in lanes and gateways, blocking access to land and buildings and causing disruption for farm businesses until it can be cleared."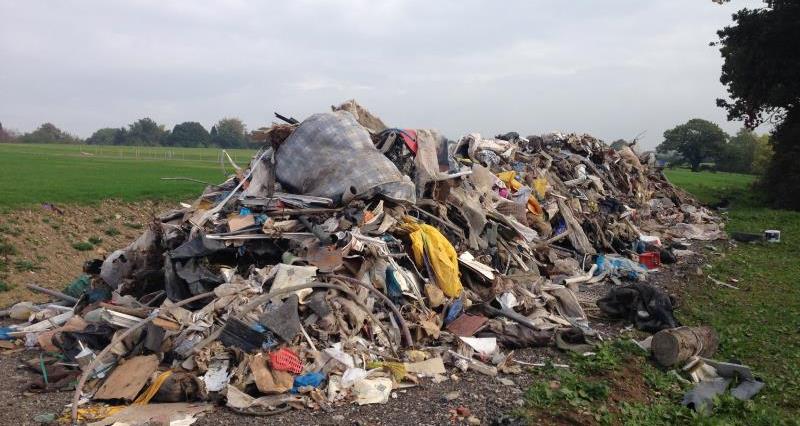 More than £1 million of council taxpayers' money was spent clearing fly tips on public land in Hertfordshire and investigating incidents last year.
FTG Chairman and Partnership Development Manager for the Hertfordshire Waste Partnership, Duncan Jones, said: "Analysis and research shows that approximately two thirds of the fly tipping incidents reported each year are as a result of normal household waste that has 'leaked' from established waste disposal routes."
Follow the S.C.R.A.P code when arranging a waste collection
Suspect all waste carriers; do not let them take your waste until they have proven themselves to be legitimate.
Check their waste carrier's registration details, then verify them by searching the Environment Agency or by calling 03708 506 506.
Refuse unsolicited offers to have any rubbish taken away.
Ask what exactly is going to happen to your rubbish and seek evidence that it is going to be disposed of appropriately.
Paperwork should be obtained. Make sure you get a proper invoice, waste transfer note or a receipt for your waste removal – this should give a description of the waste and provide the waste carrier's contact details.
Hertfordshire Constabulary's Chief Constable Charlie Hall said: "Fly tipping is a serious concern which can blight our communities across Hertfordshire.
"I therefore welcome the launch of this campaign, as it is very important the public is more aware about its responsibilities when disposing of waste.
"It is surprising to see how much fly tipped waste comes from normal households - remember we all have an obligation to dispose of our waste responsibly. The police will continue to work alongside local authorities and will not hesitate to use our resources and skills to help prosecute serious and serial fly tippers."
Hertfordshire's Police and Crime Commissioner, David Lloyd, said: "The public has a duty of care to ensure that their waste is disposed of responsibly and failure to do so could result in an unlimited fine.
"It's important that residents and businesses carry out the necessary checks to ensure contractors are properly licensed so they don't end up in court being prosecuted for a duty of care offence."
The campaign will also be reminding Hertfordshire residents that if they see fly tipping in progress they should call 999 immediately, as well as reporting the incident to their local council.
Local borough and district councils can also give help and advice to residents who may be unsure of how to arrange for their waste disposal needs.
The Hertfordshire Fly Tipping Group (FTG) is a multi-agency taskforce including the borough, district and county councils as well as the police, the Office of the Police and Crime Commissioner, Herts Fire and Rescue, the Environment Agency, the National Farmers' Union and Keep Britain Tidy.