#
LoveFoodLoveFarming
Join us in celebrating the diversity of farming and growing in the West Midlands as we showcase some of the people and businesses that make up the region's farm to fork success story. We aim to demonstrate the value of the region's farm-to-table supply chain working with regional food businesses and our MPs to achieve an environment in which farming, food and drink businesses can thrive. We are also busy promoting the diversity of local food and drink to shoppers and shouting about its value and quality.
With Brexit bringing uncertainty over what the future will hold the campaign aims to galvanise the agri-food sector and champion West Midlands' farmer, growers and food production and what the industry delivers for the public and country. We want to help make the industry's case to stakeholders, MPs and other influencers to help create an environment in which farming, food and drink businesses can thrive.

proud to produce high quality, tasty, traceable food and drink
making a major contribution to the local economy
driven by technology and innovation
offering exciting opportunities for young people
balancing production needs with environmental sustainability
committed to building a strong future for our local communities

be at the heart of Brexit discussions
have fair access to thriving domestic and export markets
have the opportunity to employ a skilled and flexible workforce
have a viable, sustainable future
benefit from infrastructure improvements - including broadband and mobile coverage
Get involved
If you #LoveFoodLoveFarming get in touch with us to tell us your British food and farming stories for the Home-grown Heartland campaign.
Have your say by emailing d2VzdC5taWRsYW5kc0BuZnUub3JnLnVr or via social media @NFUWestMids using #HomegrownHeartland #LoveFoodLoveFarming?
If you're a NFU farmer or grower or simply involved in any type of agri/food business we also want to hear from you - we may be able to help showcase what you do.
#LoveFoodLoveFarming in photo
From our farms with love – #LoveFoodLoveFarming
As part of the Home-grown Heartland campaign we thought we'd take a look at just some of those busy over the hedgerow growing crops, ornamental plants and rearing animals.
These farmers and growers all have great stories to tell and they're the cornerstone of the larger success story that is the West Midlands' food, drink and plant sector.
These farms and the associated businesses they work with help make the West Midlands the vibrant and diverse region it is, alongside managing the working countryside, environment and contributing to our health, well-being and communities.
GIVE ME FIVE: We also asked them to name five firms they regularly trade with to help showcase the vital link between farms to surrounding businesses, jobs, communities and the local economy.
Rich Thomas – Risbury, Leominster, Herefordshire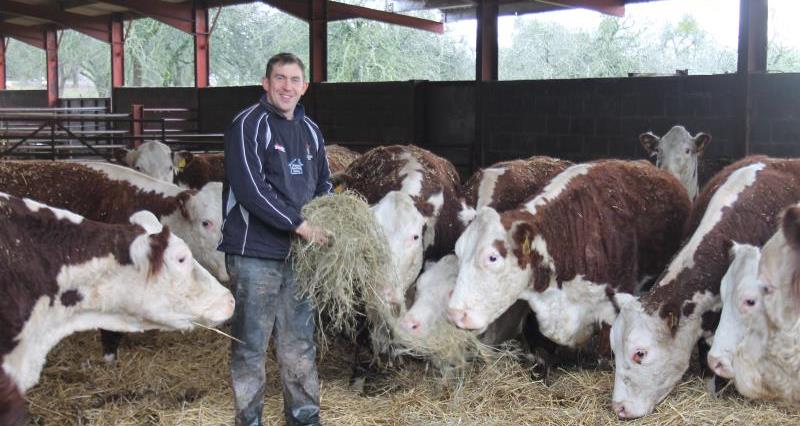 Rich Thomas farms with his parents, Robert and Diane, in North Herefordshire and the family business is a mixed farm with pedigree Hereford cattle and cross-bred breeding sheep in an outdoor lambing system.
They also grow cereal crops and have traditional cider orchards.
The majority of the farm's beef goes into local outlets where shoppers place a high value on traceability.
The majority of the farm's lamb is sold on contract to Tesco, there is high value placed on this lamb supply, with traceability being a key part.
Rich also helps run a small shearing gang - shearing sheep on other people's farms.
The business at Risbury, near Leominster, also has solid environmental credentials; the farm is home to a scheduled ancient monument and is in a new higher tier stewardship agreement.
The family also started a woodland burial ground more than 10 years ago, which is an unusual diversification but a valuable contributor to the business.
GIVE ME FIVE:RD Chesters (agricultural merchants), Bill Davies Quad Bikes, Tallis Amos Group (machinery dealers), R T Anthony (shearing and clipper services), Risbury Rapeseed Oil.
Richard Yates – Middleton Scriven, Bridgnorth, Shropshire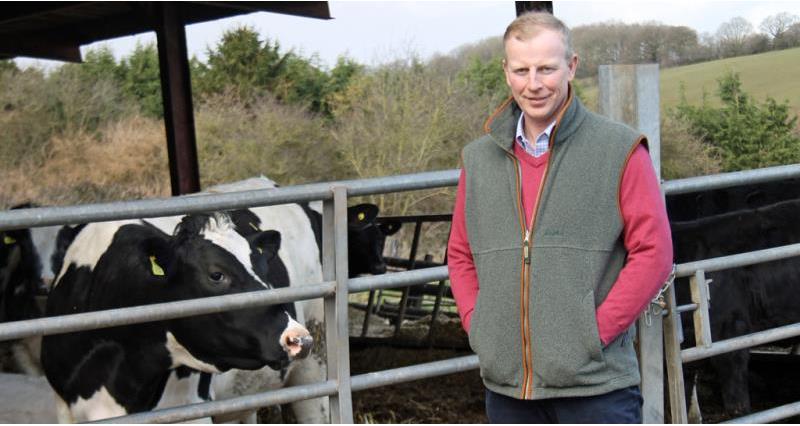 Richard farms more than 850 acres around Bridgnorth with his wife Sally and his parents. They have 100 British Friesians, selling milk to Meadow Foods.
The business has 150 beef cattle, a smaller beef herd and an 850-strong sheep flock.
Richard also has a few pedigree animals for showing and to produce breeding rams for sale. The family also grow winter wheat, winter and spring barley, forage maize, spring beans, potatoes, fodder beet and grass. They employ six members of staff, full and part time.
The farm is also in environmental stewardship with cover crops for wild birds as well as nectar mixes to encourage pollinators.
GIVE ME FIVE: R Breeders Ltd (breeding services), Grainlink Ltd (grain trading and agricultural supplies), TFM Farm & Country Superstore, Nock Deighton Auctioneers, Wynnstay (agricultural manufacturers and suppliers).
Carol and Jonathan Griffiths – Clunton, Shropshire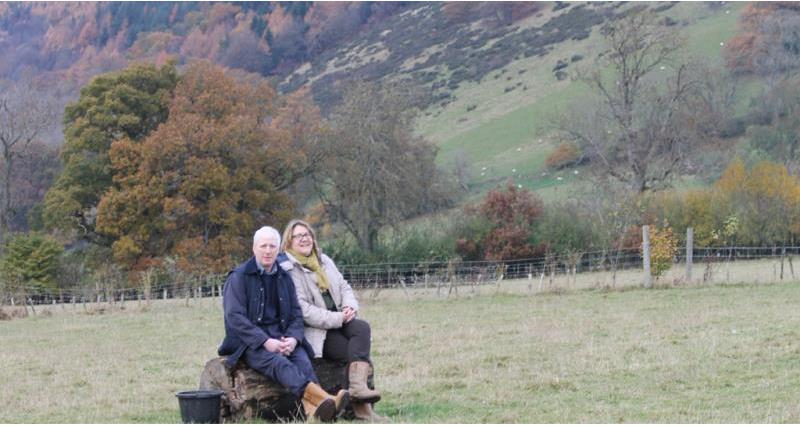 Jonathan and Carol farm above Clunton in the Clun Valley, both are very conscious that they follow in the footsteps of Jonathan's ancestors who were farming in the area as far back as the mid-16th Century.
The modern farm has been in environmental schemes as long as they have existed. The diversity and richness of the natural environment sits well with their 400 breeding ewes, mainly home bred Lleyn crosses, mainly put on Lleyn, Charollais and Texel/Charollais cross rams. Last year they bought two handsome North Country Cheviot rams and await the results with interest! They also grow a modest amount of spring oats, barley and triticale (a wheat/rye hybrid), overwintering the stubbles, so they know exactly what they are feeding their sheep who lamb indoors.
GIVE ME FIVE: G Bryan Jones Ltd (agricultural equipment), Morris Corfield (tractor and machinery dealers), Prince and Doyle/Agri (agricultural services), Jim Price Machinery, Bishops Castle Building Supplies
Rosemary and Richard Spencer – Alkmonton, near Rocester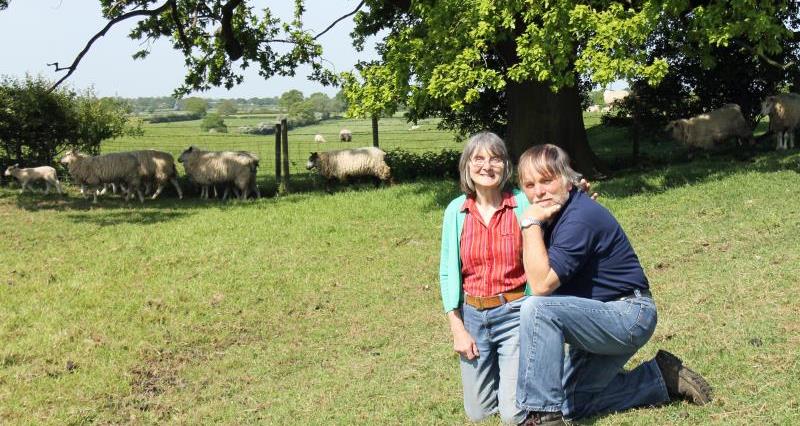 Richard and Rosemary farm 250 acres, which is mainly grassland for their sheep, which are the business' primary focus, but they also grow a small amount of wheat.
The farm is in environmental stewardship with a range of measures in place including tree planting; Richard has also reinstated all of the hedges back to how they were in the 1880s.
He is also busy in his community as a parish councillor, as a school governor and is one of the founders and organisers of the Ashbourne Sheep Fair. Richard also appeared on TV as part of Victorian Farm presented by Alex Langlands, Peter Ginn and Ruth Goodman.
GIVE ME FIVE: MG Simister & Son Ltd (agricultural merchants), Frank Wright / Trouw Nutrition (minerals), Hangar 4 (fencing materials), Mole Valley Farmers (feed supplies) and local helpers at lambing time.
The Simkin family – Essington, Wolverhampton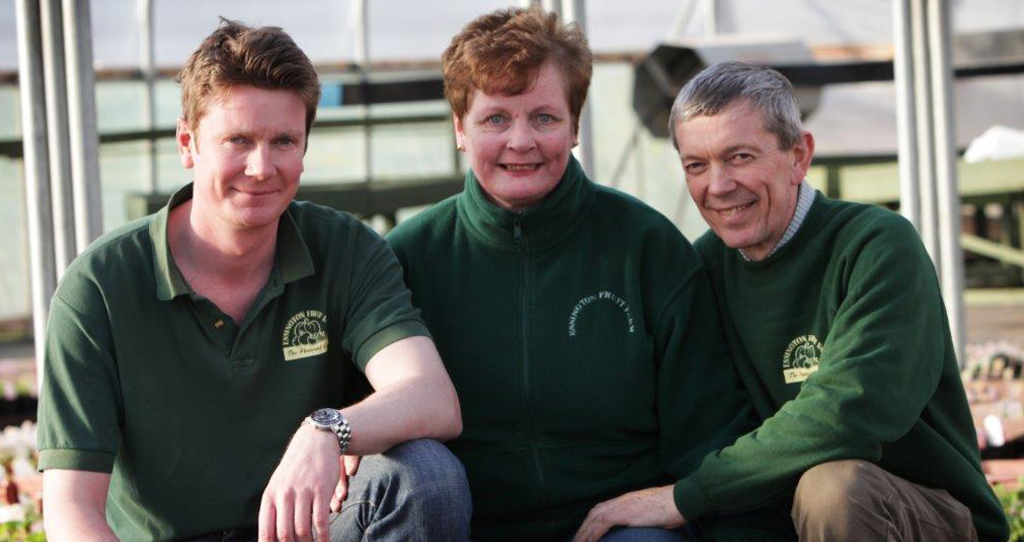 The family, Will, Penny, Mary and Richard, have an award winning farm shop, butchery, plant nursery and restaurant and they grow fruit and vegetables and rear free range pigs and Hereford cattle on the city's outskirts. Essington Farm grows a variety of different crops on 50 acres, including strawberries and pumpkins, which are sold through the farm shop or as pick your own. They run about 60 outdoor pigs and 50 Hereford suckler cows and their progeny on 150 acres. Nothing grown or reared on the farm is sold to the supermarkets. The family has farmed in Staffordshire since the 1500s, but Richard's great-grandfather moved to Essington in 1892 and started a retail milk round. Now they employ nearly 60 full and part time staff. Richard believes farming and retailing is in their DNA. Traceability and provenance remain fundamental to their business and they have one of the country's smallest food mile footprints. All animals are kept on high welfare extensive systems which reduces stress. The pigs are kept outside all of their lives where they are able to express their natural behaviour and are not given antibiotics or growth promoters (banned in the EU since 2006).
Cattle are kept on a grass based system, fed on forage for all of their lives. www.essingtonfarm.co.uk
GIVE ME FIVE: HP Westwood (abattoir), Michael Kavanagh / Thompson Farms – (suppliers of lamb), Lloyds Animal Feeds (pig food), Pro tech Marketing (strawberry tunnels and table top equipment suppliers), Wells Farm Dairy (milk suppliers).
Robert Lockhart – Drayton Bassett, Tamworth, Staffordshire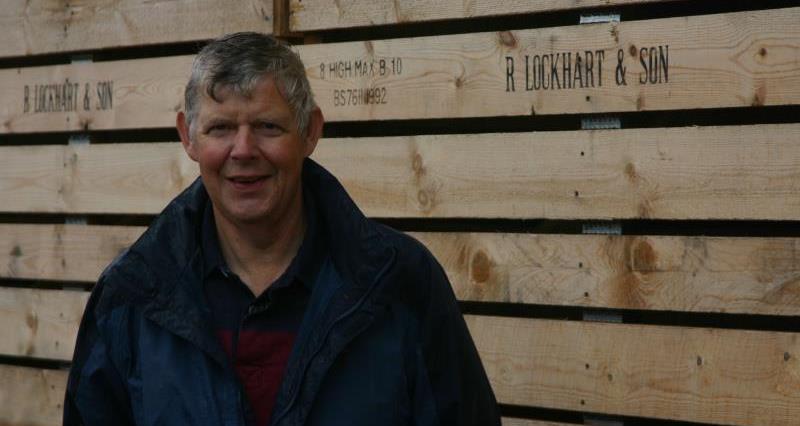 Robert farms at Drayton Bassett, with wife Karen and the business grows 35 hectares of main crop variety potatoes alongside milling wheat, oil seed rape and malting barley.
His main crop potatoes got to McCain Foods, and his cereal crops all go to Camgrain.
Son, Andrew, also works in the business making it a truly family affair.
The farm also has solid environmental credentials with two metre field margins, wetland and some fallow areas and other measures as part of stewardship agreements to promote habitat and species. Ecologists have found great crested newts, yellow wagtail, raven, skylark, barn owls, lapwing, grey partridge, hare and many other species at the business.
GIVE ME FIVE: Rea Valley Tractors, Millennium Group (agricultural services and maintenance products), Startin Tractors, KO Machines Ltd, Dalton Seeds.
Duncan Hawley – Henley in Arden, Warwickshire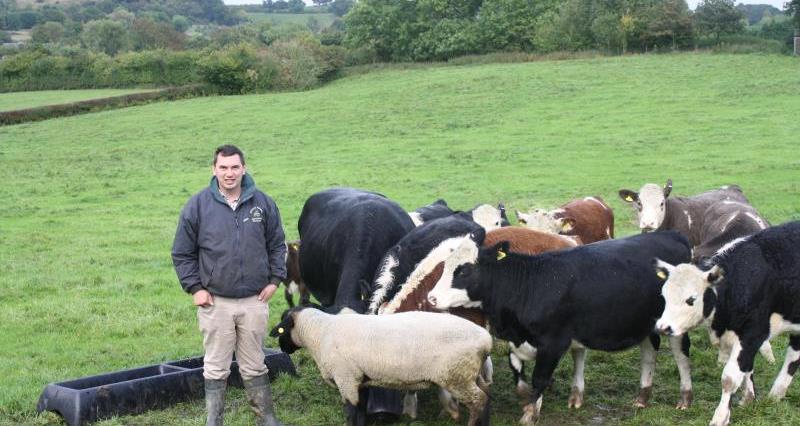 Duncan and parents, Michael and Amanda, farm around 250 acres, owned and rented, at Henley and he also does some contract farming. Their sheep are North Country mules which are put to Texel rams, they finish all lambs on site sold through Rugby Farmers Market. Contract work includes silaging and hay making for the local farming community.
GIVE ME FIVE: James Green Farm Machinery, Agrii (agronomy, tech and strategy services), 608 Farm and Equine (vets), Heygates Feeds, Ford Fuels.
Ali Capper – Suckley, Worcester, Worcestershire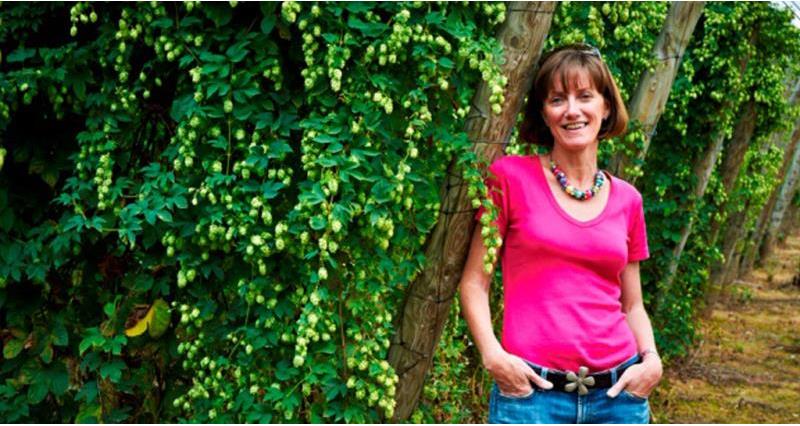 The family farm, run by Richard and Ali Capper, on the Worcestershire and Herefordshire border, is one of the country's largest hop-growing businesses; producing an impressive 80,000 kilos of dried hops - enough to produce around 46 million pints of beer for brewers worldwide. The business has commercial apple orchards producing Braeburn, Gala and Red Windsor dessert varieties for Tesco and Aldi and Dabinett and Harry Masters cider apples for Magners in Somerset. Excellent environmental standards can be found on farm and the family is working hard to have well-structured fertile soils and are minimising their use of fertiliser and crop protection products. www.stocksfarm.net
GIVE ME FIVE: Mervyn Carless (wirework), AE Beaumont & Sons (contractors), Ross Farm Machinery, HL Hutchinson Ltd (agronomists); Fruitful Jobs.
Myles Thomas – Yockleton, Shrewsbury, Shropshire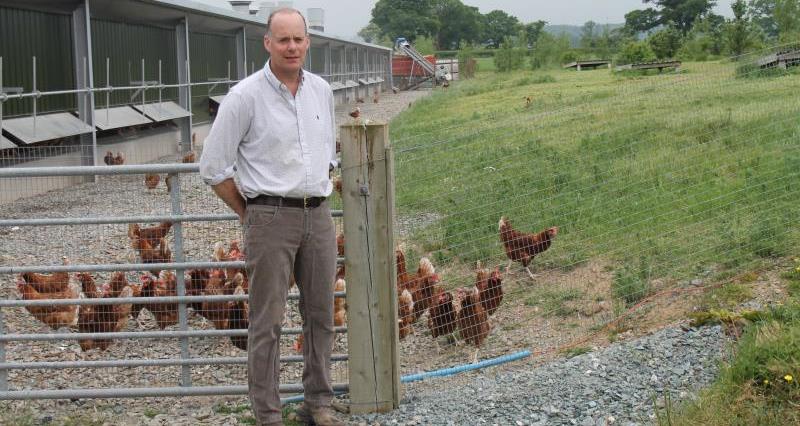 The Thomas family has been farming in Shropshire since 1936 and Myles runs the family business with his wife Diana.
The business, started by his late grandfather Charles, moved out of dairy with its first free range hen house in 1996.
This housed 16,000 birds for egg production and on the back of business success they have added further sheds including a multitier hen house, completed in 2014.
Myles is an advocate of the British lion quality mark; his sheds use the latest tech to help drive production and efficiency, while reducing emissions, and he puts a focus on bird welfare. He has also planted 1,000 trees on site for his flock of hens to range around.
The family currently supplies LJ Fairburn and Son.
GIVE ME FIVE: Country Fresh Pullets, Lloyds Animal Feeds, Nigel Farr Farm Services (farming and agricultural products), G O Davies (Westbury) Ltd (grain merchant), Robert Davies Machinery.
Henry Chinn – Cobrey Farms, Ross-on-Wye, Herefordshire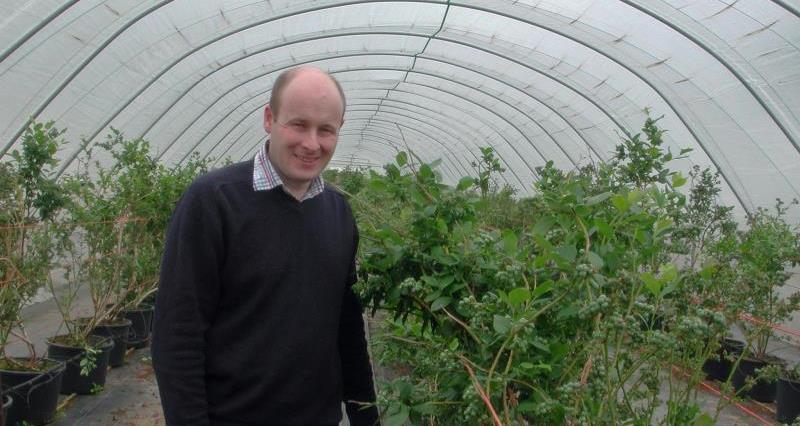 Cobrey Farms is owned and run by the Chinn family in south Herefordshire, where they grow their Wye Valley-branded asparagus, fine beans, blueberries and rhubarb, as well as potatoes and combinable crops. They are also award winning wine producers and the Castlebrook Vineyard sits on the site of an ancient Roman vineyard.
Their produce is sold to a full range of customers from local restaurants through to major processers and retailers. The family employ hundreds of seasonal staff each year and have more than 30 permanent staff working in the office, packhouse and across the farm. www.cobrey.co.uk
GIVE ME FIVE: Haygrove (growing systems supplier), John Lewis Fine Foods (sale of produce), Five Acres Garages (vehicle hire), Frontier (agronomy advice, product supply, cereal sales), Evesham Specialist Packaging (packaging supply).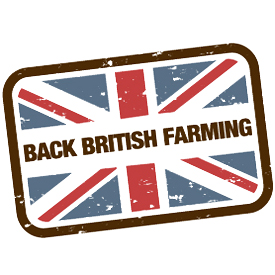 Home-grown Heartland is tied in with the NFU's wider public-facing Back British Farming campaign. This is designed to build support for the British food and farming sector through simple actions like buying British produce, enjoying the countryside responsibly, and spreading the word with friends and family. As well as members of the public, the campaign is our call to arms for the food and farming industry and Government.