Defra's Secretary of State for food and the environment said he had 'heard, received and understood' the NFU's call on government to uphold the high-quality produce that he said was a 'hallmark of British agriculture' in post-Brexit trade agreements.
He said that British farmers are 'better equipped than anyone' to fulfil the national and global demand for high-quality food.
Mrs Batters said:
"We welcome the Secretary of State's recognition of the high standards that British farmers are proud to produce food to and the work that goes into giving everyone a countryside to be proud of.
"I made clear to MPs in attendance that we have a vision of productive, thriving, profitable farming businesses that can farm smarter – producing more food for a burgeoning population with less impact. It's these businesses that can afford to invest in our natural environment.
"As Michael Gove said, the health of all of us depends on the health of farming. We have an ambition for British farming to have a clean bill of health post-Brexit, ready to provide every citizen, regardless of income, with access to nutrient-dense, high-welfare, quality and affordable British food."
The reception brought together more than 60 parliamentarians to speak to farmers and hear about the importance of producing more quality British food post-Brexit.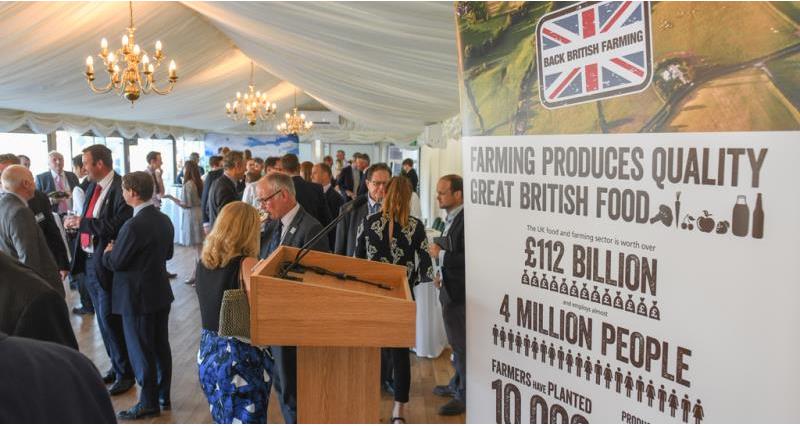 Speaking before the event, Mrs Batters said:
"It is a pivotal time for British farmers. We've just submitted a response to the biggest consultation on the future of the farming sector in 40 years and we will soon see the Agriculture Bill. It has never been so important to underline the value of the British food and farming sector to government.
"It is our strong belief that every person, no matter what their income, has a right to have access to quality, safe, traceable food produced to high animal welfare and environmental standards. And it's this food that British farmers are able to deliver.
"The fruits, vegetables, meat, dairy and cereals farmers produce go into the UK's biggest manufacturing sector – food and drink – which is contributing £112 billion to our economy and underpins nearly four million jobs. British farming's vital role in this cannot be ignored.
"British farming's offer doesn't stop there. It stretches across 70% of the nation's iconic countryside, caring for the natural environment and providing habitats for wildlife. Farmers really are the original friends of the earth.
"With such a good story to tell on behalf of Britain's food and farming industry, this event will be yet another opportunity for us to get these important messages across to government."