The Environment Agency has agreed to consider and approve wherever possible fast-track, short-term trades of water to help farmers cope with pressures on food production caused by the unprecedented spell of hot, dry weather.
Water trading will be localised, with donors and recipients needing to operate within the same hydrological unit - meaning the same river or (part of) groundwater aquifer.
NFU Vice President Stuart Roberts said:
"The launch of the NFU Water Bank as a web-based noticeboard could be of considerable help to some of our members who are quickly running out of water for fruit and vegetable production as they use up their annual abstraction volumes. Livestock who rely on drinking water from abstracted sources are also at risk.

"We will keep looking for solutions that help alleviate the pressures that are building on the farming industry caused by this agricultural drought. It really is a timely reminder that we shouldn't take food production for granted in this country."
How it works
Use these quick links to go direct to these areas:
Fast-track, short-term trades of water between willing donors and recipients (sellers/buyers) will be considered by Environment Agency area offices on a case by case basis during the current agricultural drought. Viable trades must be from the same groundwater/surface water source and within the same water body (hydraulically linked).
In most cases, only volumes of water that the donor has historically used will be permitted for trading, and so the most realistically achievable trades will be in cases where the donor is not currently using water that he or she would otherwise need.
Many trades will be conducted between neighbouring farms and potential donors and recipients can match up with each other using this water bank service. Simply following the step by step guide below.
The NFU strongly recommends that donors and recipients (buyers and sellers) join up with an agreed proposal before seeking EA approval. This should help the Agency to make rapid decisions on the trading proposals it receives.
Step by step guide to using NFU water bank
Step 1
Fill out the form below and make sure you include your name, NFU membership number, contact phone number and email address.
Step 2
In the drop down box, select your Environment Agency region then your catchment area in the drop down list that appears below it.
Step 3
Use the drop down box to select willing donor or recipient.
Step 4
Insert details of your abstraction licence. The sequence of characters on your licence reveals important information about your water source. It is vital that potential trading parties find a match between their abstraction licences with all of the characters.
Your licence number can be found on the front page of your irrigation licence.
Abstraction licence number explained
Example
Licence number 6/33/37/*S or G/9999
6 is Anglian Region – step 2 above
33 is Cam & Ely Ouse CAMS catchment – step 3 above
37 is Lark local sub-catchment
S or G designates a surface water or groundwater abstraction licence
9999 is the four-digit individual licence number which is irrelevant for matching purposes but important for the EA
Step 5
Double check the details have you have entered are correct and then hit "Submit".
Check back on the website later in the day to see if your details have been published.
People who want to trade with you will get in touch directly. If you want to trade with other people using the service, contact them using the details they have provided.
?Step 6
When you find a match with a potential trading partner you should make contact with them to establish the trade. You can then jointly contact the EA to seek approval for their short-term, emergency trade.
Environment Agency area office contact details
If you do not have contact details for your local area Environment Agency office then contact the National Customer Contact Centre on 03708 506 506 and ask them to direct you.
If you are having trouble filling out this form please contact NFU CallFirst on 0370 845 8458.
---
---
Case study: Tim Jolly, Thetford, Norfolk
Tim Jolly farms over 400 hectares of land near Thetford in Norfolk. His crops include asparagus, potatoes, carrots and parsnips, with some land also rented out for outdoor pig production.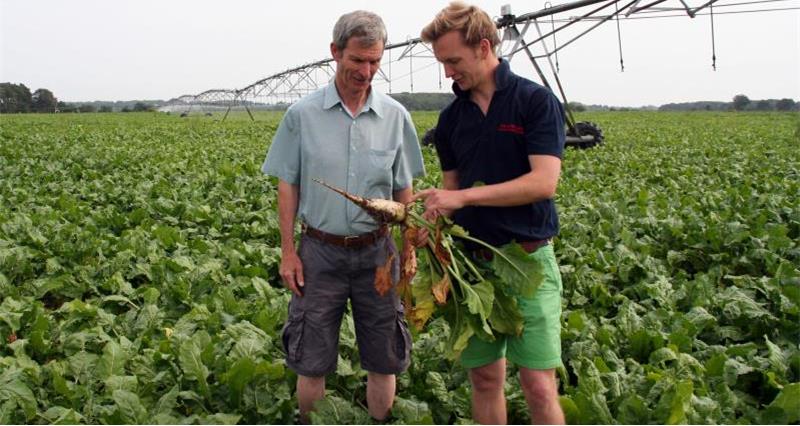 Tim has a set of abstraction licences for the farm to use boreholes for crop irrigation. He wasted no time in taking advantage of the licensing flexibility announced by the Environment Agency.
He writes:
We rely on groundwater that also supports the river Thet in the Cam & Ely Ouse catchment. Although our aquifer levels are described as 'normal', we are rapidly running out of our annual licensed allocation of water.
Having identified the need for extra water for our cropping, both on our own farm and other farms that we grow potatoes on, we contacted some of our neighbours to find out if they had surplus water available. In our catchment, 'surplus' means water that our neighbours might normally use but are not using this year for whatever reason.
Having matched ourselves up with a willing seller, we agreed trading terms with them, and then contacted our local area Environment Agency office at Brampton to pitch our proposal. We phoned them and followed up with an email that included information about our abstraction licences so the Agency could be sure we are all linked in the same hydrological unit.
From beginning to end, the process was completed in five days with no paperwork, which is a fantastic achievement.
I'm grateful to the Environment Agency team at Brampton for their help in making this happen.
The NFU's water bank service is designed to help match farmers and growers like Tim who need water, to nearby farmers who have a surplus. Follow the step by step guide on this page to find a water supplier or offer water to those in need.
---
---
Click here to view the Water Bank listings
(Members only, you will be asked to log in. If you don't know your log in details contact CallFirst on 0370 845 8458.) ?