Our renewables day visit began at Nigel and Patrick Joice's poultry unit at Uphouse Farm, South West of Fakenham in Norfolk. From family roots as arable farmers looking to diversify, Nigel investigated broiler rearing under the advice of ADAS and in 1996 built their first poultry unit. Good on-going performance led to a series of eight sheds being built and after selling some farmland, a further unit was constructed in 2002 and 2005 creating another eight sheds, taking the farms rearing capacity to 840,000 birds. The two units operate an all in all out cycle, 7 times a year and run three weeks apart from each other.
As the business began to experience rising energy costs using LPG to heat the poultry houses, Nigel investigated burning the farms poultry litter to generate heat and approached Irish company BHSL. This led to the installation of two 500kW combustion boilers in 2011 as well as a massive project of installing a hot water heating system in every poultry house. Bird feed conversion and welfare improved as well as reducing energy costs. Uphouse Farm was the first in Europe to gain approval for burning poultry litter and this led to subsequent plant approvals from March 2014. To combat rising electricity bills the farm has also invested in three 150kW solar arrays and in 2016 invested in an additional 1200kW litter combustion plant and CHP unit. The PIP group was left highly impressed how a farm can be at the forefront of renewable technology on a progressive broiler farm and we thank them greatly for the farm visit.
Our next visit that day was to Raynham Estates where we met CEO Tom Raynham and Farm Manager Duncan. We were first shown a huge investment they had made by building a gas to grid anaerobic digester (AD) plant which injects 550m³ per hour of biomethane into the nearby high-pressure national gas main. The farming operation extends to 2000Ha in which 1300Ha is arable, with woodland and grassland the remainder. The Estate also runs a 200 head suckler beef herd and a 600,000 bird broiler enterprise. The AD plant predominantly feeds on 20,000t sugar beet pulp (returned from the 20,000t of sugar beet supplied to British Sugar) and 8,000t whole crop rye but going forward would like to utilise the farms poultry manure and feed home grown maize silage as this will be more cost effective and key to gas yield. The digestate produced is stored in three 7,000m³ lagoons and is pumped six miles to another location for the farms arable land to save road transport costs.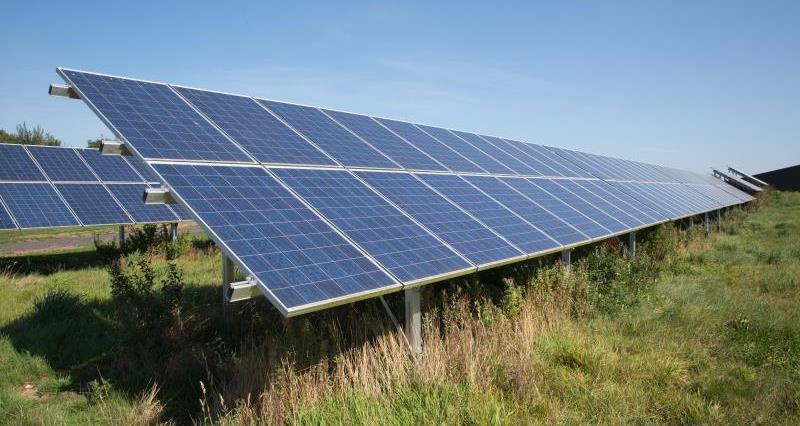 The final part of the day was visiting one of the largest solar farms in the country which Tom Raynham instigated in 2013. The solar panels cover 225 acres of ground and produce just under 50MW of electricity. The site used to be an old airfield but was reclaimed back into Raynham Estate in 2006 with all the concrete sold believed to have paid for the 350 acre site. The £65m solar farm was built by an energy provider and provides a reliable rental income that helps pay bills allowing the business to be more financially sustainable.
A huge thanks to Tom for allowing the PIP group to visit and to Duncan for giving up his afternoon showing the group around, he made the tour very interesting and highly inspiring.
Read more about the NFU Poultry Industry Programme: