Against a backdrop of Europe's grain and butter mountains, milk and wine lakes, intervention and soaring CAP spending, there was little sign of compromise as some took up entrenched positions.
Although 'Halvergate' came to a head in the late spring of 1984, there had been furious debate, locally, nationally and involving Europe for at least four or five years. In simple terms, it boiled down to food production versus nature and wildlife.
With the opportunity to grow more profitable cereals on lowland, grazing marshes, there was huge pressure from farmers to drain land and plough.
Farmer Robert More of Tunstall was one of those he had reluctantly decided to go down that route. At the time, rent for grazing marshes was down to £24 an acre, the same amount he was paying for drainage rates.
Speaking to British Farmer & Grower in 2008 he said: "We were very unwilling to do it because we love the landscape, love the place where we live. My family has been here since 1705 so we're well entrenched here. It was with a heavy heart that we decided to go down that route.
"But the bottom line of farming is to stay in business and maximise your profits and my neighbours were draining marshes on their farms at the time."
However, an approach the Broads Authority changed his mind and the future of the grazing marsh.
The Authority, then a relatively new kid on the block, worked with the Countryside Commission, the NFU and the CLA, at both county and national levels, as well as officials and ministers in the former Ministry of Agriculture and Department of Environment to evolve a peculiarly sensitive solution.
When in March 1985, a large-scale pilot scheme was officially launched by East Anglian peer and Minister of State for Agriculture Lord Belstead, it was to evolve as a model for the rest of Europe.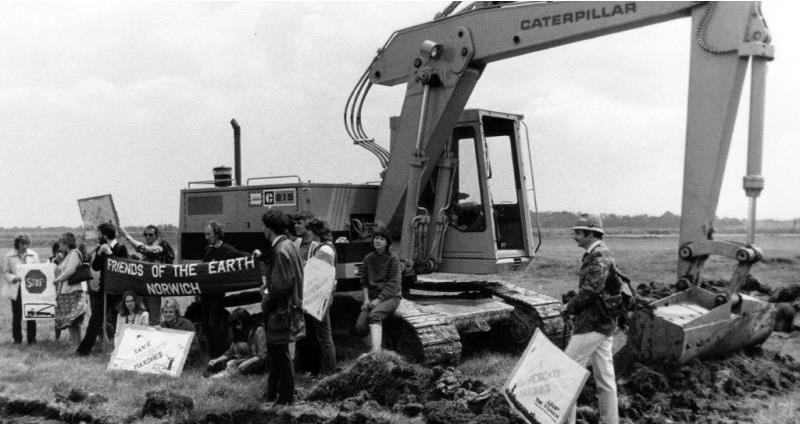 With a typically bureaucratic title, the Broads Grazing Marshes Conservation Scheme, it was greeted with some scepticism, not least among conservation groups.
There was conflict. Friends of the Earth especially knew how to generate publicity, with slogans such as: "Farmers paid for doing nothing." But a carrot and stick strategy did eventually have a chance and the £50 per acre payment certainly sweetened the pot for the initial trial scheme.
Most importantly, a relatively light touch by officials on the ground enabled progress to be made and to consensus to be built.
Within months the overwhelming majority of some 8400 acres or 89.4pc of the eligible area had signed up. It was to curb the excesses of both sides and within a year, it had been further expanded to allow others to join the scheme.
The Norfolk model for the Broads became an integral strand of a new, essentially voluntary conservation policy, the Environmentally Sensitive Areas (ESAs), formally launched in March 1987. The expanded Broads area became one of the first five ESAs.
It was a former Environment Minister and Suffolk Coastal MP, John Gummer, who was to persuade his European colleagues of success of these practical, farm-based conservation policies.
As Minister of Agriculture in July 1992, when Britain held the rotating European presidency, he led a tour of the Breckland ESA. This home-grown policy initiative clearly impressed his European political colleagues and their advisers.
Today, Defra has again turned to Norfolk and Suffolk to implement a new pilot wildlife-friendly funding project for a new era of support for the industry. History does certainly seem to repeat itself.
Find out more about NFU Norfolk's first 100 years by clicking on the links below: