Farmers across the country are being urged to take part in the Big Farmland Bird Count (BFBC), which starts on 8 February.
Sponsored by the NFU, the nationwide 'citizen science' project calls on farmers, land managers and gamekeepers to spend 30 minutes between 8 and 17 February recording bird species on their land.
Crucially, the results will aim to distinguish which farmland birds are thriving due to good conservation efforts while identifying the ones in need of most help.
NFU President Minette Batters is vowing her support to the count by going bird-watching on her farm in Downton, Wiltshire.She said:
"The NFU is extremely pleased to be sponsoring the 2019 GWCT Big Farmland Bird Count. This event highlights perfectly how farmers balance excellent conservation work on farms across the country alongside producing the nation's food."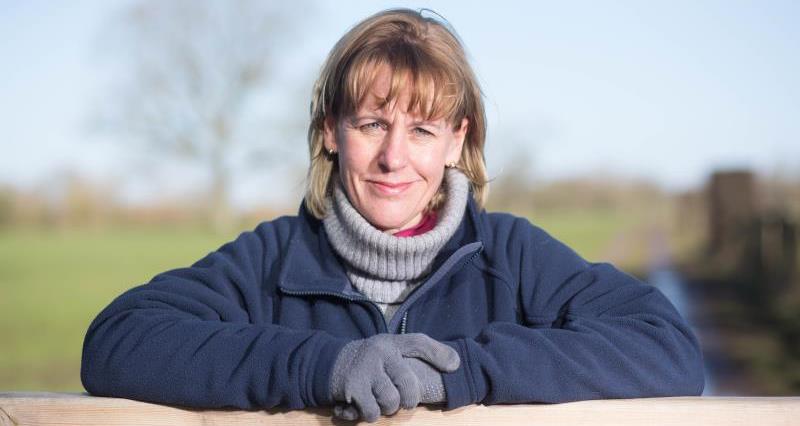 "Over the past four decades, farmers have carried out a huge amount of work to encourage wildlife and are responsible for protecting, maintaining and enhancing 70% of the nation's iconic countryside.

"I would encourage all farmers to take part, and also remember to submit your records to the GWCT, so we can pull together a vital national snapshot of the state of nation when it comes to farmland birds."
Organiser of the count Jim Egan said:
"It would be fantastic to see even more farmers to take part in the count this year," said Jim.
"Counting birds on farm is a great way to recognise what species are there as well as being an opportunity to take time out and see the benefits of work such as wild seed mix and supplementary feeding.
"Taking part and submitting results enables us at GWCT to shout about the important conservation work many farmers are doing.
"We want landowners to be proud of their efforts. We will make sure that the public and policymakers hear about what can be achieved on Britain's farms. The BFBC is a very positive way to showcase what can be achieved."
Farmer Richard Bramley discusses the Big Farmland Bird Count
Yorkshire farmer Richard Bramley explains his passion for farmland birds including his favourite, the yellow wagtail.
Spotters' guide
There are a few things you can do to help you identify birds on your farm. Take a pair of binoculars and a notepad and pencil and look for the distinctive things that individual species do that sets them apart. Jotting these details down will make identification much easier.
For instance:
Does the bird bob up and down or wag its tail?
Does it stand in an upright position or lean forward?
Does it have any distinctive features like a curved bill, a bright white stripe above the eye or spots on the breast?
Where did you see it? Was it sitting on top of a bush or was it out in the middle of a field?
Did it hop, walk or run?
Was it on its own or was it part of a flock?
Did it have a fast, straight flight or an undulating flight?
Did it make any calls or sing?
Download this handy checklist from British Farmer & Grower magazine: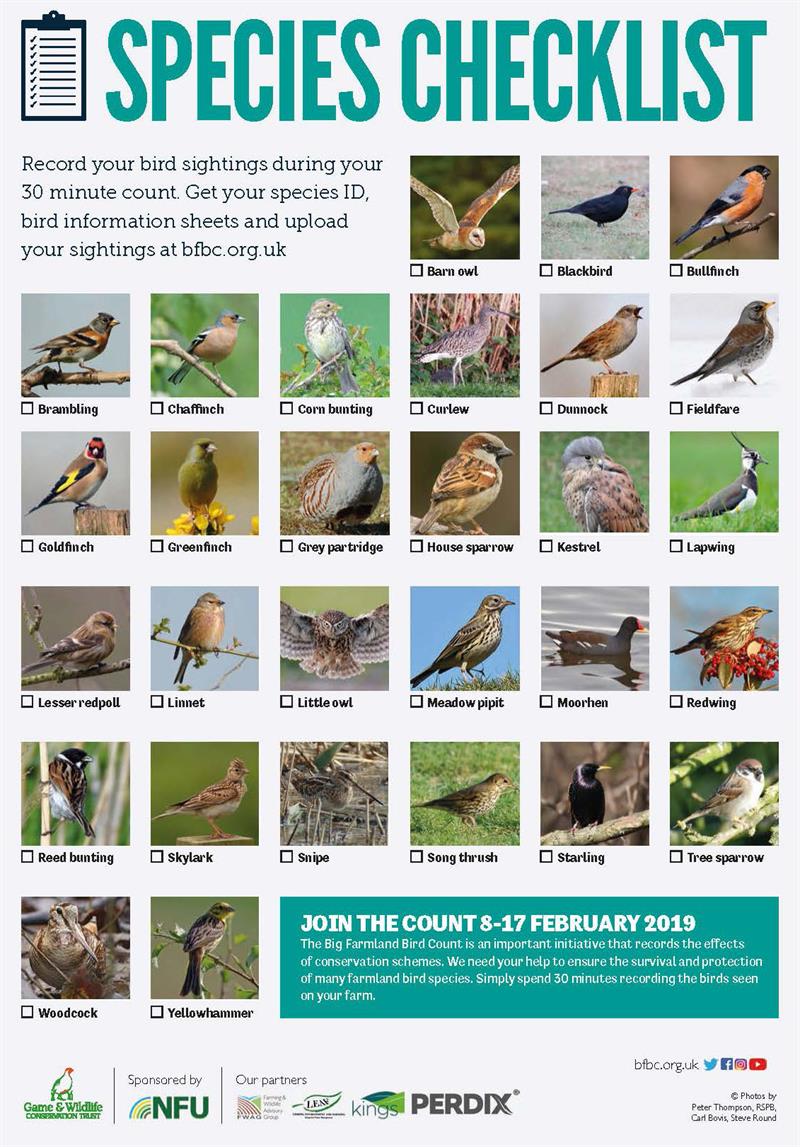 At the end of the count, the results will be analysed by the Trust. All participants will receive a report on the national results once they have been collated.
Aside from the NFU being the main sponsor, the count is also being supported by FWAG, LEAF, Kings, Perdix and CLA.
The 2018 count
Last-year saw a record-breaking 1,000 people take part in the count, recording 121 species across 950,000 acres.
A total of 25 red-listed species were recorded, with five appearing in the 25 most commonly seen species list. These include fieldfares, starlings, house sparrows, song thrushes and yellowhammers. The most plentiful of these were fieldfares and starlings, which were seen on nearly 40% of the farms taking part.
Peter Thompson, who works as a biodiversity advisor at BFBC organiser Game & Wildlife Conservation Trust (GWCT), said:
"Many, many farmers do lots on their farms to encourage wildlife, but when I talk to the public, they always seem surprised that this is the case. The Big Farmland Bird Count gives individual farmers the chance to spend just half an hour counting birds on their farm, so that the GWCT can shout from the rooftops about the results."
"Last year, just over 1,000 people took part in the count, which on the face of it looks fantastic. However, there are around 212,000 farm holdings and around 3,000 full time gamekeepers in the UK (and a similar number who do the job part time). Therefore, less than one in every 200 (0.4%) of potential counters took part last year."