Professor Judy Buttriss, Director at the British Nutrition Foundation, writes about the need to make every calorie count.
Context
We live in a world where overweight and obesity are widespread, linked with a calorie intake in excess of the requirements of a sedentary lifestyle. It's a harsh reality that most adults would benefit from losing some weight: 63% in England are heavier than they should be, with 27% being obese. One in 5 English children is already overweight or obese by the time they start school and when they leave primary school at age 11, 1 in 3 is overweight or obese. Of particular concern is the relationship between obesity and deprivation in childhood, with more than a doubling in prevalence being evident when the most deprived 10% is compared with the least deprived 10% - 12.7% versus 5.8% in 5-year-olds and 26.3% versus 11.4% for 11-year-olds.
Among adults, obesity accounts for 80-85% of overall risk of developing type 2 diabetes and diagnoses have doubled since 2006, and the COVID-19 pandemic has brought into sharp focus the interplay between the virus and pre-existing diet related disease. People living with obesity who contract the virus are more likely to suffer severe symptoms needing admission to intensive care units and, along with patients with uncontrolled type 2 diabetes, are also more likely to die from COVID-19.
Calories can't be considered in isolation
Reducing sugar as a means of cutting calorie intake is a well-established weight loss strategy and is now an established part of UK health policy, but there is more to good nutrition than calories and sugar – we need many other nutrients to ensure health, such as vitamins, minerals, protein, fibre, and essential fatty acids. So, important as it is to cut calories to tackle obesity, in practice calories can't be considered in isolation. The overall nutrient quality of dietary choices is paramount for health, along with dietary variety to capture the many different nutrients we need on a regular basis. The amounts of nutrients that accompany calories really matters and the good news is that it's not necessarily about eating less. By making the right choices, quantity of food can actually rise, helping with satiety and staving off hunger pangs. This is the basis of a number of successful weight loss plans.
The government's Eatwell Guide emphasizes that the bulk of our diet should comprise fibre-rich starchy foods, vegetables and fruits, with more modest contributions from lower fat milk and dairy products and from foods such as lean meat and poultry, fish, eggs and pulses (with the latter attracting greater prominence in the most recent version of the guide). Small amounts of plant derived oils are also included for the essential fatty acids they contain, but other high fat foods, along with high sugar and salty foods, should be eaten less often and in small amounts.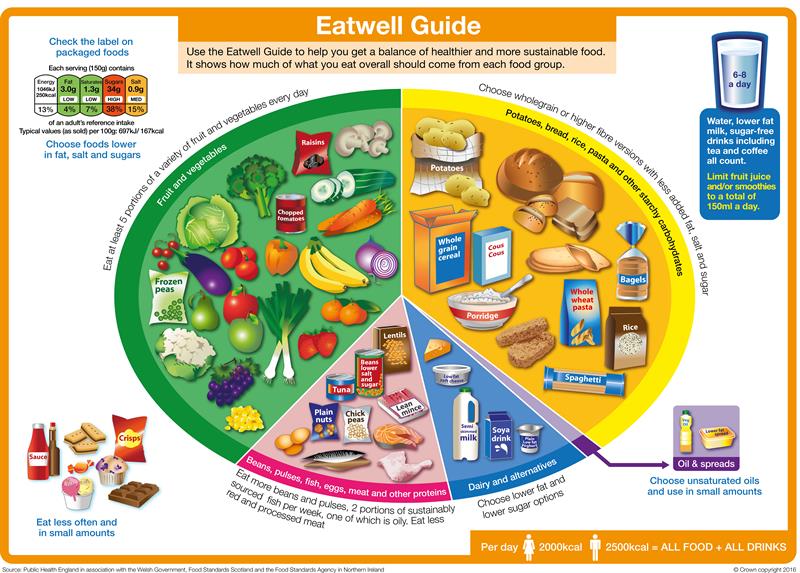 Poor diets are widespread
So, as we trim the calories from our diets, it's essential that we also pay attention to intakes of multiple essential nutrients – making every calorie we consume count – a concept sometimes referred to as 'nutrient density'. In my view this message is not yet getting the attention it deserves given the evidence we have from dietary surveys about the relatively low intakes of a number of essential vitamins and minerals among UK teenagers and young adults in particular. For example, over 20% of teenage girls have low intakes (below the lower reference nutrient intake) of calcium and vitamin A; over 25% have low intakes of zinc, iodine and riboflavin (B2), and over 50% have low intakes of iron. If anything, the situation seems to be getting worse rather than better.
Also of concern are low intakes of fibre. Average daily intake in adults is around 19g compared to the recommended 30g per day. Grains and starchy veg such as potatoes are an important source of fibre and so one of the drivers of low fibre intakes is avoidance of 'carbs'. Fibre is only found naturally in plant derived foods, and so the other driver is low intakes of veg, fruit and pulses. Despite familiarity with the 5 a day mantra, only 27% of adults eat 5 fruit and veg a day and, on average, teenagers have similar intakes of fruit and veg to those of toddlers!
Wider benefits of dietary shifts
Shifting dietary patterns to align better with that depicted in the Eatwell Guide can be expected to improve nutrient intake and studies suggest that this shift will also deliver health benefits and, importantly, environmental benefits. Roughly a 20% reduction in greenhouse gas emissions has been predicted for healthy diets that still provide moderate amounts of meat and dairy products.
The British Nutrition Foundation has been doing its bit to spread the word about the concept of nutrient density of diets ('making every calorie count'), click here for more information, and has also produced resources designed to encourage people to pay more attention to portion sizes, see here for more information. Developed to complement the government's Eatwell Guide, Find Your Balance: get portion wise! provides flexible advice on not just what to eat to achieve a healthy diet but also how often and in what quantity. The Find Your Balance resources comprise a fridge poster, a short booklet and a longer more detailed digital resource booklet with a full list of portion sizes, providing information on weight in grams and calorie content.
So, healthy eating is not just about cutting calories, it's also about eating differently, whilst also considering the impact of what we eat on the wider environment in the UK and further afield. British farmers are well placed to help on this journey.
More from NFUonline: