By sharing the results of the 2018 NFU Broadband and Mobile Survey, we welcome the opportunity to showcase a true picture of farm coverage, so that wider stakeholders can be aware of the challenges and opportunities for connecting farms and wider rural communities.
This year (2018) 812 farmers and growers took part in the survey between 29 August and 12 October.
The infographic below summarises a snapshot of farmer connectivity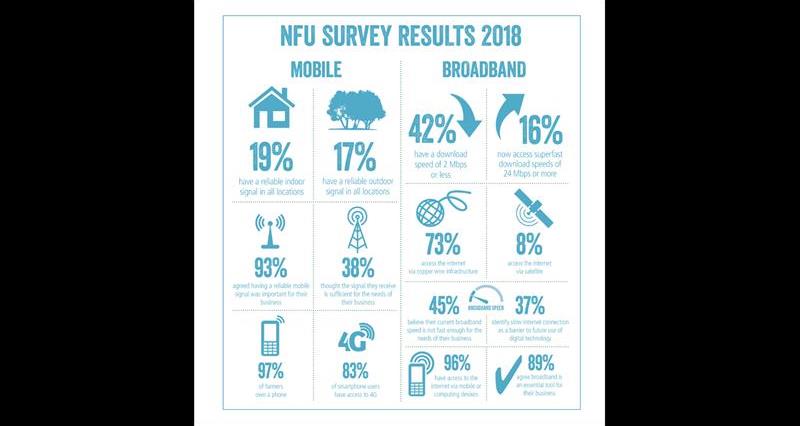 Key fixed broadband results 2018
The 2018 survey highlights that 96% of farmers had access to the internet via a mobile phone or computing device. Of these, 89% believe that broadband is an essential tool for their business.
One positive trend is the significant increase in farmers accessing superfast download speeds of 24 Mbps or more over the past four years, shown in the table below. This reflects the increasing availability and take up of superfast broadband services and supports our evidence that once farmers receive a superfast connection, their usage, importance and reliance on the service for their business increases.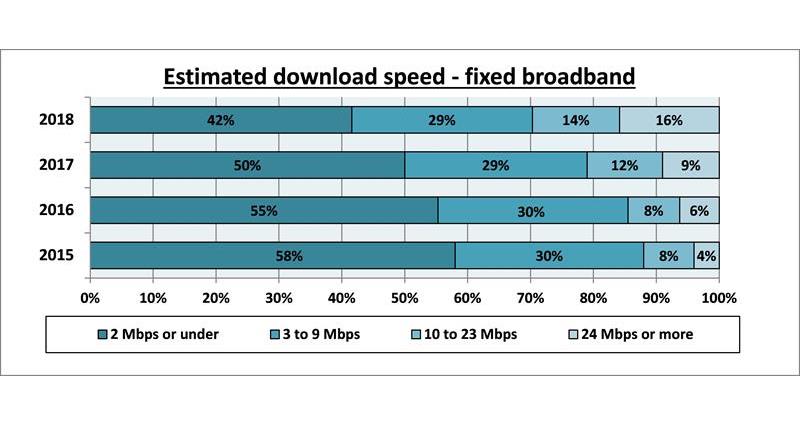 However, the table highlights that a notable proportion of farmers surveyed (42%) continue to experience the slowest download speeds of 2 Mbps or less, although this has fallen from 58% in 2015.
Key mobile coverage results 2018
Mobile connectivity has also seen a small improvement. The 2018 survey reveals that 97% of farmers surveyed own a mobile phone and out of those who own a smartphone, 83% could access 4G on their devices.
But, a worrying 17% of members receive a reliable mobile signal in all outdoor locations (see table below), and 19% in all indoor locations. These figures have changed little since 2015 and are a cause for concern since mobile telecommunication is essential for health and safety in a potentially hazardous industry, with farmers often working alone in remote areas.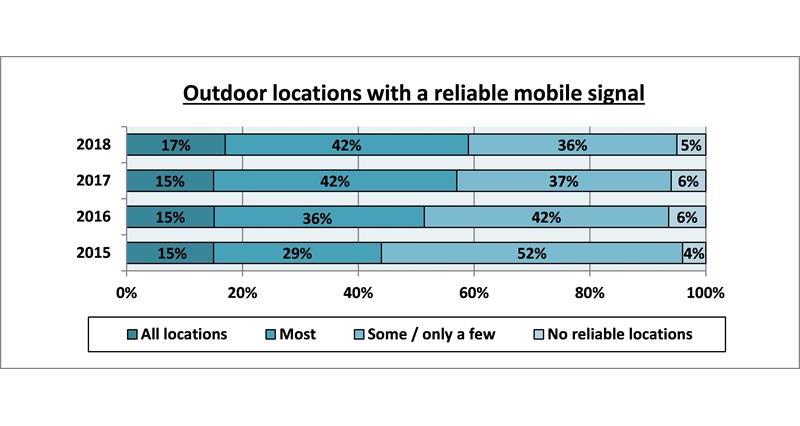 NFU members key message to the UK Government
· Lack of access to digital technology is a major barrier to improving farm productivity
· Rural communities should have the same level of service and infrastructure as urban ones
· Rural businesses should be able to run as effectively as those in urban areas
· Access to a reliable mobile signal is paramount for farm safety and wellbeing
The concluding picture
The 2018 Broadband and Mobile Survey illustrates a welcome pattern of improvement for both mobile and broadband connectivity, although there is still a significant gap between what farmers are receiving now, and full universal coverage.
It is clear that slow broadband speeds and patchy mobile coverage still represent major barriers to improving productivity and the uptake of digital technology for our members and with the wider rural communities in which they operate.
With Brexit and the industry facing so much uncertainty, UK farmers need as many tools as possible to ensure business reliance, and having access to digital connectivity is paramount if they are to be comparable and fit for purpose to compete with our international neighbours in the global market.