The NFU's Future of Food 2040 report was launched at NFU Conference, looking ahead to what food and farming could look like in 20 years time as we see a global growth in population, an increased focus on climate change, and advances in technology. The NFU press team reached out to several national news outlets in the lead up to the conference and secured coverage in The Observer, The Sunday Mirror and across Heart Radio stations.
The coverage analysed the findings of the report in-depth and some of its predictions, such as 3D printed food, virtual fences and vertical farming, and included extensive quotes throughout from the NFU's head of policy services Andrea Graham, stressing the opportunities these technologies create for mitigating climate change and increasing productivity.
LBC covered the report in its broadcast news while Heart Radio featured it across its network of regional stations. BBC Radio 4 also included the report in its round up of stories from the Sunday newspapers.
NFU President Minette Batters was interviewed live on the Radio 4 Today programme and Sky News on the NFU's call for the government to convene a commission that is responsible for upholding British farming's high standards post-Brexit.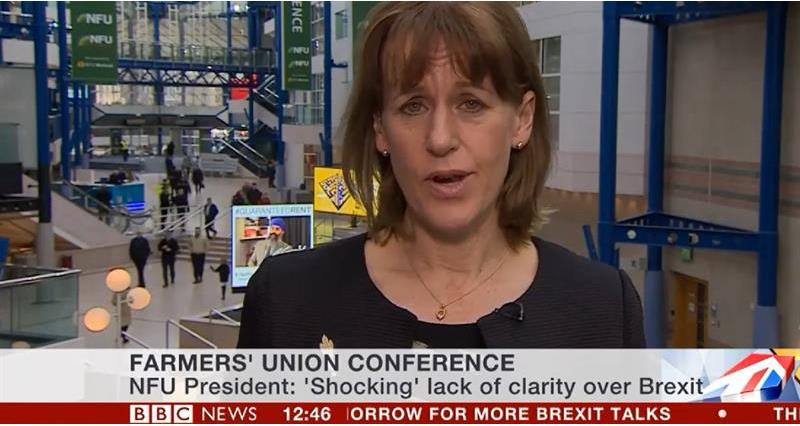 Following her speech, Mrs Batters reacted to Michael Gove's speech live on the BBC News Channel and acknowledged his pledge to put in writing his commitment to upholding the industry's high standards. BBC News at One and BBC News at Six further covered the conference and quoted Mrs Batters saying a no-deal Brexit is the "stuff of nightmares".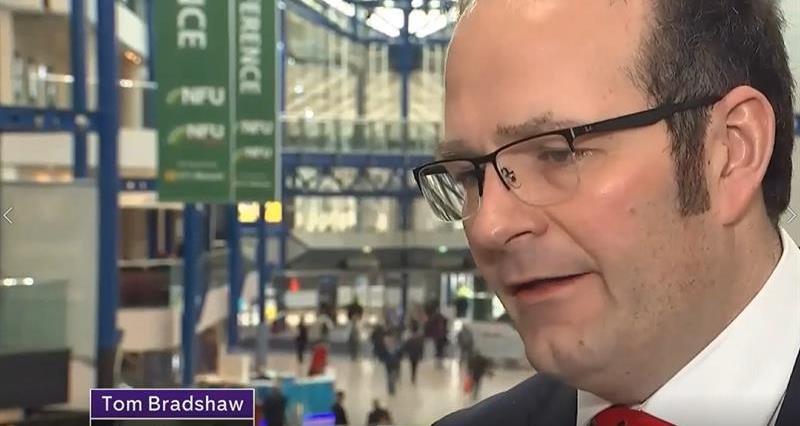 Channel 4 News featured NFU Conference in an extensive report, in which NFU combinable crops board chairman Tom Bradshaw called for Michael Gove to commit to not imposing zero rate import tariffs in the Agriculture Bill or Trade Bill.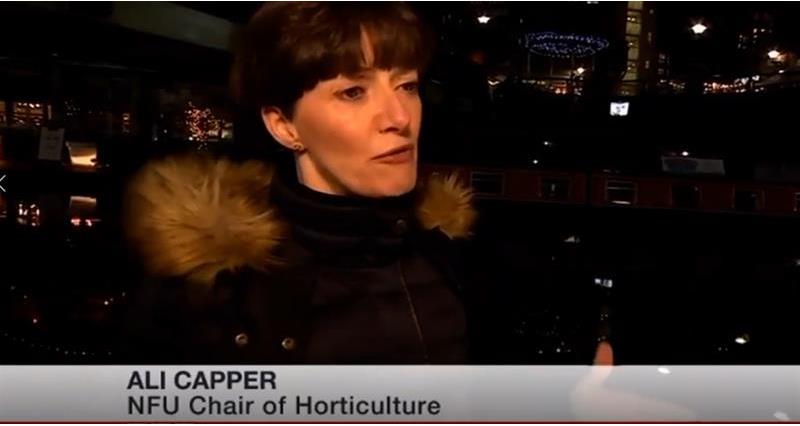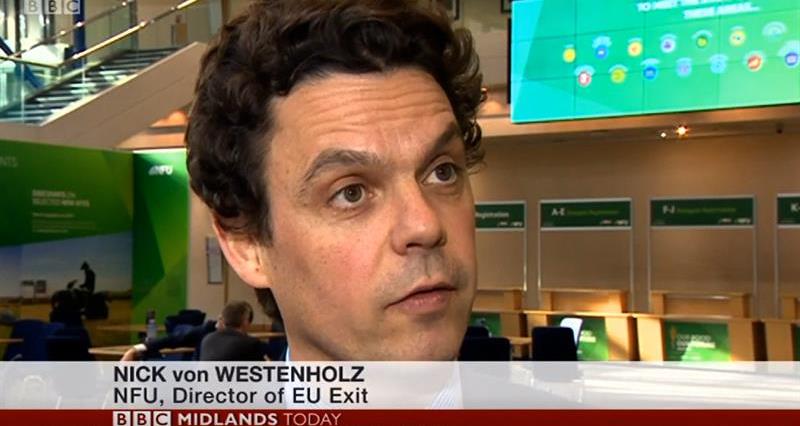 BBC Midlands Today interviewed NFU horticulture board chair Ali Capper who expressed concerns about how farming businesses will access a seasonal workforce in the future, as well as members Bill Quan and Richard Yates and NFU director of EU exit and international trade Nick von Westenholz on why avoiding a no-deal Brexit is essential to protect farmers from food coming into the UK that is produced to different standards.
The conference also featured in news bulletins broadcast on BBC Radio 4 and BBC Radio 2 throughout the day.
The Huffington Post, The Daily Telegraph, The Daily Express, inews, The Guardian, Daily Star, The Times and Financial Times highlighted Michael Gove's confirmation that the government would set out "specific and robust" tariff protections for farmers in a no-deal scenario in its reports of the conference. Mrs Batters is quoted in a piece in Metro and The Times saying it is "absolutely shocking" that it is still not known what taxes and regulations would apply on goods after 29 March.
The Evening Standard reported Michael Gove's comments at the NFU press conference that dairy farmers need to be protected from animal rights activists, in which he said it is "wrong" for them to try to stop dairy farmers carrying out their "proper businesses".
On Farming Today, a special programme was created from NFU Conference and included passages from Mrs Batters' speech, as well as an interview with Sainsbury's from one of the conference sessions.
For the latest from the press office, visit the NFU Media Centre.