The NFU has responded to the publication of the government's import tariff schedule in the event of a no-deal Brexit.
Here's a first look at what this would mean for farming in the UK:
Full protection for the sheep meat sector: no additional market access and no reduction in the Most-favoured-nation (MFN) quota.
Tariff-rate quotas (TRQs) for beef and for poultry
No TRQs for dairy. However, tariffs will apply to butter and cheese imports. This means that tariffs will apply on EU butter and cheese coming in, but the UK tariff is significantly lower than the tariff the EU applies to 3rd countries.
No TRQs for pork.
EU pork will face a duty entering the UK market.
No tariff protection for eggs, cereals or fruit and veg (except fresh beans)
Small TRQ for raw cane sugar for refining (260,000t). Out of quota duty remains at (€33.9/100kg)
Fertiliser UK tariff of 6.5%
NFU President Minette Batters said: "While we are relieved that we are finally able to see the tariffs that will be applied on imported food in a 'no-deal' scenario, it is appalling that we only now have this opportunity to do so - a fortnight before they could come into effect.

"Farmers and food businesses have no time to prepare for the implications, which will be exacerbated by the fact that we will face tariffs on our own exports on food into the EU and other countries with whom we currently enjoy free trade arrangements.
"Although we are pleased to see that the government has listened to our concerns and elected to treat many agricultural sectors sensitively, which may support farmers who are already facing disastrous disruption from no-deal, it is enormously worrying that some sectors will not have this protection – noticeably eggs, cereals, fruit and vegetables.
"Even those sectors that are treated sensitively will, in most instances, see worrying and large reductions in the tariff rates currently charged on non-EU imports.
"Furthermore, the approach taken by the government to lump products under the same high-level tariff code, for example whole carcases and high value cuts of fresh beef, means there is a high chance of market distortion for many sectors who are deemed to have been treated sensitively.
"We recognise the importance of ensuring food prices for consumers do not rise in a no-deal Brexit but we are deeply concerned that the approach to tariffs published today will mean a greater reliance on food produced overseas.

"This would not necessarily lead to cheaper food for consumers but would mean we export and increase the environmental impact of our food production while losing control of the high standards of animal welfare to which that food is produced. In a no deal scenario the government must act immediately to revise these tariffs and quotas should this happen.
"But more importantly, the publication of this tariff is another example of how British farming will be damaged by a no-deal Brexit. No-deal must be taken off the table and a workable solution identified by MPs and government as a matter of urgency that takes us into an orderly Brexit."
The NFU in the media: 13 March
The NFU's press office is engaging with media outlets around the UK to impact the coverage highlights the NFU's key messages. Here's a round-up:
On tariffs:
The NFU's EU Exit and International Trade Director Nick von Westenholz explained the effects of the government's tariffs in the event of a no-deal Brexit to BBC News at lunchtime to hammer home the worrying message that some sectors with not have protection.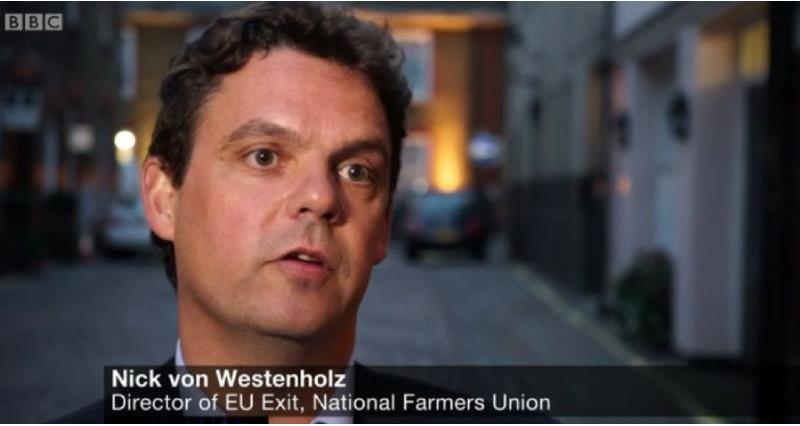 He said: "On cereal products such as wheat and barley, on fruit and vegetables, on eggs, the government has decided to set tariffs at zero on imports. And at the same time, our farmers here producing those products will face high tariffs on any goods they want to sell to the EU. So that's just going to add real problems to those farmers and many will actually struggle to continue to operate."
Additionally, NFU Cymru President John Davies spoke to ITV News while at a livestock market in Raglan. He discussed the impact that tariffs will have on Welsh and British farming.
On food standards:
NFU Vice President Stuart Roberts spoke to Matthew Wright on Talk Radio about the sectors left unprotected from imports that are potentially produced to lower standards, as well as the products that could lose valuable markets as a result of the tariffs.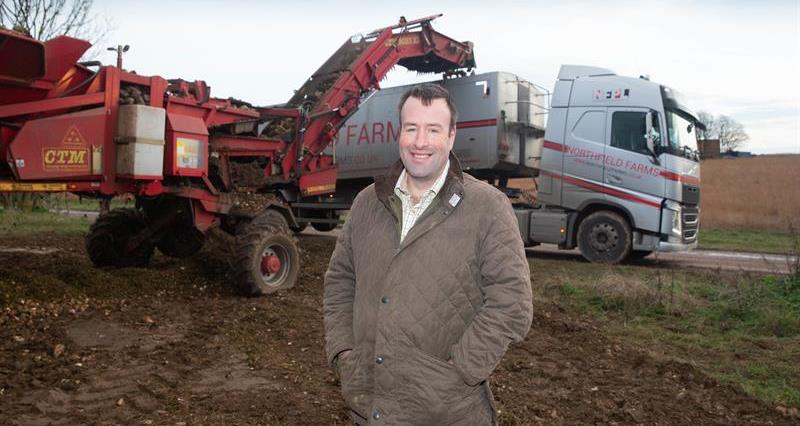 Mr Roberts said: "It's the consuming public who consume our products that really matter… when you look at one of the most impacted sectors, the sheep sector, which has got some protections in the tariffs that were announced this morning, that's only on imports, but we export 40% of our sheep and our economy is built on exports. 90% go to Europe and that will have a 48% tariff on it.
"The labour question is still a challenge for us. We may know tariff rates today but that is only one part of the transaction, there's also what checks will be carried out at the border? When it comes to meat, what veterinary certification will be needed? What health marque needs to be on products? What plant approvals will be needed?
"There is also, what standards will products be produced to? If we're not careful, we're in danger of scouring the world for cheap food, which actually just means importing food that it would be illegal to produce here. It would undermine our high animal welfare and environmental standards."