December 2019
NFU writes to The Guardian
NFU Vice President Stuart Roberts maintained the sustainability of British livestock production.
UEA reinstate beef on its menu
The decision from the University of East Anglia Union Council to reinstate beef on the University's menu after banning it previously was picked up by national print outlets. NFU Vice President Stuart Roberts is quoted welcoming the news but expressed disappointment that the University will still apply a levy on beef products.
---
November 2019
Meat: A Threat to our Planet response
The Daily Telegraph published a column from NFU President Minette Batters explaining why the BBC's Meat: A Threat to Our Planet? documentary did not represent British farmers.
Mrs Batters was interviewed on BBC Radio 4's Today and BBC Radio 2's Jeremy Vine show and highlighted the differences in production systems between the US and the UK.
Mrs Batters also set out the NFU's net zero ambition in BBC Radio 4's The Food Programme.
The Daily Telegraph reports the strong reaction to the BBC's documentary on global livestock production. NFU director of communications Fran Barnes is quoted describing the programme as showing farming about as far removed from British beef production as it is possible to be.
On Farming Today, NFU Vice President Stuart Roberts explained the important role of red meat production in tackling climate change.
NFU Vice President Stuart Roberts was also quoted in a BBC Food feature on red meat and the environment, explaining how buying British can make a difference to carbon footprints.
BBC Countryfile spoke to NFU Cymru President John Davies, who highlighted the great story British beef farmers have to tell while cattle farmer and NFU member Jilly Greed said she feels there must be differentiation between different production systems.
---
Backing British Farming
Livestock farmers and the NFU's Back British farming message were centre stage in The Sun newspaper every Saturday throughout November.
Read more here.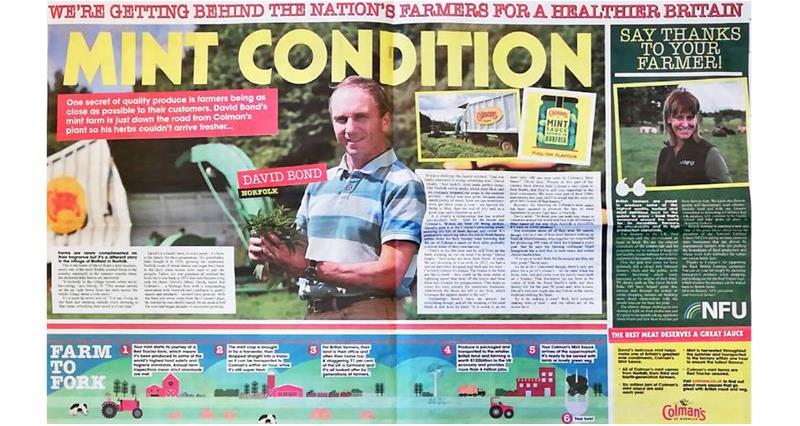 Sky News reports the nuances of climate change debate
The NFU contacted Sky News' climate change correspondent prompting an article examining the environmental impact of livestock production.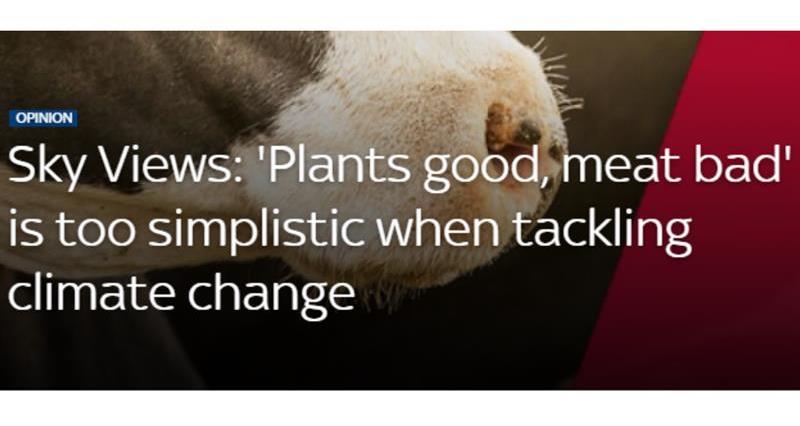 In a column for The Guardian, NFU member Joe Stanley highlights that livestock production in the UK is one of the most sustainable production systems in the world.
---
October 2019
Tesco advert's 'anti-meat' agenda
NFU Vice President Stuart Roberts addressed a panel on Channel 5's Jeremy Vine and highlighted the sustainability of British beef and criticising the advert's anti-meat agenda.
NFU Cymru's milk board vice chair Abi Reader highlighted the climate friendly, safe and affordable food produced by British farmers in a debate on ITV's This Morning.
BBC Radio 4's news bulletins, The Times and the Daily Telegraph reported NFU President Minette Batters' comments that the advert had caused considerable upset to farmers.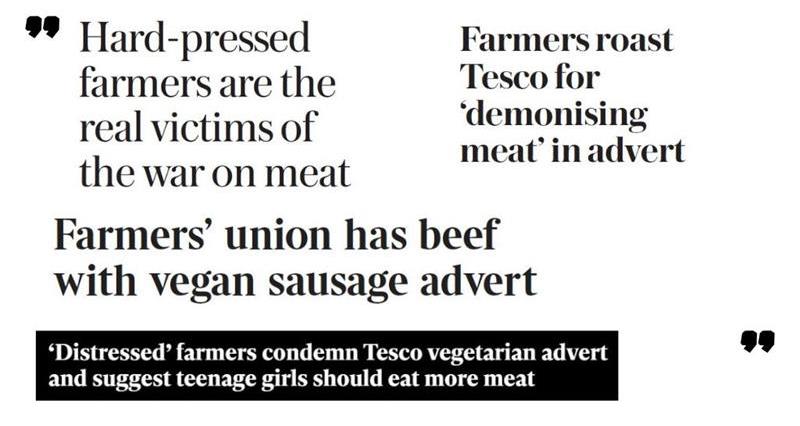 ---
September 2019
Downs report on bTB
National newspapers quoted NFU Vice President Stuart Roberts welcoming the results of the report emphasising the evidence showing the effectiveness of the badger cull.
NFU's net zero ambition unveiled
The Guardian reported the launch of the NFU's reporting setting out how agriculre can achieve net zero emissions by 2040 exclusively.
Cambridge University's beef ban
NFU Vice President Stuart Roberts was interviewed for BBC Look East, emphasising that consumer choice is being removed and that British beef is produced using sustainable systems.
---
August 2019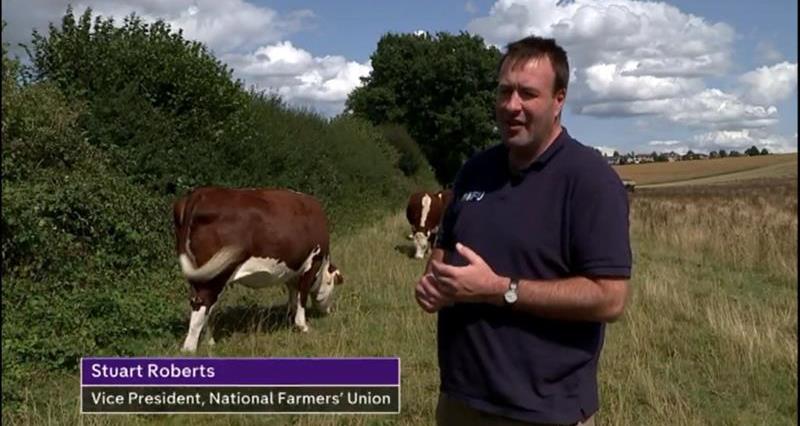 Goldsmiths College beef ban
NFU Vice President Stuart Roberts told Channel 4 News the differences between British beef production and global production were not being acknowledged.
Mr Roberts was also quoted across print and online arguing that a ban on beef is an overly simplistic approach and that British beef is 2.5 times more efficient than the global average.
The NFU's comments also feature on Good Morning Britain's coverage of the story.
BBC Farming Week
BBC Breakfast broadcast live from Joe Stanley's farm Monday through to Thursday in Leicestershire.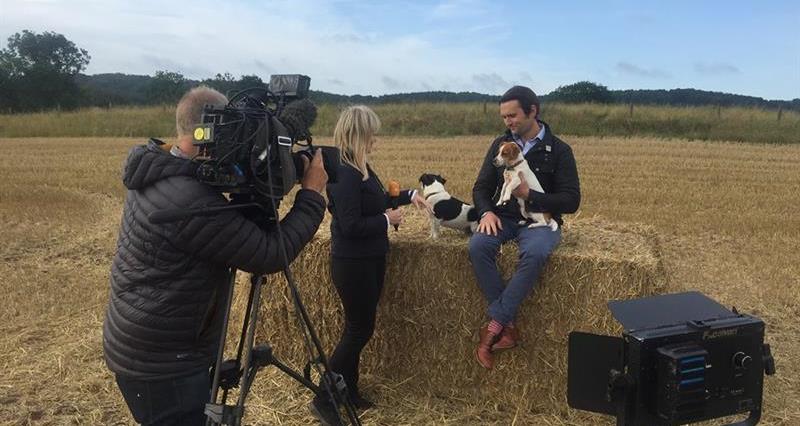 IPCC report on climate change
NFU President Minette Batters emphasised that British farmers are committed to their role in producing climate-friendly food on ?BBC News Channel and BBC News at 10.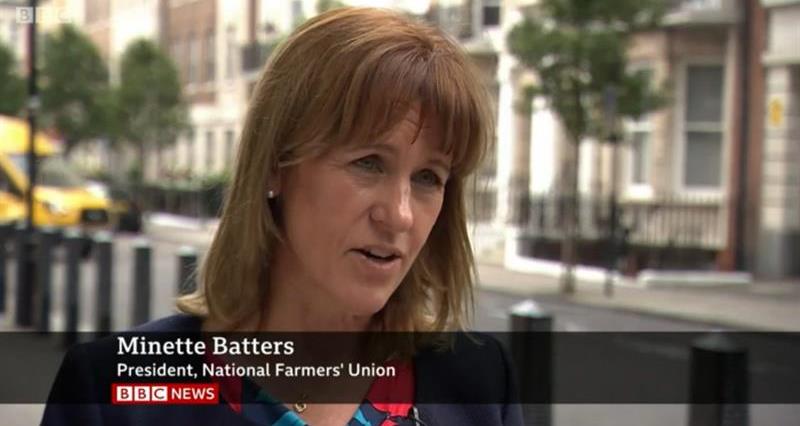 NFU Vice President Stuart Roberts took on George Monbiot on Channel 4 News where he explained that British farmers are leading the way in sustainable food production.
His interview from the BBC Radio 4 Today programme also featured on news bulletins across BBC radio stations including Radio 1 and 5 Live.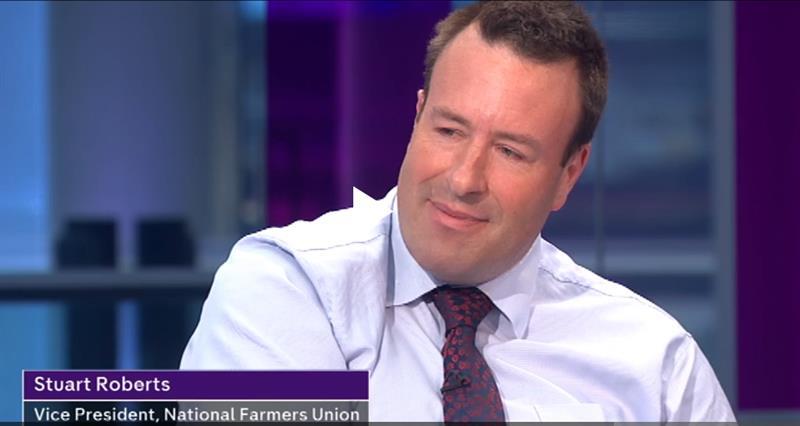 In light of the IPCC report, ITV News interviewed NFU livestock board member Hugh Broom, in which he emphasised the role high quality meat has to play in a healthy, balanced diet.
NFU crops board chairman Tom Bradshaw spoke to BBC World Service about the impact of climate change, explaining that farmers are on the front line of extreme weather.
NFU Cymru member Abi Reader? told Farming Today we need to take into account the greenhouse gas footprint of UK beef and dairy production rather than just the global picture.
Several papers including The Times, Financial Times and The Telegraph, which features NFU livestock member Andrew Loftus, also covered the story. As part of it's double page spread on the report, the i included an article headlined 'We must examine our climate from a local perspective, says farmer', after speaking to NFU Vice President Stuart Roberts on the issue.
NFU Vice President Stuart Roberts spoke to Radio 4 Today and said that we need to look at global reports through a local lens.
July 2019
RSA Food, Farming and Countryside Commission report
NFU Deputy President Guy Smith's interview with Sky News aired, in which he reacted to the RSA's Food, Farming and Countryside Commission report, which recommended a shift in farming practices. He said the Government could help farmers invest in new technology to meet the challenge of maintaining production while lowering our carbon footprint.
NFU member Will Case wrote about his concerns that a no-deal Brexit could put his business and the future of UK produced food at risk in a column published in The Guardian. He argued shoppers would be subject to food produced to lower standards than our own.
June 2019
National Food Strategy announced
NFU President Minette Batters was interviewed on BBC Radio 4's PM and commented that it is crucial that this strategy delivers for everyone – from food producers to families across the country, regardless of their income, with farmers being the number one supplier of safe, traceable, affordable food that is produced to high standards of animal welfare and environmental protection. During the interview, he comment that animal welfare is so bad that farmers 'wouldn't want us to go around showing people pictures of what goes on in a farm", causing outrage from farmers on social media.
Following the interview, Minette Batters wrote columns for Farmers Weekly and Farmers Guardian expressing frustration at the line of questioning that attacked the livestock sector and meat consumption. As a result of Minette directly reaching out to Evan Davis on Twitter, he addressed his "clumsy expression" on the programme the following day.
ITV Tonight's programme on meat
ITV's Tonight programme featured an episode on red meat which looked at health implications and the environmental impact of beef farming. NFU Vice President Stuart Roberts was interviewed saying that although cattle emit methane, the UK carbon footprint from cattle is two and a half times lower than the global average.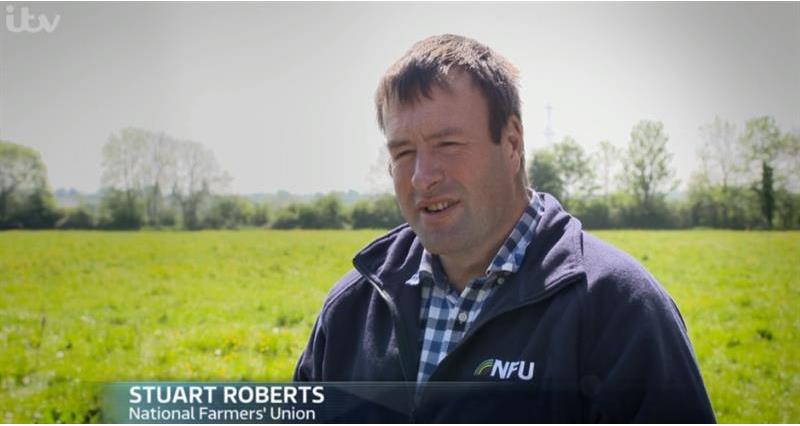 A tax on red meat
The Guardian has published a letter from Vice-President Stuart Roberts which was in response to Julian Baggini's article saying that a tax on red meat would not help to save the planet. In his letter, Stuart agrees that a tax on red meat is not the solution to climate change and highlights the work British farmers are already doing to tackle this issue.
May 2019
CCC net zero recommendations
NFU President Minette Batters spoke on BBC Radio 4's You & Yours programme, emphasising that smart farming and embracing new technologies as opposed to lowering production is the solution to reaching net zero emissions across the economy.
The Guardian reported calls for billions of pounds in farm subsidies to be redirected towards creating native woodlands and meadows and protecting peat bogs and salt marshes in a report published by Rewilding Britain. NFU Deputy President Guy Smith was quoted saying climate change will not be halted by curbing British production and exporting it to countries which may not have the same environmental conscience.
NFU President Minette Batters featured on the BBC Radio 4 programme World at One and discussed her reaction to the climate change report recommendations, emphasising that it is about smarter farming, using things like renewable energy and not about downsizing production.
NFU Deputy President Guy Smith was interviewed on BBC Radio 1's Newsbeat discussing the report recommendations to reduce food production. In response, Guy said that this would just mean that we would have to import more food which would make the problem worse.
The nation newspapers, including The Guardian, i news and The Telegraph, reported the Committee on Climate Change's suggestions for how the UK can reach net zero carbon emissions by 2050. Recommendations in the report included the consumption of beef, lamb and dairy being cut by around 20%, and around a fifth of current agricultural land to be used to plant trees.
In response, NFU Deputy President was interviewed on BBC Radio 5 Live about the recommendations from the report to plant more trees. Guy emphasised that farmers have already been planting more and more trees, and if we re-forest parts of British agriculture we will have to rely more heavily on imports from areas where rainforests may have been destroyed. The programme also interviewed NFU Cymru President John Davies who spoke about how farmers can reduce their carbon footprint without planting more forests.
April 2019
On Farming Today this morning, the programme looked at farm plastic and how it can be recycled by farmers. The start of Great British Beef Week was also discussed, with an interview of NFU member James Small being featured.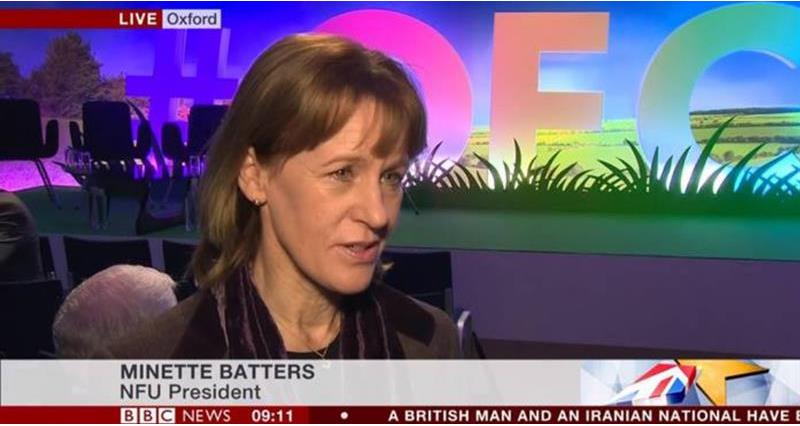 March 2019
Government publishes its no-deal tariff schedule
The NFU responded to the publication of the Government's import tariff schedule in the event of a no-deal Brexit. NFU President Minette Batters
February 2019
The Sunday Telegraph reported "flexitarians" are exaggerating the extent of their reduction in meat consumption with NFU deputy president Guy Smith saying sales have not significantly reduced.
Boohoo
The online fashion company Boohoo announced it would stop selling products made from wool after animal rights group Peta accused the industry of "shocking, systemic cruelty", as reported inews and The Telegraph. The joint statemnent released last year from British Wool, NSA, NAAC, and NFU was referenced in the piece, where we reiterate our zero tolerance of behavior that falls below standard. NFU head of livestock is also quoted in The Telegraph saying wool is far more sustainable than plastic fibres and that the reported examples of cruelty were not representative of the entire industry. Boohoo later reversed its decision saying it would use wool, but ensure it would not contribute to the suffering of sheep.
Sheep farmer Alan Hutton featured in a Bloomberg video piece and in-depth article, explaining why a no-deal Brexit could throw his livelihood into chaos as the cost of lamb to EU buyers is likely to rise dramatically.
January 2019
Oxford Farming Conference
During The Oxford Conference NFU President Minette Batters provided a keynote speech during the political session alongside Defra Secretary of State Michael Gove. Minette was then interviewed across various platforms, including; BBC News Channel, BBC lunchtime and evening news, Radio 5 Live Drive and Channel 4 News. In her interviews Minette called on Government to protect food standards after the UK leaves the EU, and discussed red meat saying that there is no bad food, just bad diets.
NFU President Minette Batters and Vice President Stuart Roberts were quoted in The Times and The Guardian emphasising the nutritional value of red meat. This was in response to Green Party MP Caroline Lucas' comments at the Oxford Farming Conference that Government should consider introducing a tax on meat to help reduce greenhouse gas emissions.