NFUonline is your mobile and tablet-friendly membership website with the latest farming news, business information, briefings, member services and discounts.

Why should I visit NFUonline?
PLUS
Looking for something in particular?
Our search engine is powered by Google. You can find the search bar at the top right corner of the website.
Or you can browse our Cross Sector channel which includes updates on all the areas of work we cover in order to assist members with business planning, legislation changes and decisions. This includes four main areas:
Environment
The British countryside is a farmed environment, a valuable amenity AND a workplace. Find out more.
Farm Business
If it affects your bottom line or the way you go about the business of farming, you'll find it in this part of NFUonline. Find out more.
Rural Affairs
If it's about the wider issues of living in a rural community, the availability of services, or the impact of legislation in the countryside, you'll find it here.
Science and Technology
The application of science and the adoption of innovative practices are central to modern agriculture. Find out more.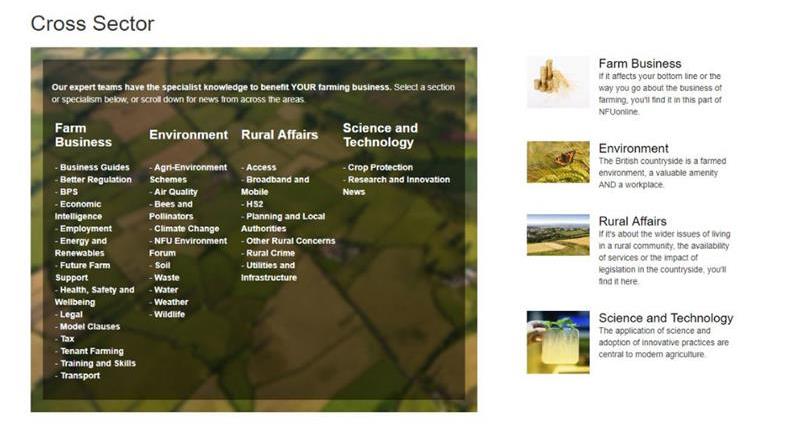 How do I log in to access member-only content?
If you have NFU Farmer and Grower membership you can log in to access the range of member-only content on NFUonline by entering your details in the login box pictured below.
Log in using your NFU membership number or the email address you have registered against your membership profile.
Note: You can find your membership number printed on your NFU membership card - two letters, two numbers and a letter (e.g. NF12U).
If you don't have a password or have forgotten it, simply click on the 'I've forgotten my password' link and enter the email address you have registered with us to reset your password.
Problems logging in? Contact NFU CallFirst on 0370 845 8458.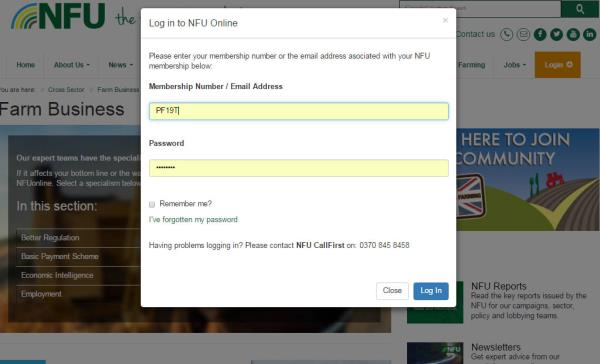 Already an NFU member but not using the website?
Anyone with NFU Farmer and Grower membership can gain access to NFUonline by contacting NFU CallFirst on 0370 845 8458.
How do I join the NFU?
Not an NFU member? Join us!
For more information on how to join the NFU call 0370 428 1401 or visit our Membership pages.
Tell us what you think of NFUonline
NFUonline is YOUR membership website and we'd love to hear what you think.
Let us know what you'd like to see more or less of by completing the form at the end of this page or email aGVsZW4uY290dGVyaWxsQG5mdS5vcmcudWs= to have your say.