The BBC Breakfast team, including business correspondent Colletta Smith, reported live from NFU horticulture board member Anthony Snell's soft fruit farm near Ross-on-Wye in Herefordshire. Anthony was also interviewed on the programme. Almost nothing is wasted on the farm. Fruit is sold to two retailers depending on quality, or it can be used as puree or preserve or sent to a local anaerobic digestion plant to help create green energy.
Stuart Roberts talked about the work that farmers do to find other markets and uses for produce that doesn't meet the specifications set by retailers, such as allowing the public to pick end of season produce or using waste produce to feed anaerobic digesters.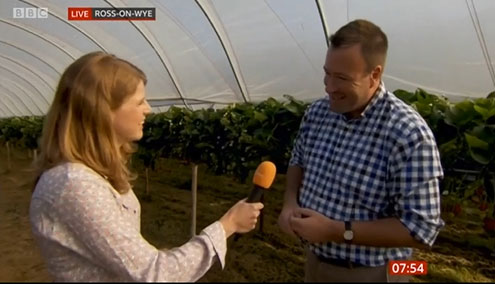 Pictured above: NFU Vice President Stuart Roberts was interviewed live on BBC Breakfast
Mr Roberts said:
"Farmers do a fantastic job producing food which is safe, traceable and affordable. All farmers and growers work extremely hard to ensure there is as little waste as possible at farm level; that simply makes good business sense.
"And the farming sector has already taken steps to do more, from improving agronomy, harvesting and processing techniques to using polytunnels to protect soft fruit from weather extremes. At times, the crops produced don't meet the stringent specifications set by retailers and so farmers have found other markets for these crops to avoid waste such as feeding anaerobic digesters to create green energy or ploughing back in as fertiliser.
"The NFU recently joined major British retailers and food companies in signing the government's 'Step up to the Plate' initiative which pledges to halve food waste by 2030. We need to see everyone in the supply chain pulling together to ensure this happens and develop strategies to help keep waste to a minimum."
More about WRAP
WRAP is supporting several areas of work to refine its findings, and directly impact on waste arising in the field including supporting the not-for-profit farmer network Innovative Farmers in piloting a farmer-led approach to food waste data collection.
The Food Surplus Network is a new resource created by WRAP that helps farmers and small businesses identify and connect with new markets for surplus food, including business-to-business trading platforms.
More from the NFU...