Using the tag, 'Lamb hits you in the chops' the campaign and the week, which runs from 1 to 7 September, begin at a time when British lamb is in peak supply. The activity aims to stem the decline in lamb sales and boost consumer attitudes towards the meat across target audiences.
Now in its fifth year, Love Lamb Week has grown to become an industry-wide initiative which the NFU has supported along with the National Sheep Association (NSA), AHDB, Red Tractor, the Ulster Farmers' Union and meat promotion bodies, HCC in Wales, LMC in Northern Ireland and Quality Meat Scotland.
The call is now for producers, butchers, retailers and restaurants to save the date and join the celebration. NFU livestock board chairman Richard Findlay said:
"Love Lamb Week is a fantastic opportunity for farmers to promote the high-quality lamb we produce here in Britain. It's a great source of important nutrients, has a unique flavour, and is very versatile.
"Our grazing sheep play a key role in shaping and maintaining the iconic countryside enjoyed by the British public - 65% of UK farmland is only suitable for growing grass and grazing which means British farmers can produce sustainable, grass-fed lamb.
"This campaign comes at an important time. British farmers are heading towards an even greater period of uncertainty with Brexit on the horizon and our livestock farmers will be one of the most affected by a no-deal Brexit. 94% of sheep meat exports go to the EU every year, so it is more important than ever that we throw our support behind our sheep farmers and truly champion British lamb.
"The British sheep industry has a great story to tell, both as a staple on our menus and a key feature of the great British countryside, so I encourage all farmers to get involved this week and promote this incredible product to the public."
How can you get involved?
You can help share the positive messages about British lamb during Love Lamb Week by:
Share lamb recipes on your social media. Share this link to our public facing website, Countryside, which has a whole host of lamb recipes in one place: www.countrysideonline.co.uk/tags/lamb
Share your own story and tell others why you love the job you do
Tell others why sheep farming is so important, why British standards are some of the best in the world
Love Lamb week takes places 1-7 September 2019. Use #LoveLamb and #LoveLambWeek when sharing your posts and recipes on social media.
This year's champion of the week is 24-year-old Coventry based sheep farmer and NFU member, Charlie Beaty.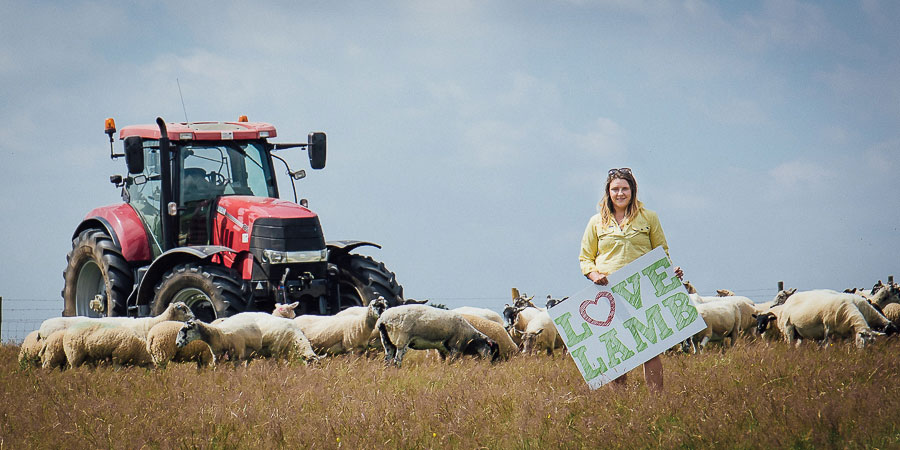 She said: "Lamb has a taste unlike any other meat and that's what makes it perfect for a variety of dishes, from curries through to a slow cooked roast. We produce our sheep on permanent pasture, which helps to absorb carbon from the atmosphere and produces quality feed to give our lamb its delicious flavour.
"I hope farmers across the country will get involved in Love Lamb Week and inspire more people to put it on their plates. Not only does it taste great, it's also a nutritious meat which is naturally rich in protein and provides vitamins which are good for health and wellbeing."
Supporting the week and kicking off the marketing campaign in the autumn is a strategic decision to benefit the industry.
"British lamb is in the peak of its supply in supermarkets and butchers across the country in September – it's a perfect time to promote this delicious meat," said AHDB Beef and Lamb Strategy Director, Will Jackson.
"We have backed Love Lamb Week since it started and we're bringing in additional support to engage shoppers and help the industry face up to unprecedented challenges."
A look at Love Lamb Week on Twitter:
Have you got a signature lamb dish or a family favourite that everyone loves? For the chance to win 1 of 5 'I ♥? Lamb' aprons, head on over to the Love Lamb Week Facebook page & share your lamb recipes with us! #LoveLamb #LLW pic.twitter.com/Ht6lpIxmfO

— Love Lamb Week (@LoveLambWeek) September 1, 2019
Lamb is a sustainable source of protein that's been farmed in this country since records began. It's a part of our national identity. A product that we produce on these shores that's revered all over the world for its quality. Let's be proud of this ???????????????????? #Sheep365 #LoveLambWeek pic.twitter.com/h0HCRud1Aa

— Jacob Anthony (@Jacob_cwmrisca) September 2, 2019
More from NFUonline: