She writes:
James was a member of the 2015/16 PIP cohort and in his new role as chair, he is tasked with leading the fourth cohort of participants, who all met all at NFU headquarters for the first time on 5 September.
The role of PIP chair was advertised to all previous participants and while the calibre of applicants putting themselves forward made the decision difficult, it was James's experience and contribution to the national poultry board that saw him offered the post.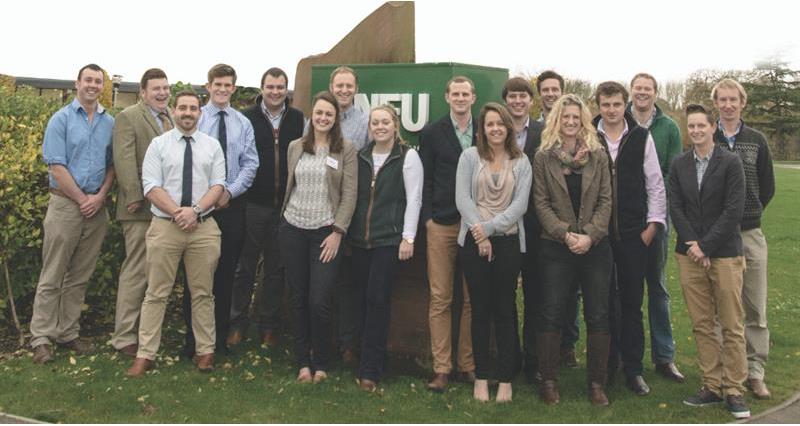 Above: James Mottershead pictured second from left with the 2015-16 PIP cohort
James was appointed as the PIP representative on the NFU's national poultry board in 2018. The position was created to ensure the younger voice of the industry is represented and incorporated to drive policy in the poultry sector.
James' experience and skills, many of which he gained through participating in the PIP, see him make valuable contributions at board meetings, as well as getting involved in additional policy work, such as the review of environmental schemes and Red Tractor. He has a strong passion to support British farming and is using his involvement with the NFU to promote all the great things about the poultry industry.
"I'm enthusiastic about the future, particularly for younger people in the poultry sector, and the PIP offers a superb opportunity for NFU members to expand their network, receive vital training and gain exposure to all aspects of our progressive industry." James Mottershead, PIP chairman
James takes over the role from previous PIP chairman Patrick Joice.
James said: "Patrick was a fantastic PIP chair, a true leader and I'd like to follow his firm but fair approach to ensure all participants get the most out of the programme. Like Patrick, I have been a participant on the programme myself, so I know the benefits of not only the events and training sessions but also the networking opportunities and personal development.
"It's the continued personal development opportunities that made me put my hat in the ring for the PIP chair role when the vacancy was advertised. I'm keen to help mentor the next cohort of participants and look forward to watching their development as the programme progresses over the following 12 months."