In July, parts of the Yorkshire Dales experienced some of the most intense rainfall ever, receiving 113mm of rain in just three hours. In June, farmers faced serious flooding after a flood embankment breached near Wainfleet in Lincolnshire.
NFU Vice President Stuart Roberts said:
"The reinstatement of the Farming Recovery Fund, which we called for, will be a huge relief to those farmers affected by the flooding events in the Yorkshire Dales and Lincolnshire.
"We know from speaking to our members on the ground just how costly the clean-up is proving, with some farmers facing bills of tens of thousands of pounds to remove stone from fields, rebuild fences and dry-stone walls, and clear up thousands of acres of lost crops.
"The NFU will continue to work with Defra to ensure that the scheme is implemented and farmers are able to apply for the funding they desperately need.
"These types of extreme and volatile weather events are becoming ever more frequent. We will continue to work with government to ensure it will take all necessary steps to protect productive farmland so farmers can continue to produce a supply of safe, traceable and affordable food for the nation and protect and enhance our rural landscapes."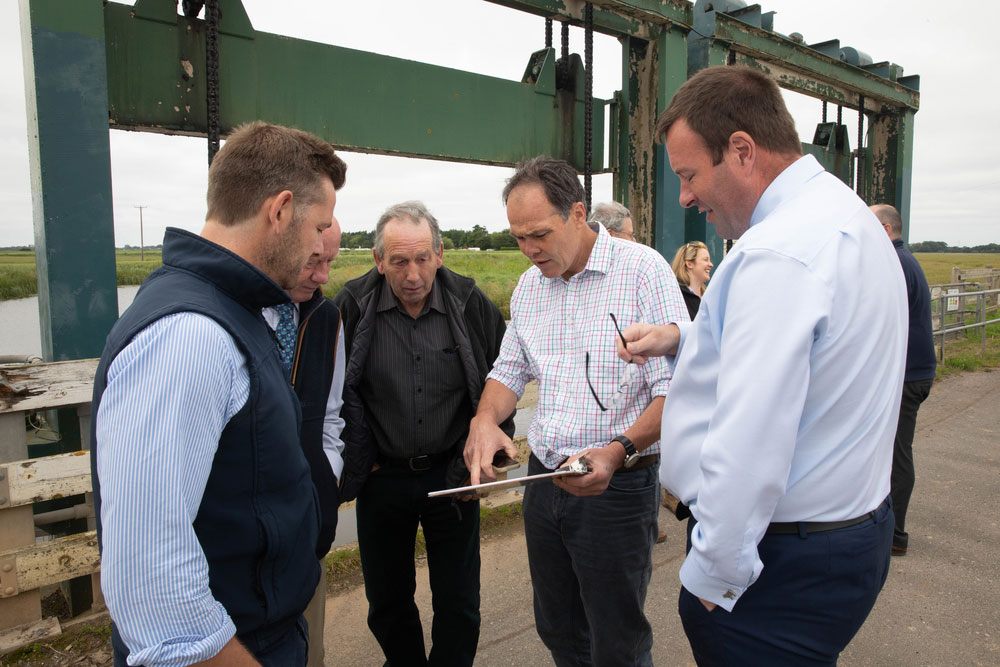 Above: NFU Vice President Stuart Roberts meets NFU members affected by flooding in Wainfleet, Lincolnshire
What can I do if I'm affected?
Farmers who suffered uninsurable damage to their property and land can now apply to the Farming Recovery Fund for grants between £500 and £25,000 to cover repair costs.
Click here for guidance and information from Defra.
NFU workshops for members affected by flooding
North East: The NFU North East team is hosting a workshop for NFU members and non-members at 2pm, Monday 30 September, at Reeth Memorial Hall, Richmond, DL11 6QT. Representatives from the Rural Payments Agency, the agency administering the recovery fund will be in attendance. Call 01904 451550 to book your place.
East Midlands: NFU East Midlands will be hosting a workshop for NFU members and non-members at 9.30am, Thursday 3 October, at Friskney Village Hall, Friskney. Call 01572 824250 to book your place.
More from NFUonline: