Through the scheme, farmers and land managers who have suffered uninsurable damage to their property will be able to apply for grants of between £500 and £25,000 to cover repair costs – whether that's clearing debris or recovering damaged land.
Guidance on how to apply will be published shortly on the Gov.uk website - click here to bookmark the page.
The RPA is currently working on the criteria and mechanism for applications to the fund. Further scheme details are not expected for a few weeks. This page will be updated with more information as it becomes available. It is important to note that the scheme will be open to those in yet to be determined areas in Yorkshire and the Midlands.
In the meantime, you can click here to find out more about the Farming Recovery Fund.
Advice for members affected by flooding
Click here to visit the NFU's online hub with information on what steps to take if you've been affected as well as advice for staying safe and protecting your business.
The NFU has also put together a two-page briefing - read it here.
NFU Vice President Stuart Roberts said:
"The decision to extend the Farming Recovery Fund will be welcome news to the many farmers affected by the devastating floods.
"As the NFU continues to work with farming charities to help those affected as best we can, we need to see a future government and its agencies take a much more bold and ambitious long-term approach to flood protection and integrated water management which can protect and benefit communities, farmland and businesses."
The NFU is working on behalf of members to secure:
Assistance for all those affected by the severe weather we are currently experiencing, not just those flooded.
Ways to get BPS and CS/ES payments out quicker, including bridging payments for those not paid by mid-January (bearing in mind the move to a single 100% CS/ES payment this year).
Flexibility from the RPA on greening and EFA rules where rules cannot be met and also to undertake to look at derogation for crop diversification (two or three crop rule).
More from NFUonline: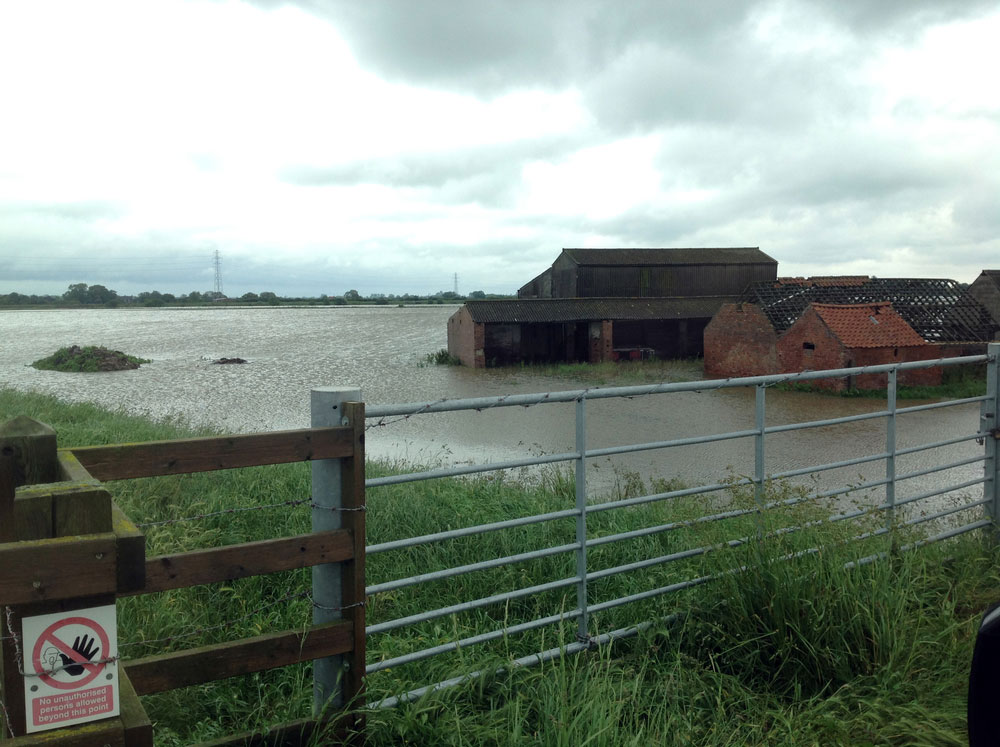 Pictured above: Flooded farmland in Wainfleet, Lincolnshire, September 2019
Environment Secretary Theresa Villiers said:
"My thoughts go out to all those affected by the devastating flooding across Yorkshire and the Midlands. We are providing more funding to support farmers impacted and help local communities get back on their feet.
"Earlier this week I visited Environment Agency teams on the ground in South Yorkshire as they work around the clock to reduce flooding risks and keep people safe. I would like to pay tribute to the dedication of these staff, alongside our Emergency Services and Armed Forces, who are working day and night to protect our farmers, local communities and businesses."
Since the flooding began on 7 November, approximately 14,400 properties have been protected by flood defences, including nearly 5,000 properties in South Yorkshire alone. The Prime Minister chaired a COBR briefing on 12 November , following which an additional 200 UK Armed Forces personnel were deployed to South Yorkshire to help support the recovery effort.
What other support is available?
The Ministry of Housing Communities and Local Government (MHCLG) has made a Community Recovery Grant available to local councils – equivalent to £500 per eligible household – to help communities with their immediate recovery.
The Department for Business, Energy and Industrial Strategy (BEIS) confirmed on 12 November that funding would be made available for a Business Recovery Grant which will provide up to £2,500 per eligible small and medium-sized business suffering severe impacts from the floods that cannot be recovered from insurance.
On 15 November the government announced business rates and council tax relief for households and businesses that have been intensely affected by the flooding. Under the measures those affected will be eligible for 100% relief on their council tax and business rates for at least the next three months.