Nottinghamshire county chairman Clare Leggott welcomed Ms Villiers onto her farm and was joined by NFU Vice President Stuart Roberts, NFU East Midlands environment adviser Simon Fisher, Lincolnshire county adviser Rhonda Thompson, Lincolnshire NFU Council delegate Andrew Ward and Simon Lunniss from the RPA.
Ms Villiers saw and heard first-hand accounts of the havoc wreaked on flood-hit farmers by water swamping their land at such a crucial time in the farming calendar.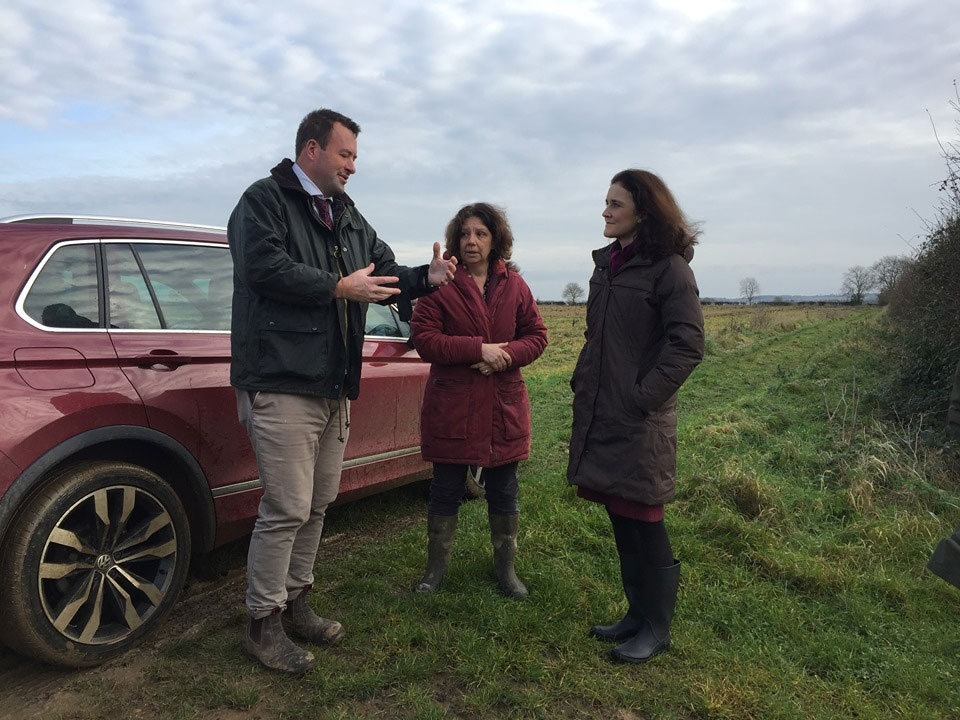 NFU Vice President Stuart Roberts said:
"It was a great opportunity to speak directly to Theresa Villiers and for us to lay out exactly what any future government needs to do to stop this devastating flooding from happening.
"We told her the need for immediate action to plug a gaping hole in the bank of Barlings Eau in Lincolnshire, which has turned thousands of acres of farmland into a six feet deep lake, and the importance of getting pumps to the area to clear the overflowing water.
"We also highlighted the importance of Defra recognising the vital role farmers play by allowing floodwater to be stored on farmland to keep it away from towns and cities, as well as the need for a big, bold and ambitious plan on how we invest in the country's water management and prioritising maintenance in rural areas."

Ms Villiers was taken through maps of the affected area, videos of the extent of the flooding and heard about the plight of farmers in the region before heading out into Clare's fields to see the damage for herself.
Clare said: "We were able to point out to her the extremely serious situation that the flooding has brought upon farmers across Lincolnshire and Nottinghamshire and to impress upon her that something needs to be done now to sort the river, canal and stream breaches out. This cannot be ignored any more.
"She listened to what we had to say and I am strongly hoping that any future government takes into account that we may not be able to adhere to the three-crop rule next year for the 2020 BPS payment because of this deluge.
"We also told her that farmers are finding the situation very stressful and there may need to be investment in mental health care."
After the meeting at Clare Leggott's farm, Stuart Roberts visited other farms in Lincolnshire impacted by the flooding. He added: "It's not often that I'm lost for words but what I saw was unbelievable. The water goes on as far as the eye can see – it's just completely devastating."
More from NFUonline: