Tom Bradshaw, combinable crops board chairman, NFU
Jack Watts, chief combinable crops adviser, NFU
Jonathan Gill, mechatronics and UAV researcher, National Centre for Precision Farming, Harper Adams University
Chaired by: Phil Jarvis, combinable crops board vice chairman, NFU
The NFU crops board's commodity session took the conference's theme of 'Farming Without Barriers' one step further and focused on how technology can be used to break down obstacles facing the arable sector.
The session, which was chaired by NFU crops board vice chairman Phil Jarvis, began with an update of NFU activity from chairman Tom Bradshaw and NFU chief crops adviser Jack Watts.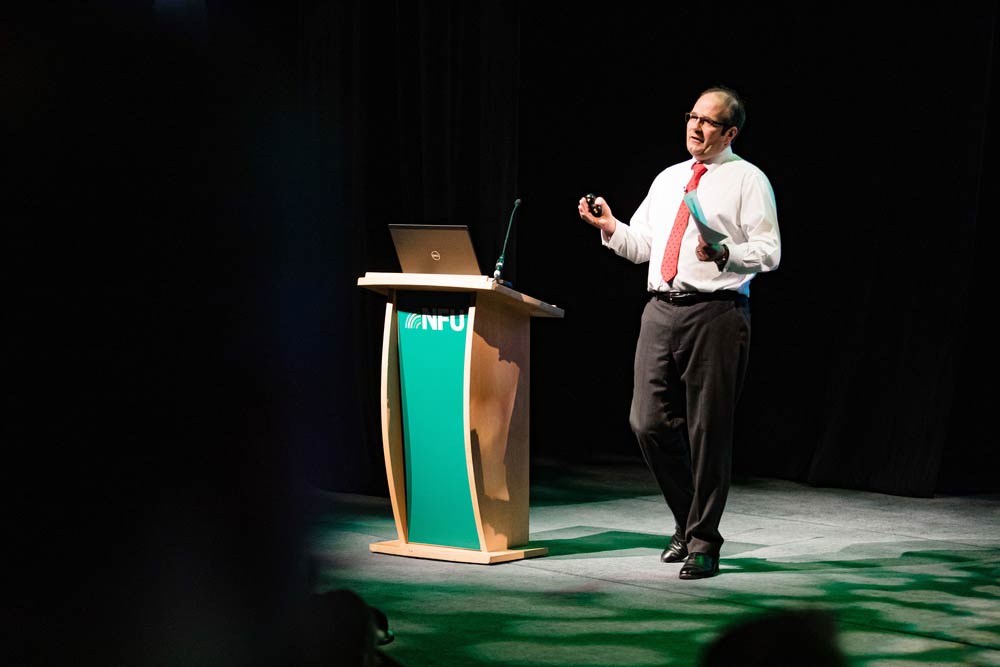 Pictured above: NFU combinable crops board chairman Tom Bradshaw
Mr Bradshaw talked about his experience with carbon calculators having trialled three online tools on his own farm. The full report of his experiences will appear in the April edition of British Farmer & Grower and on NFUonline soon. He said that the industry needed a government-backed carbon calculator and he would like to see the benchmark for carbon sequestration to be set in ELMs. He added that the net zero aspiration could not be delivered without research and development and partnership with government as well as novel seed breeding.
Mr Bradshaw said: "There needs to be internationally recognised standards because we know that climate change has no borders."
He then went on to discuss driving productivity in the arable sector, by having productive policies on plant breeding as well as better industry infrastructure when it comes to pest and disease monitoring. Mr Bradshaw also wants to see recognition for flowering crops and soil health as a 'public good' when it comes to future investment.
When asked about help for farmers whose land has been affected by flooding, he said: "Government has been very slow getting back to us with some of our key asks. Three and a half weeks ago we wrote to George Eustice. We need government to step up and help us. Ireland has given a derogation and it would be hypocritical of them to say they can't deliver it."
Pictured above: NFU chief crops adviser Jack Watts
Jack Watts outlined NFU guidance on contracts. He discussed knowing your rights and responsibilities when it comes to pre-delivery and during delivery. He went on to talk about NFU lobbying about the injustice of leaving the UK arable sector unprotected by tariffs in the event of a no-deal Brexit. He added that the Department for International Trade was now consulting on longer-term UK tariff policy, which the NFU is lobbying on.
Mr Watts went on to talk about the protein opportunities that Brexit offered, as long-term resilience could mean repurposing around 250,000 hectares of arable land to grow peas and beans. Each year the UK is importing 900,000 tonnes of soya meal and resilience means replacing that protein with our own crops.
NFU crops adviser Chloe Lockhart told delegates about the campaign for E10 as part of the NFU's journey towards net zero by 2040 which would be a win for farmers, the climate and jobs in the north of England. Hundreds of NFU members wrote to their MPs calling on them to back the E10 campaign, using the email campaign tool, which ran over the summer of 2019.
She told delegates: "A mandate from government is urgently required this year to save the industry from collapse. It should also be noted that while our government is stumbling over E10, the US has moved on to E15."
Miss Lockhart then went on to talk about the role of oilseed rape in a post-neonicotinoid world. Between 2014 and 2020, there have been c300,000 fewer hectares of OSR planted in the UK – altogether worth around £57 million (before the cost of crop failure). Miss Lockhart outlined a draft approach to underpinning the risk of crop failure. The NFU wants a government-backed guarantee to cover some of the costs of crop failure and allow farmers to compete with imported crops that are grown using neonicotinoids. This scheme would be designed to support best practice, encourage innovation and increase confidence in OSR, and is a stop gap, temporary approach to stabilise UK area.
The delegates also heard from Jonathan Gill of Harper Adams University's Hands Free Farm team. The team has built on the success of the Hands Free Hectare experiment, where the college was the first in the world to farm a square hectare of land using technology in 2016, and broadened it out to a 35-hectare farm.
This three-year project is run in conjunction with Precision Decisions and Farmscan AG and hopes to move from the perfect hectare to 'real-world' situations.
Mr Gill said: "This time, we're planning to grow three different combinable crops across 35 hectares. We're moving past the feasibility study which the hectare provided us with, to now a vision of the future of farming. The fourth industrial revolution is happening so buckle up - if you don't pay attention to the tech that is out there you are going to be left behind."
In case you missed it, here are some easy ways to catch up with the highlights from both days at the ICC, Birmingham: