Speakers:
Richard Findlay, Livestock Board Chairman, NFU
Wyn Evans, Livestock Board Vice Chairman, NFU
Andrew Loftus, Livestock Board Appointee, NFU
Thomas Binns, Livestock Board Co-option and Hill & Uplands Forum Chair
Will Jackson, Strategy Director Beef & Lamb, AHDB
Simon Hall and Richard Laverick, Livestock Information Program
Chaired by: John Royle, Chief Livestock Adviser, NFU
Livestock members scrutinised supply chains and caught up with "the fightback" on red meat myths during a varied sector session at NFU Conference 2020.
NFU Board Chairman Richard Findlay said there had been a stark contrast in the commodities, with firm returns for lamb producers underpinned by tighter domestic supplies, declining imports and stronger export trade.
For the board, that highlighted the importance of access to EU markets that is as free and frictionless as possible, beyond the Brexit transition.
"Government must support the UK sheep sector should we encounter trade friction or loss of the EU market," Mr Findlay said.
Meanwhile, beef prices remained at "unsustainably low levels", despite domestic consumption softening only slightly against an "exceptional" 2018.
Delegates heard the NFU has commissioned an independent investigation into the sector. It has met with ministers and raised concerns with the Competition & Markets Authority.
"We've seen double-digit cuts in the beef price paid to farmers, but only small reductions in the retail price. My question to the supply chain is 'where has that money gone?'," Mr Findlay said.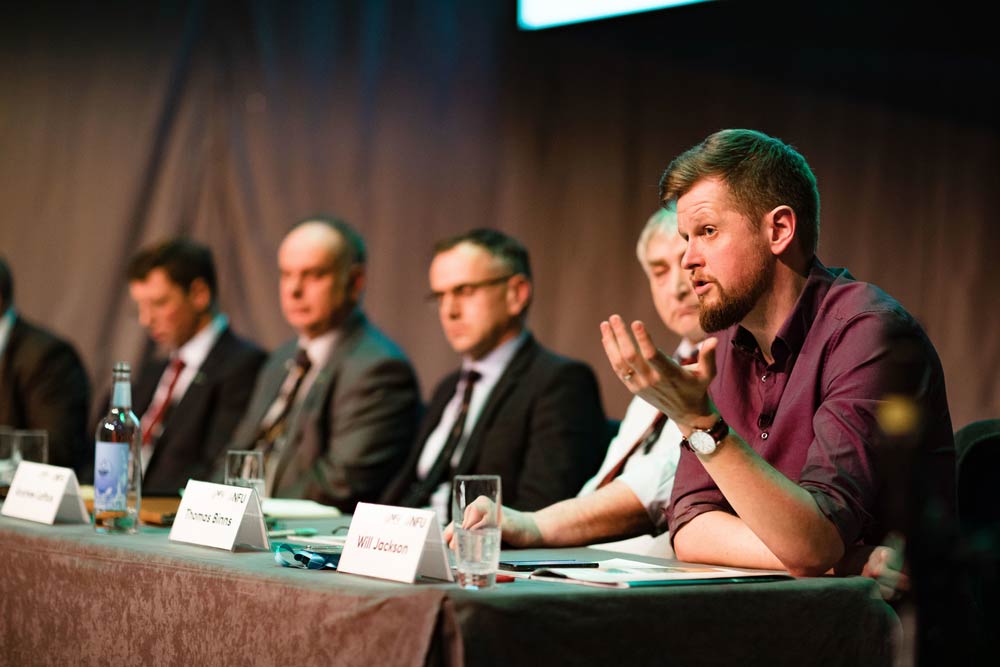 Supply chain matters were also on Deputy Livestock Board Chairman Wyn Evans' mind.
He called for a mandatory processor code, to include the removal of post-slaughter deductions apart from the statutory levy, and a minimum of 12 weeks' notice on changes to terms and conditions.
He said Defra must act on long-awaited changes to the sheep-splitting rules and work to remove the SRM controls for small ruminants. He added that political pressure on animal transport times could have a "catastrophic impact" on the supply chain, particularly if journey times were reduced significantly.
Antibiotics-use and misleading food labels were also on Mr Evans' radar.
See also: Click here to download Facts about British red meat and milk
Elsewhere, delegates heard a huge amount of NFU effort is going into challenging media and social media inaccuracies about red meat.
Mr Findlay unveiled the latest front, a 'Rethinking Ruminants' toolkit for members with an extensive myth-buster, presentation slides, tweets, statistics and infographics, all linked to recognised science.
"The fightback has begun, but by far our most effective advocates are our members, he said.
"This toolkit gives the facts on nutrition, climate and welfare to help you to set the record straight."
The board was testing carbon calculators as part of the NFU ambition for a net zero industry by 2040, and to drive home differences between UK and overseas production, Mr Findlay said.
"We need to own this," he added.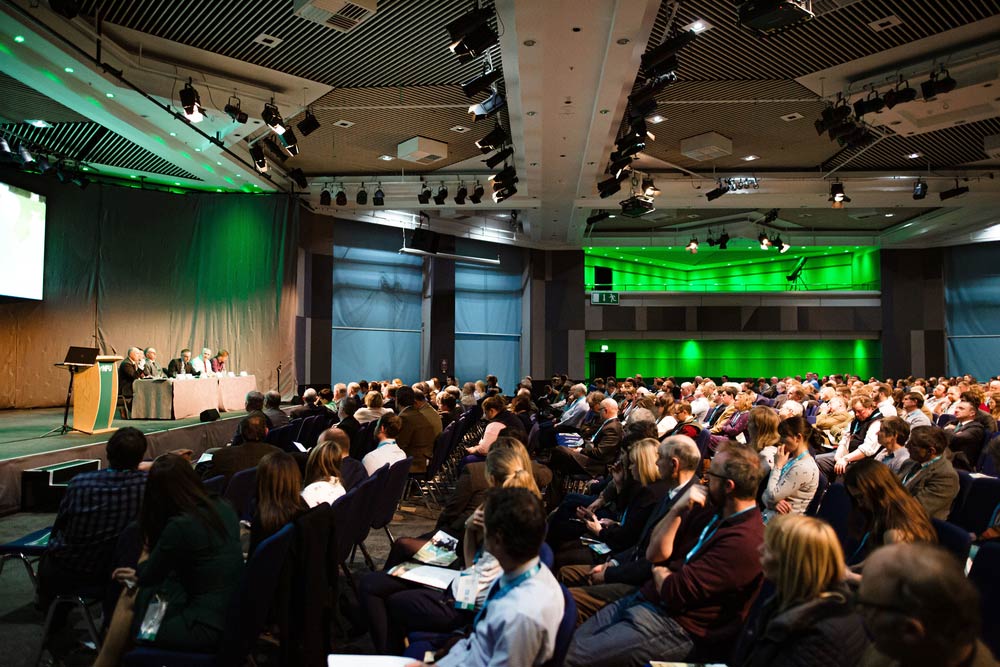 Delegates also looked ahead to a new livestock traceability service that will make real-time reporting a reality, add value and improve supply-chain transparency.
Above all, though, they heard that the Livestock Information Programme (LIP) has the potential to improve public perception of the provenance and quality of British beef, lamb and milk.
Livestock Information Ltd MD Simon Hall said he was "pretty pleased" with progress.
His timeline would see an optional online holding register introduced this autumn, with full bovine EID in the first half of 2021 and the end of paper-based passports by 2021.
The target for sheep to join the LIP was summer 2021.
Current work included talks with third-party software providers to ensure integration.
"While we still want you to be able to telephone and get help or notify in the short-term, we want to make the digital option so intuitive and easy that you choose not to," Mr Hall added.
In case you missed it, here are some easy ways to catch up with the highlights from both days at the ICC, Birmingham: