The impact of fly-tipping on rural communities has been highlighted by the BBC Crimewatch Roadshow which is currently in the middle of a three-week run of live programmes.
Monday's show (16 March) came live from the Enville Estate near Stourbridge in the West Midlands and featured a live interview between NFU Deputy President Stuart Roberts and reporter Michelle Ackerley.
The 6,500-acre estate, on the urban fringes of Wolverhampton, has suffered from horrendous fly-tips over the years including one incident which cost nearly £7,000 to clean up.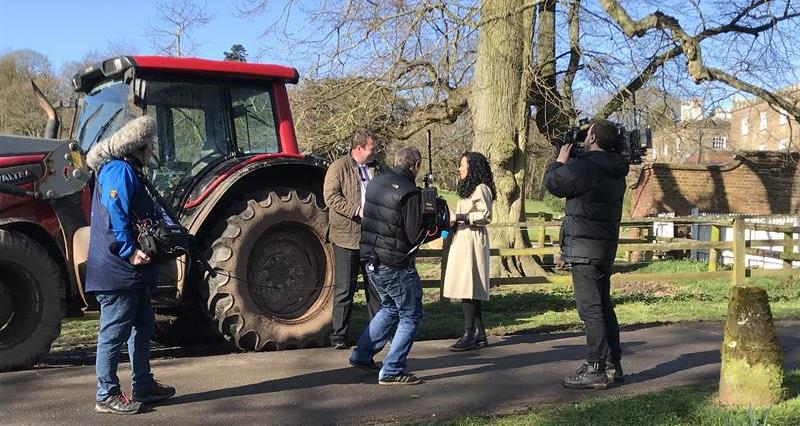 When asked about the impact of fly-tipping Mr Roberts told the programme:
"The NFU believes around two thirds of all farmers suffer from some form of fly-tipping. And generally, there are three types; householders who just dump an old sofa in a field; big commercial operators dumping waste; and groups who claim to be carrying out household clearances.

"We've heard of farmers building ditches and moats and constructing barricades and cameras going up in rural areas to catch people. But it's really important that the public also look out for this – if you see anyone dumping rubbish then report it. Ultimately, it's all our responsibility that waste is being disposed of legally."
Last November, a new national waste unit was launched by the Environment Agency to help in the fight against fly-tipping, involving the police and HMRC.
Farmers and growers are urged to ensure they report rural crimes to the police, or to give information 100% anonymously to the dedicated Rural Crime Hotline run by the charity Crimestoppers, in partnership with the NFU.
Anyone can contact the line by calling 0800 783 0137 to speak to a trained agent or online at www.ruralcrimehotline.co.uk.
The NFU's 'Rural Crime Hub' is a one-stop shop for farmers to get information about the best prevention measures, how to report crime, including who to call, and exclusive business advice for NFU members. Visit the hub for information on:
More from NFUonline: