The tests are only for those who are showing potential symptoms of coronavirus and are most effective when someone is tested during the first three days of infection. If you have symptoms, the advice is not to delay seeking a test.
Updated: 30 April 2020
How are tests booked?
This has evolved over the past few days, but there are now two ways through which tests can be accessed.
The government has opened two online portals, one for employers to refer employees, and one for employees to access directly.
The online employer referral portal allows employers to refer any self-isolating essential worker employees for testing. Employers should email cG9ydGFsc2VydmljZWRlc2tAZGhzYy5nb3YudWs= to be given access to the employer referral portal. The government has produced an FAQs for employers, which can be found here.
Self-isolating essential workers can self-refer themselves for testing using the new self-referral portal. There is also an FAQs for employees, which can be found here.
The government has produced an information pack on testing for essential workers which you can read here.
Who can be tested?
On 29 April, the government expanded the list of people eligible for tests to include:
all essential workers including NHS and social care workers with symptoms (see the full list of essential workers)
anyone over 65 with symptoms
anyone with symptoms whose work cannot be done from home (for example, construction workers, shop workers, emergency plumbers and delivery drivers)
anyone who has symptoms of coronavirus and lives with any of those identified above
Please note that these lists apply to England only. Scotland, Wales and Northern Ireland have their own lists and criteria.
Are farm workers eligible for testing?
The government advice extends eligibility to those personnel involved in the production and distribution of food, drink and essential goods. As a result, provided there is sufficient testing capacity, most farmers, farm workers or members of their respective households showing symptoms, should be eligible to be tested as essential workers.
What are the issues with testing capacity?
As has been widely reported, there have been instances where the new online portals have temporarily closed due to the levels of demand. While testing capacity is being increased over the next few days, this may mean that some in the expanded category of essential workers may find it difficult to be tested if there is insufficient testing capacity available.
What is the testing process?
There will be a number of ways to be tested, but the main point of access to testing will be via the 50 drive-through regional sites the government is establishing. The test involves taking a swab of the nose and the back of the throat, which can be done by the person themselves (self-administered) or by someone else (assisted). The swabs will be sent away and they'll aim to send you the results via text message within 48 hours. Over time, access to mobile and home-testing kits will be increased.
Home delivery testing kits are also available, and the government is also seeking to increase the capacity of these available. Click on the image below to download this flow chart that helps to explain the process: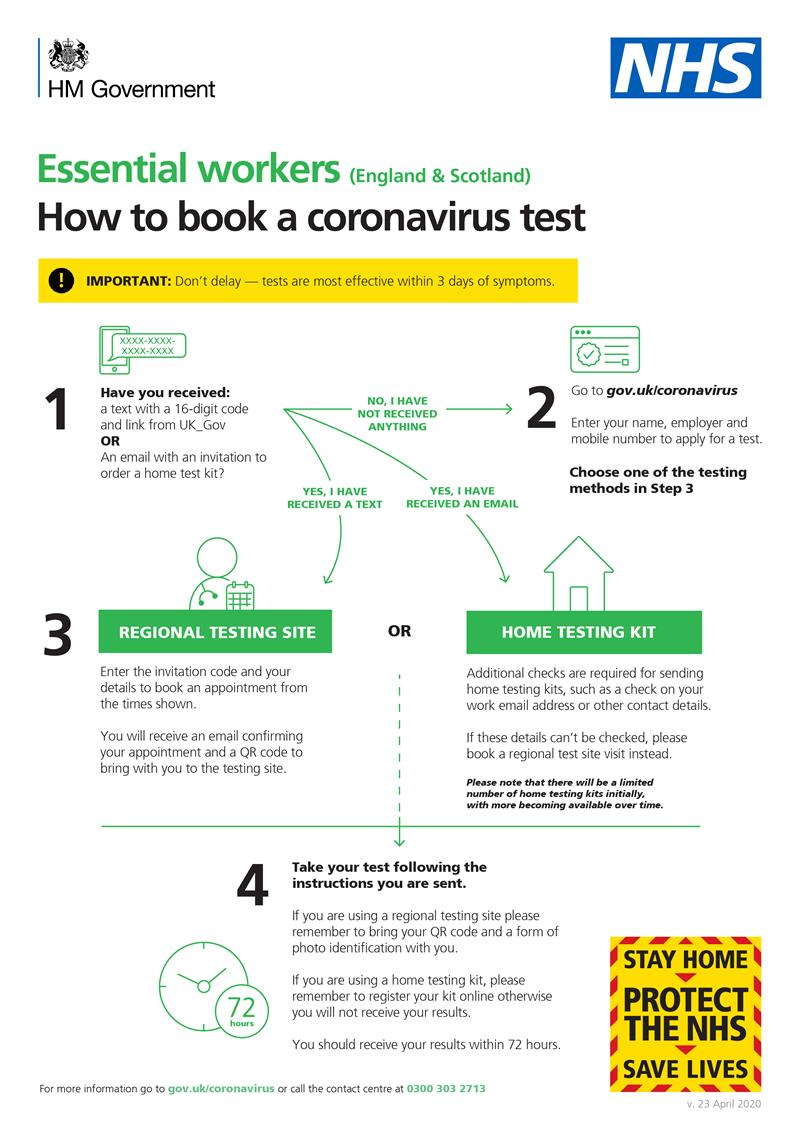 What should employers do?
The government is encouraging employers to raise awareness of the testing process with their employees. Resources to do this can be found here.
This news hub on NFUonline will be updated regularly to keep you up to date with what you need to know and how to deal with the various issues raised by coronavirus. Visit the hub.
---
By using this form, farmers and growers can provide information on any business-critical issues they have encountered, or expect to encounter, arising from the COVID-19 outbreak. The NFU will log this information and use it in an anonymised format to flag the key issues agriculture and horticulture are facing to government on a daily basis. However, no personal data will be shared with the government. The service is for all farmers and growers across the UK.