In recognition that the impacts of the COVID-19 pandemic will be felt for years to come, but that the experience has led people to appreciate the difference that nature makes to our lives, the Secretary of State announced that from this autumn the government will be investing £4m in a two-year pilot to bring 'green prescribing' to four urban and rural areas that have been hit the hardest by Coronavirus.
Mr Eustice also mentioned the government's intention to publish a paper that sets out an approach to setting long-term targets on biodiversity, waste, water, and air quality through the new Environment Bill and that it will shortly be launching the appointment campaign for the first Chair of the Office for Environmental Protection so that they will be in place to lead a new Public Body in 2021 – to scrutinise and assess progress towards these targets.
Pictured above: Defra Secretary of State George Eustice with NFU President Minette Batters during a press conference at NFU Conference 2020
On environmental policy, the Secretary of State indicated that we can do better or differently. He said although the UK must have an appreciation of what worked in the EU in the past, he also indicated that the UK must also appreciate what didn't work. He set out that we must challenge ourselves to "think creatively, to innovate and to consciously avoid clinging to processes and procedures just because they are familiar". In particular, he said that we should "re-balance the way we approach policy development with more focus on science and technical knowledge and less time fretting about legal risks of doing something new or innovative" and that policy development must be "agile or iterative and must create the space for more experimentation and innovation".
He also announced that later this autumn, the government will be launching a new consultation on environmental assessment and mitigation in the planning system and that he was launching a £5 million pilot to establish a new natural capital and ecosystem assessment. He said: "At the heart of our approach is a simple premise. If we can improve the baseline understanding of habitats and species abundance across the country in every planning authority, then we can make better decisions towards achieving our vision to leave the environment in a better state than we found it. We can reduce process while simultaneously improving the quality of the data that informs our decisions."
What does the NFU say?
Farming plays a significant role in protecting and enhancing the environment. While much good work has been done by farmers, as an industry we have ambitions to continue to make improvements in all areas.
The agriculture sector has the ability to directly enhance a broad range of natural capital contributing towards net zero targets, biodiversity improvements, improvements in water quality and flow and access to the countryside among a range of other ecosystem services. In line with the green recovery agenda, agricultural investment in built and natural solutions which create and enhance natural capital is simultaneously able to enhance farm productivity while also stimulating demand for rural tourism, local contractors, trade and services from rural SME's to support the green transition.
Investment priorities to drive green growth in the agriculture sector include:
Integrated water infrastructure to support sustainable food production;
Improvements in farm buildings and structures to support the achievement of net zero targets;
Green infrastructure through existing and future agri-environment schemes to improve water use, nutrient use and soil quality driving resource use efficiency whilst delivering improvements to biodiversity, water quality and flow, access to the countryside and carbon sequestration.
You might be interested in reading:
The NFU has outlined the policy, mechanisms and support required from government and other stakeholders in order for agriculture to meet the NFU's aspiration of net zero by 2040.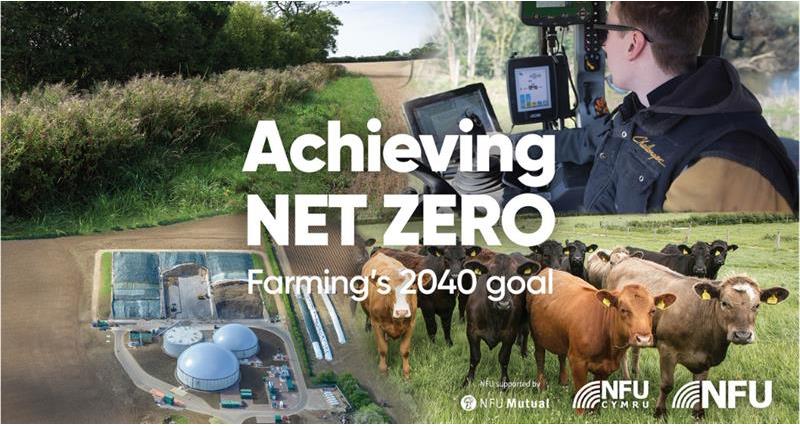 Visit our Net Zero hub to find out:
How the farming industry is in a position to be part of the solution to climate change
What the NFU is calling for to help farmers work towards implementing solutions
Changes you can make on farm as part of your day-to-day business decisions
More from NFUonline: