The company's infrastructure arm Openreach has pledged to plug "hard to reach" areas into its next-generation network over the next five years, meaning it will have connected-up around a third of Britain's most challenging properties.
It is part of BT's £12bn plan to connect 20m homes and businesses to fibre optic cables in the next decade, giving them access to average download speeds of 1 gigagbit per second.
NFU business and rural affairs adviser, Amy Cobbett, said:
"The announcement by Openreach to roll out next generation fibre connections in the UK's hardest to reach areas is welcome news for those farming businesses which continue to struggle with rural connectivity.
"The past few months during the COVID-19 lockdown has highlighted the importance of having a decent broadband connection particularly around the issue of mental wellbeing with many farmers being isolated.
"The new full-fibre network that's been promised will also help boost productivity, and cut carbon emissions, in line with the farming industry's net zero ambitions."
Openreach CEO, Clive Selley, said:
"This year we've all seen the importance of having a decent broadband connection and at Openreach, we're convinced that Full Fibre technology can underpin the UK's economic recovery.
"Right now, we're building a new, ultra-reliable full-fibre network that will boost productivity, cut commuting and carbon emissions, and connect our families, public services and businesses for decades to come. It's Ofcom's proposals that give us the right conditions to build commercially in hardest to reach areas.
"We're determined to find inventive engineering solutions and effective partnership funding models to reduce costs and enable us to connect as many communities as possible across the UK without public subsidy.
"Openreach is leading the charge to help government achieve its target of making gigabit capable networks available nationwide by 2025. And we hope that by publishing our own plans, we can help ensure that taxpayers only fund connections in communities that really need public support."
The NFU's 2019 mobile and broadband survey showed that more than 4 in 10 farmers still don't have adequate broadband vital to conduct their business in the 21st century.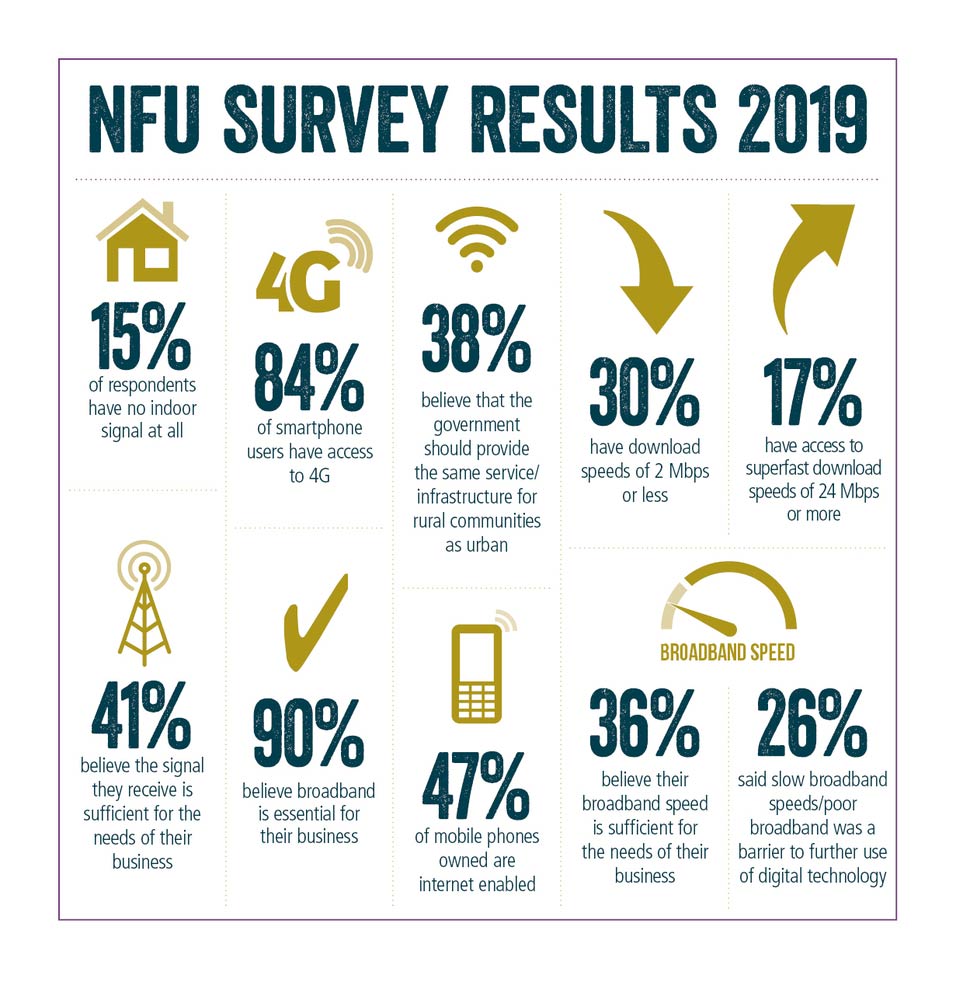 Since 2015, this annual survey has been an integral part of the NFU's efforts to highlight the urgent need for improved rural digital services. While some areas of access have improved, there is still too large a gap between current levels of access and full coverage:
In 2015 16% of respondents reported having no indoor signal. This has only minorly improved by 2019 with 15% reporting having no indoor signal.
Outdoor locations with a reliable service have increased, but slowly. There has only been a 3% increase in total outdoor coverage since 2015, yet a 2% increase in respondents with no coverage at all.
70% of respondents with smartphones in 2015 had access to 4G, in comparison to 84% in 2019.
In 2019, 36% of respondents felt that they had access to sufficient broadband speeds for their businesses an improvement on 23% in 2015 but still a significant minority.
In 2015, 58% of respondents had download speeds of 2 Mbps or less, which has fallen to 30% in 2019.
4% of respondents had access to superfast download speeds in 2015. By 2019, this had risen to 17%.
In its 2019 Manifesto, the Conservative party pledged to improve infrastructure to benefit homes and businesses, saying:
"We intend to bring full fibre and gigabit-capable broadband to every home and business across the UK by 2025. We know how difficult it will be, so we have announced a raft of legislative changes to accelerate progress and £5 billion of new public funding to connect premises which are not commercially viable."
- Page 28, The Conservative and Unionist Party Manifesto 2019
More from NFUonline: