At a meeting with the NFU, the Environment Agency told farmers that current weather conditions have caused soil moisture to drop to notably low levels across the region, signalling an early warning that significant winter rainfall will be needed to recharge the East Anglia aquifer.
Farmers representing the key catchments in the region reported that peak irrigation demand has now passed for most, but not all, potato crops. Water is still needed for crops such as onions and, in view of exceptionally dry field conditions, water will need to be applied to many fields to assist with the harvesting of root vegetable crops.
In terms of non-irrigated crops, the cereals harvest is now well underway with yields reported as 'poor and patchy'.
Grass and fodder growth for winter livestock feed has suffered badly and the NFU has activated its Fodder Bank to match up farmers in need with those who have fodder available.
Generally, irrigated crops have performed better than rainfed crops because of continuing access to groundwater combined with the benefit of full reservoirs at the start of the season.
Some farm reservoirs are now empty and the NFU has asked the Environment Agency to approve wherever possible applications from farmers to take advantage of any 'storm water' that might flow past farms in the coming weeks.
The Environment Agency hopes to be supportive in dealing with requests for the early filling of reservoirs, but much depends in part on the characteristics of each river – for some rivers the 48 hour period after a storm places them at 'peak stress' because of the risk of fish kills, so each request must be considered on local characteristics.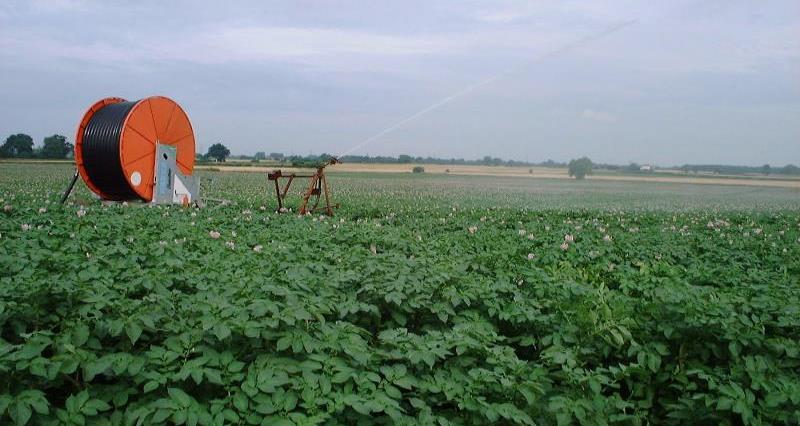 River levels
Following above average rainfall in June and July, weather conditions have turned dramatically in the past two weeks with no rainfall at all in catchments such as the Bedford Ouse. River flows have fallen because of weather and evaporation impacts rather than abstraction by farmers.
Flows in the River Cam are exceptionally low. Direct irrigation has been impossible there for many weeks because of licence restrictions, but farmers have benefited from reservoir water stored from river flows last winter.
In general, flows in Norfolk rivers are holding up, but flows in some Essex and Suffolk rivers are approaching trigger levels where statutory irrigation restrictions could be imposed. It is hoped that all river flows will hold up for the last few weeks of the season.
Groundwater levels across the region range from 'normal' to 'below normal' and no restrictions are anticipated. However, the attention of groundwater irrigators is already turning to the 2021 farming year with early indications of heightened drought risk next year if we do not receive above average rainfall throughout the coming winter.
Some farmers are already making difficult choices about whether to use any remaining available water to keep alive sugar beet crops (which are not usually irrigated) or to keep water in reserve for next year.
More from NFUonline: