Contact Crimestoppers to give information 100% anonymously about rural crime. Submit information online at www.crimestoppers-uk.org or call them on 0800 555 1111.
Use these links to jump to a particular section:
Dog attacks on sheep | Illegal sheep butchering | Who to call and when | Member offers | Read more
Dog attacks on sheep:
There are a few simple steps you can take to prevent dog attacks on happening on your land:
Read our business guide here for detailed information on livestock worrying
Put up signs to encourage dog walkers to keep their dog on a lead around livestock

NFU members can order these free of charge by contacting CallFirst 0370 845 8458
Non-members can purchase these signs from the NFU Shop here

Report any incident of livestock worrying (even if the animals are not directly attacked or killed) to the police so they are aware of all incidents in the area. There may have been other attacks or patterns emerging and your information may be vital.
Contact your insurer to discuss whether they offer insurance cover in this scenario.
Find out who your local rural crime officer is so you can use them as a point of contact for any future incidents.
If you are experiencing repeated livestock worrying attacks, consider using trail or CCTV cameras to strategically collect evidence or act as a deterrent. NFU members can take advantage of discounts on selected security products from leading manufacturers here.
Help educate your local community by engaging with relevant groups (e.g. local dog training class), using social media and taking part in events like Open Farm Sunday to spread awareness and encourage responsible dog ownership in your area. We've got a range of resources you can download for free here.

Short video on You Tube with tips on how to be a responsible dog owner (55secs)
Images to share on social media to encourage responsible dog ownership. Try posting these on your local community pages to help spread the word.
If your livestock has been worried, attacked or killed by a dog, please look at our flowchart so you can follow advice for the appropriate scenario.
If it is safe to do so, take photos of the incident to use as evidence, and any other identifying details (eg if the responsible person gets into a car, note down the vehicle details).
NFU members can obtain free initial legal and professional advice from NFU CallFirst on 0370 845 8458.
Speak to your insurer to see if they can offer additional help and advice.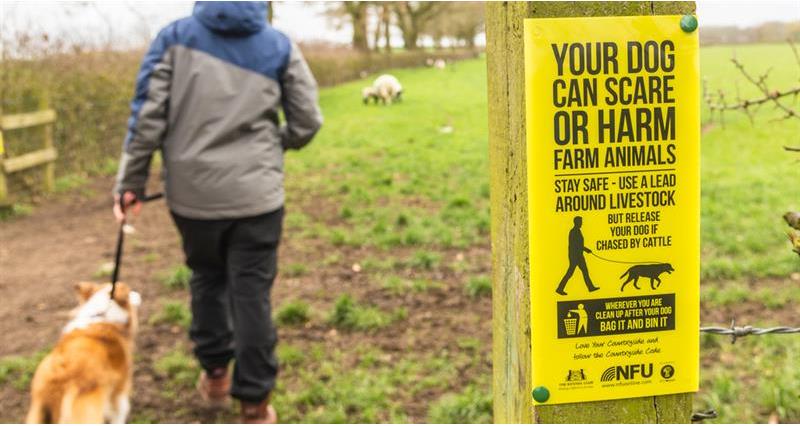 Illegal sheep butchering
Police forces across the country are working together to share best practice, intelligence and information following increased incidences of illegal sheep butchering.
Warwickshire Police have issued the following advice:
If you own livestock or live near fields with livestock, please be extra vigilant and report any concerns to police.
Report suspicious vehicles to police.
Where possible, graze livestock in fields near to the farm and away from main roads.
If your field is down a quiet track consider parking a vehicle to block access.
Padlock field gates and ensure gates and boundaries are in good order. Consider capping or turning the hinges so gates can't be lifted off.
If an entrance is not used regularly, consider putting an obstruction in front of it, such as a tree trunk or concrete block.
Check your sheep regularly at different times (not at the same time each day) and if possible, in the early hours of the morning.
Look out for 'markers' left by offenders of locations they intend to target such as piles of pebbles by a gate, nails driven into a gatepost, or rope/twine wrapped around or tied to a gate.
Remove stock pens or hurdles from the field and use temporary ones you can take with you when needed - some offenders have been utilising existing equipment to catch sheep.
Join the Rural Watch scheme.
Contact your neighbours, especially local dog walkers, horse riders, cyclists/cycle clubs who may pass your fields and ask them to keep an eye out for anything unusual or of concern
Set up a local WhatsApp group to share information.
Consider grazing other animals with sheep to deter offenders.
Contact your rural crime adviser to discuss crime prevention advice, notices, signage, cameras, and if you can sign up to receive alerts etc.
Put your safety first and dial 999 if you believe an incident is in progress.
Be vigilant – report anything suspicious in or near fields of livestock to try and help prevent any incidents happening in the first place. And if you have suspicions about the traceability of meat which may have been butchered illegally, contact the police.
If an illegal sheep butchering incident happens on your farm:
Contact the police (999 if a crime is in progress, 101 if the crime has happened).
Speak to your insurer to notify them of the incident and for further advice.
Contact NFU CallFirst on 0370 845 8458 or your regional office to be put in touch with your County Adviser.
Who to call and when?
Urgent: If a crime is in progress dial 999.
Non-Urgent: Dial 101 to report a crime after it has taken place.
Provide information: Contact Crimestoppers to provide information 100% anonymously. You can submit information online www.crimestoppers-uk.org or call them on 0800 555 1111.

NFU members: Save 10% on CCTV here.
Callfirst, our dedicated member helpline, is there to answer questions to help you run your farming businesses effectively.
Simply call 0370 8458458 or fill out this form and your query will be sent straight to the CallFirst team.