We employ a team of 500 staff to support the needs of our members locally, nationally and internationally.
One of our many strengths is our unique network of local offices and advisers which are co-funded by NFU Mutual. This means NFU members are never far from one of our representatives. These branches are co-ordinated from our purpose-built headquarters at Stoneleigh Park in Warwickshire, which opened in 2005.
Agriculture House
The NFU made the decision to relocate its headquarters from London to Stoneleigh Park in Warwickshire, home to the National Agricultural Centre and Royal Agricultural Society of England in July 2003.
The location was chosen to help the NFU move 'culturally' closer to its members and to provide a convenient drop-in centre for NFU members and colleagues from regional offices.
From the outset, there were key ambitions for the new building. It was to be:
A landmark building providing an asset to the NFU membership and reflecting its corporate image.
A building designed for longevity, utilising the latest sustainable technology to save energy and minimise impact on the countryside.
A building of quality, making use of natural materials, and conveying the NFU's clear identity in a setting that is part of the Centre of Excellence for Agriculture in the UK.
A suitable venue for hosting the majority of the NFU's functions.
A venue that provides a high level of comfort for occupiers, but uses up to 30% less energy than comparable office buildings.
Since 2018, four parking bays at NFU HQ have been installed with electric vehicle charging points. The charge points tap into the three-phase power supply of the main building, allowing for possible upgrading in the future. The charging bays are available to staff and visitors alike, for a one to four hour charge, depending on the vehicle. Find out more, and why NFU Vice President Stuart Roberts has converted to an electric vehicle.
More about the building
The building is orientated to maximise natural daylight but minimise solar gain, thus reducing cooling loads. High-quality natural and sustainable materials were used appropriately. British materials – where possible from the local vicinity – and recycled materials and components were sourced.
External walls are faced in Locharbriggs sandstone from Dumfries, constructed in traditional fashion rather than as a veneer cladding. This stone is the same sandstone seam that occurs locally in Warwickshire.
External windows have a sustainably sourced timber sub-frame with recyclable aluminium external sashes.
The glazing is a solar control glass with a green tint. This provides the best balance between light admission and solar heat reduction whilst retaining natural colouration through the glass.
The roof is covered in Welsh slate, laid in reducing course widths to follow the natural curvature of the building.
The pitched roof is insulated using wool from Cumbrian sheep fitted between timber rafters and the walling insulation used is a quilt product using 70% recycled glass.
Cedar cladding has been utilised at the upper floors facing Stoneleigh Abbey to blend with the natural vegetation and to weather to a silver grey colour.
Conference Centre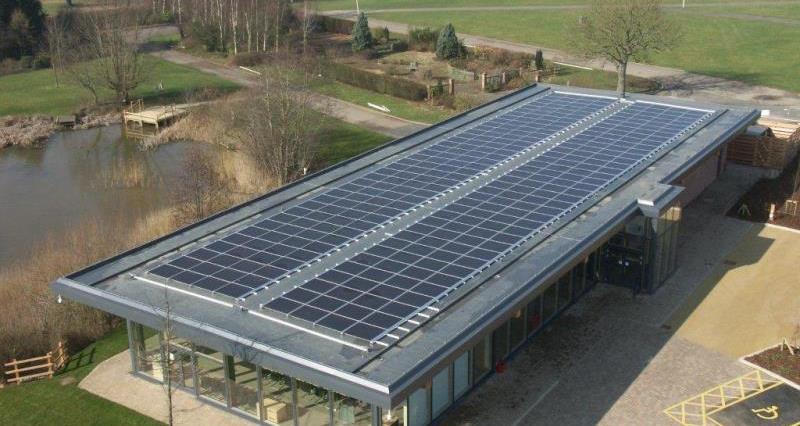 The NFU's on-site conference centre opened early in 2012. Used for NFU Council and industry-led meetings, it has a bank of solar panels in the roof.
Watch the video to find out about the energy generated by these panels: